1-800-ADOPTION
Thank you for viewing our profile
If you would like to learn more about us, please call 1-800-ADOPTION (2367846), fill out the form at the bottom of our on-line profile page, or email us at bp_information@americanadoptions.com.
To revisit our on-line profile page and view our profile video at American Adoptions, simply use your mobile phone to scan the QR code on the right. We are looking forward to hearing from you!
Mike & Jamie
Love and support anchor our family. Through ten years of marriage and seven years of parenting, we've been on quite a few adventures and we are incredibly excited for what's to come. We love being parents and all it entails - learning and playing together, adventuring and celebrating together, and falling in love with the world over and over again. Thank you for considering us.
About Us
Job
Principal Product Manager
Stay-at-Home Mom
Education
Business Administration
Composition and Rhetoric
Relationship
Legally Married
How Adoption has Affected Us Personally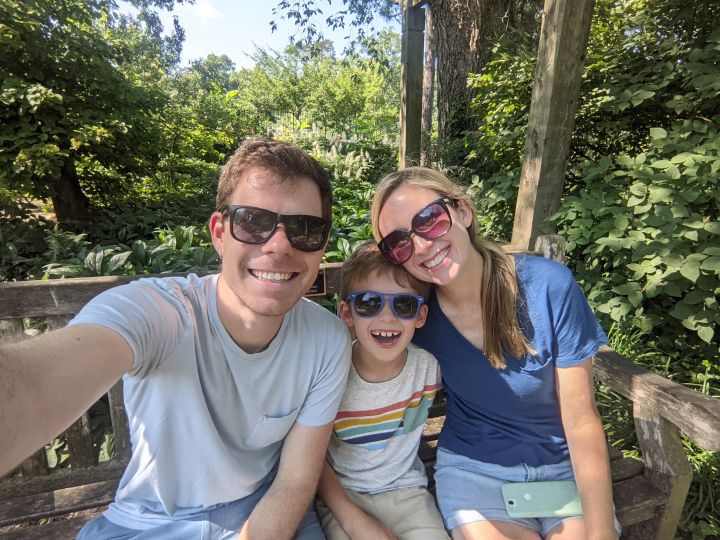 Adoption has always been close to our hearts, as Jamie's mom is adopted. Additionally in our family her brother has adopted, and Mike's cousin has adopted, both interracially. For the nearly fifteen years we've known each other, we've seen adoption as a potential way to build our family.
When we were told we couldn't have a second biological child, we knew that adoption was our path. We're so fortunate to have our family members to talk to about the process, the challenges, and the beauty. And this child would have loved ones in their life who understand the experience.
We're also incredibly thankful for the stories and guidance of one of Jamie's friends from college, who is herself a birthmother. She has been such a source of insight into what adoption might look like and feel like from another angle, so that we might better understand how to support you.
Adventures
Seeing the world and sharing those experiences with our loved ones has been, and will continue to be, such a source of awe and joy in our lives. We both grew up loving to travel - Jamie, with camping trips and family road trips down to Florida; and Mike, with family vacations to national parks and beaches galore with family friends.
In our decade of marriage, we've hiked in South America, snorkeled in the Caribbean, cruised the coast of Italy, and driven every which way across this beautiful country. Sharing and nurturing a love of travel with our kids is one of our highest priorities. At seven, our son Ethan has hiked with us in the Canadian Rockies, played on the beaches in Maui, seen waterfalls and glaciers in Alaska, wandered with us around museums in London, and seen the Eiffel Tower light up in Paris.
For us, travel is about appreciating the world. It's about having fun and exploring new cultures, trying new things, being engulfed in the beauty of it all, and feeling a responsibility to protect it - all things we'll continue to model and pass along to our children.
Life Priorities
Our biggest priority in life is our family. It's why we chose to live near grandparents, siblings, and cousins, as well as why Jamie is a stay-at-home mom and Michael works from home. It's why family meals, memories, and traditions are so important to us. And in our family, there are three other priorities that guide us: education, travel, and service.
Education has always been important to us. We met in college, and before becoming a stay-at-home parent, Jamie worked in education. We believe that a good education helps us recognize and build our strengths so that we can bring our best selves to the world.
Travel is also one of our highest priorities. We travel to admire the world, to have fun, to experience new cultures and try new things. We travel to see the beauty of this planet, to understand it better, and to consistently remind ourselves of our responsibility to protect it.
Living in service and love, every day, is integral to our family. It means recognizing that we're all connected and part of something bigger than ourselves. It means acting with compassion, not judgment or anger. It means giving of ourselves, and our resources, what we can to support the things we believe in. It means trying to make the world a better place.
Photos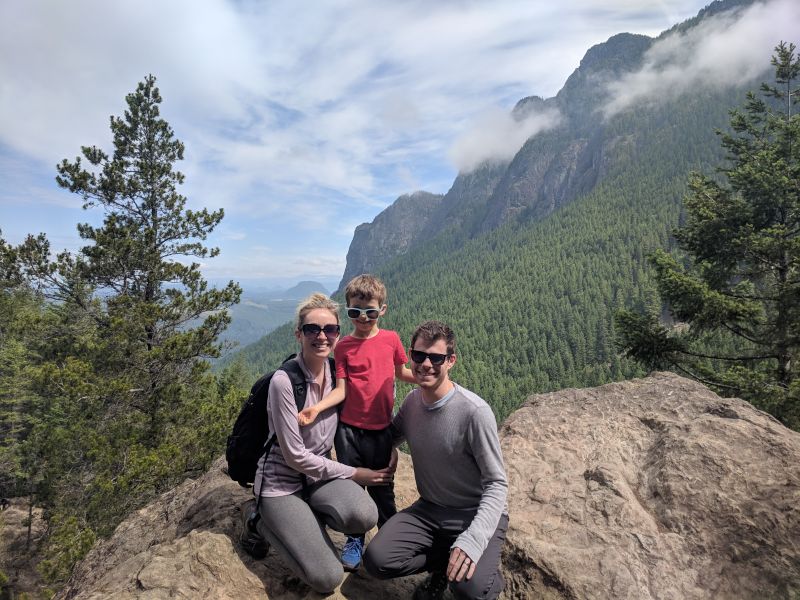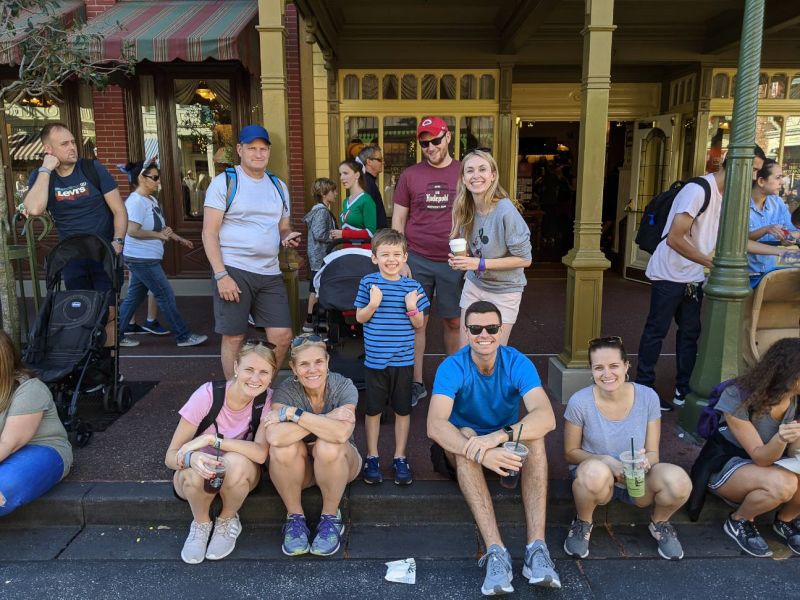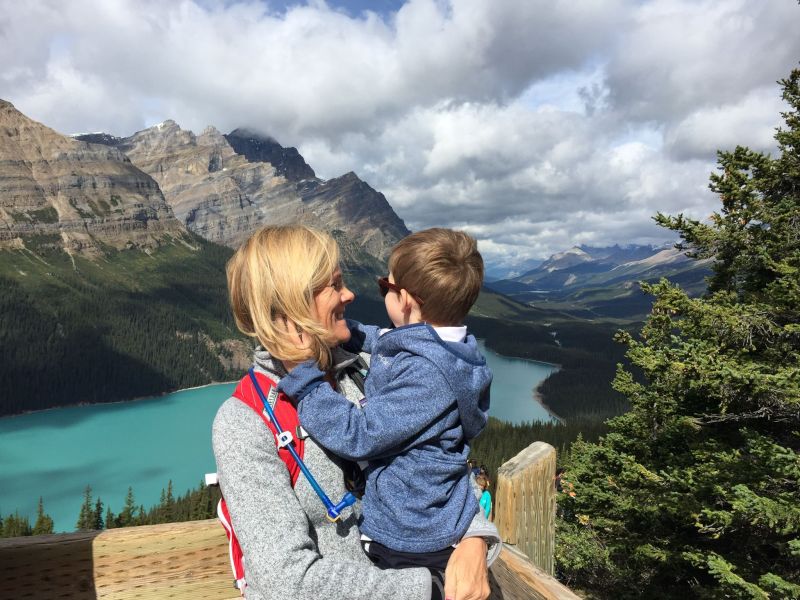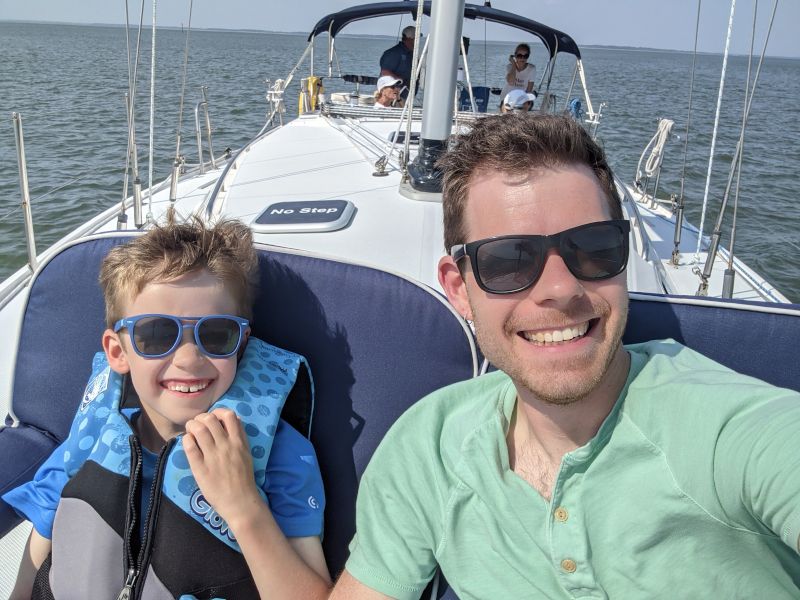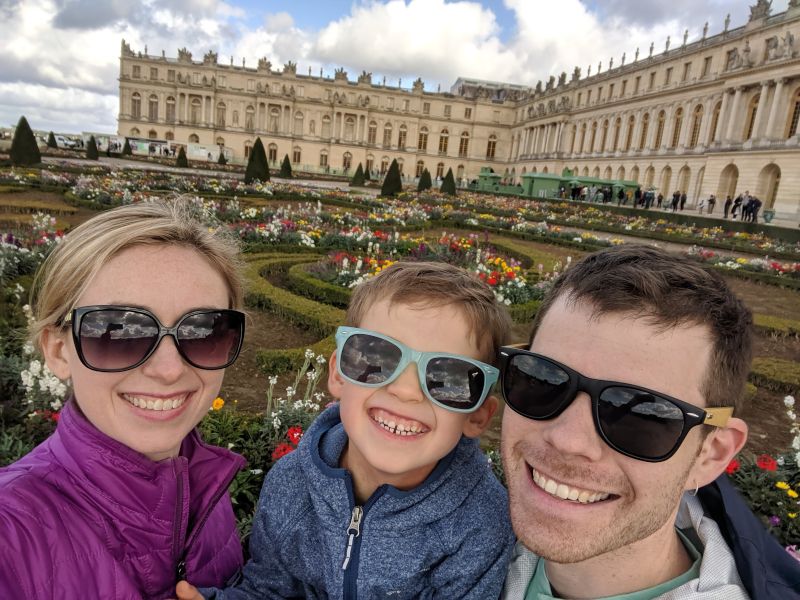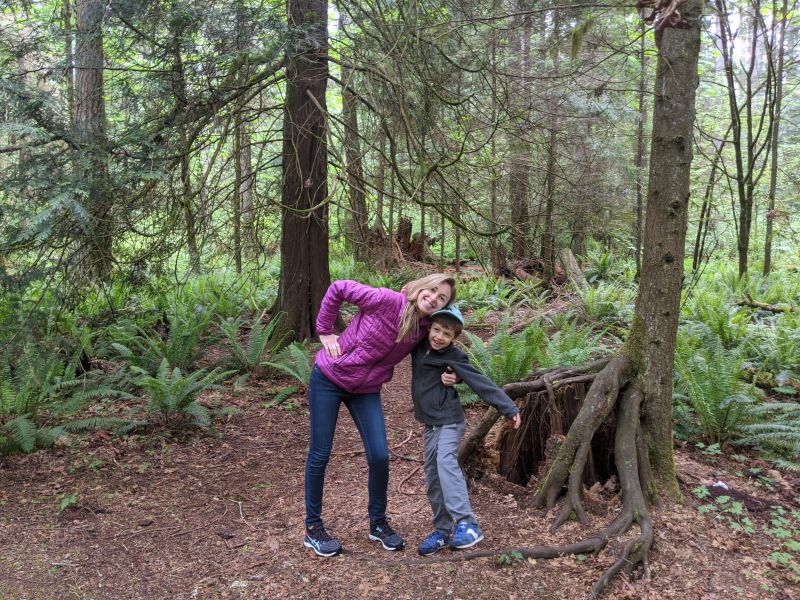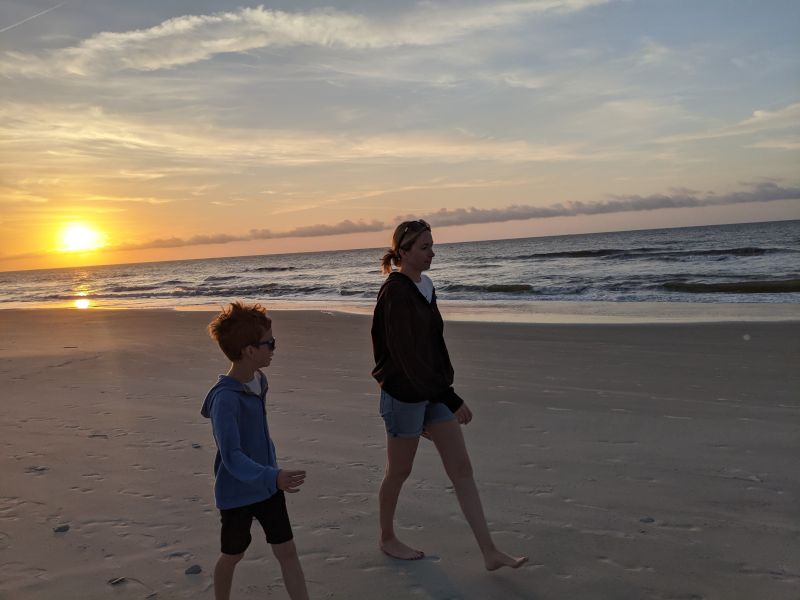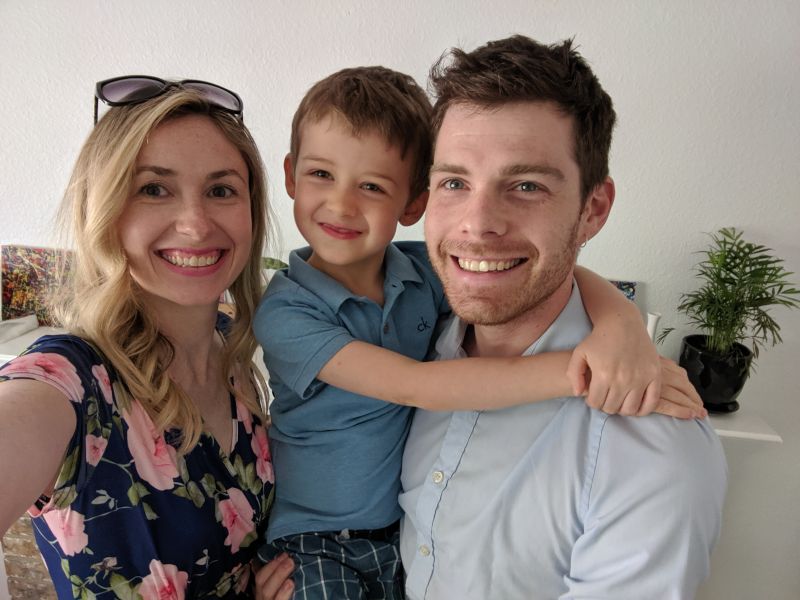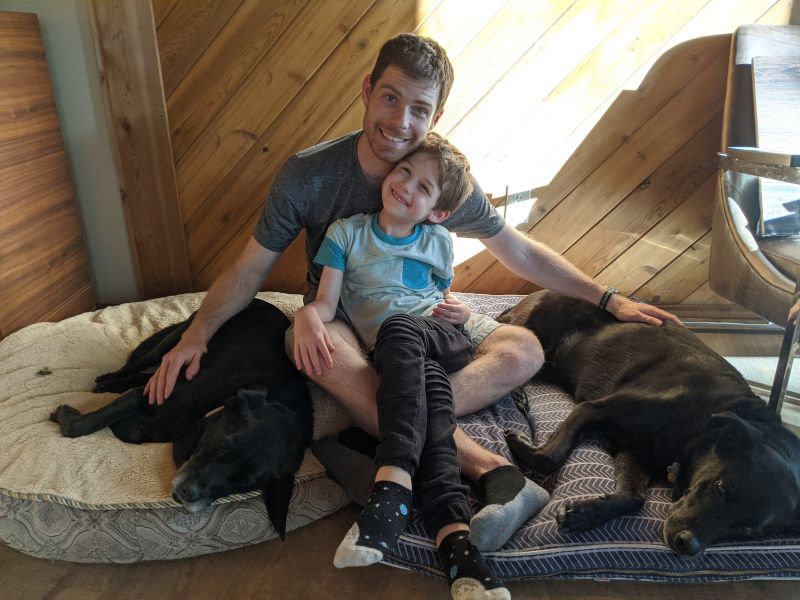 ×
1 / 12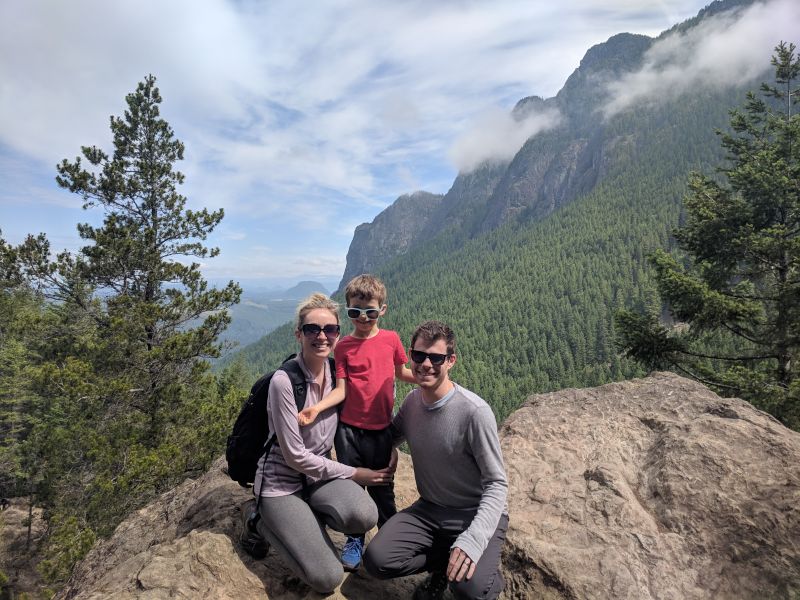 2 / 12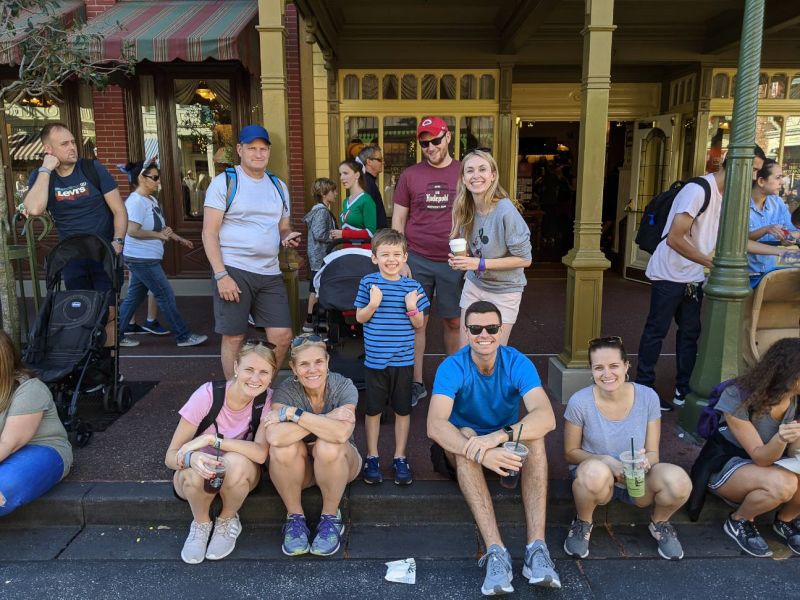 3 / 12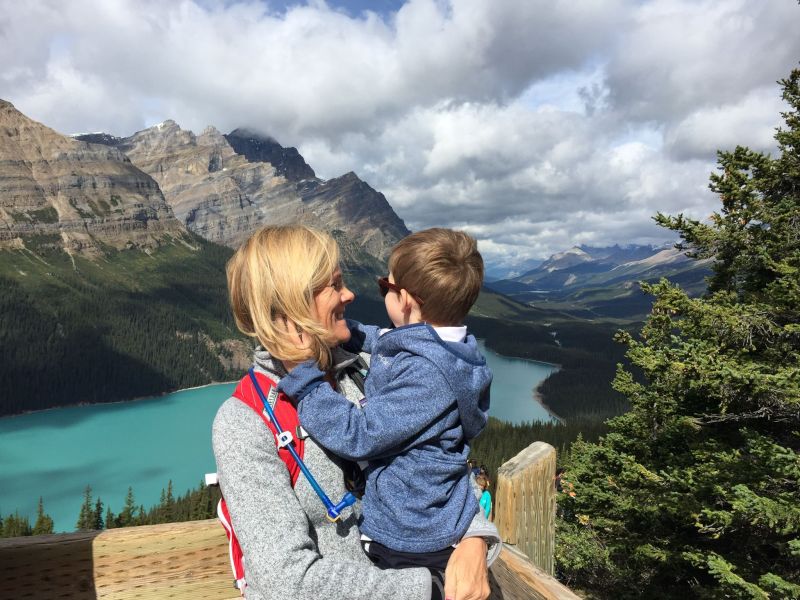 4 / 12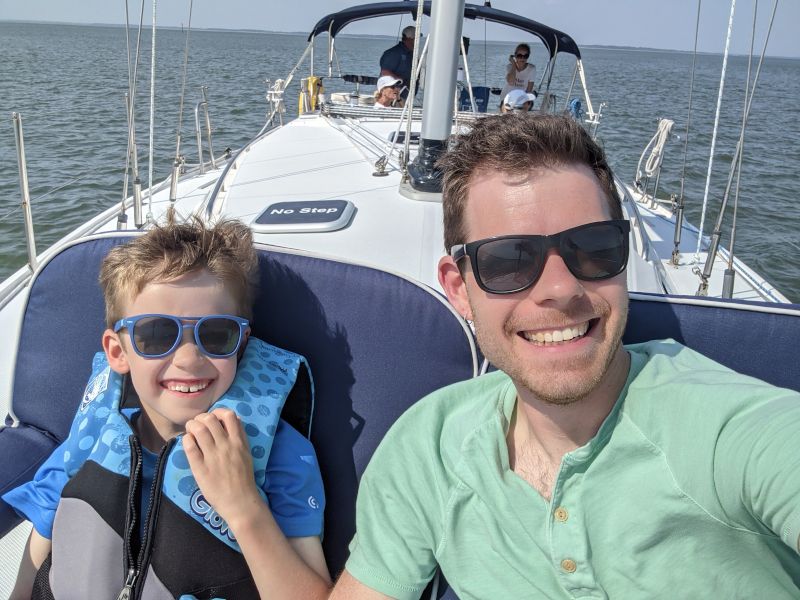 5 / 12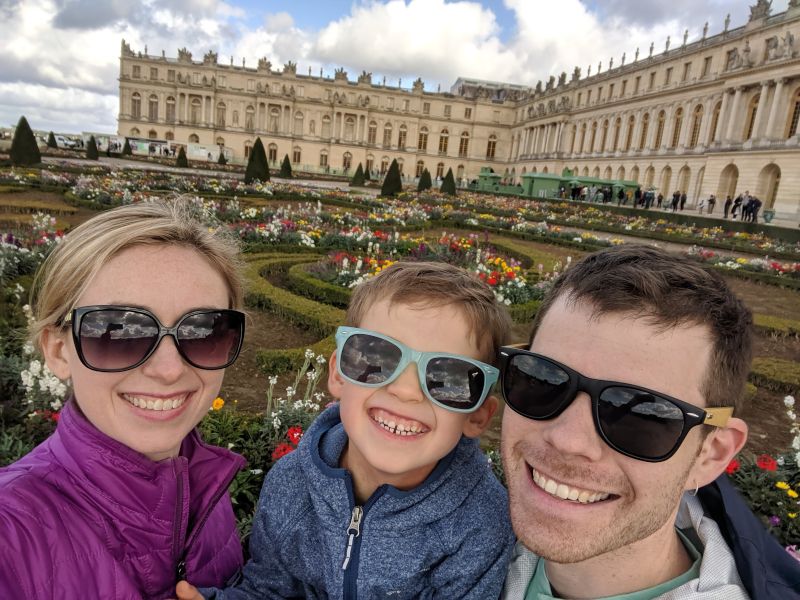 6 / 12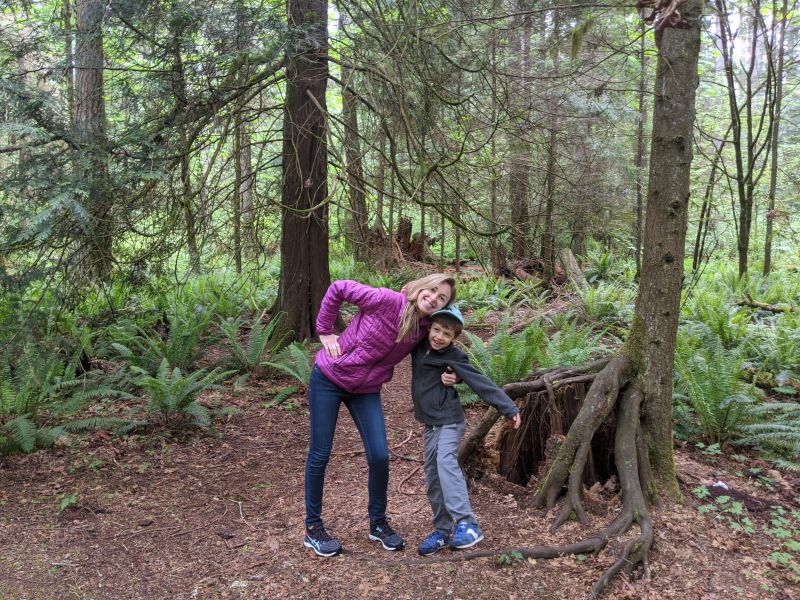 7 / 12
8 / 12
9 / 12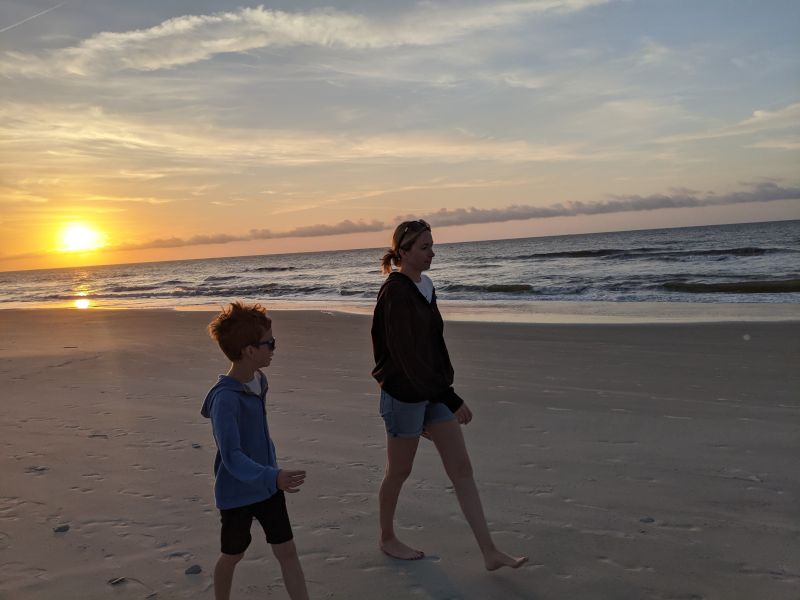 10 / 12
11 / 12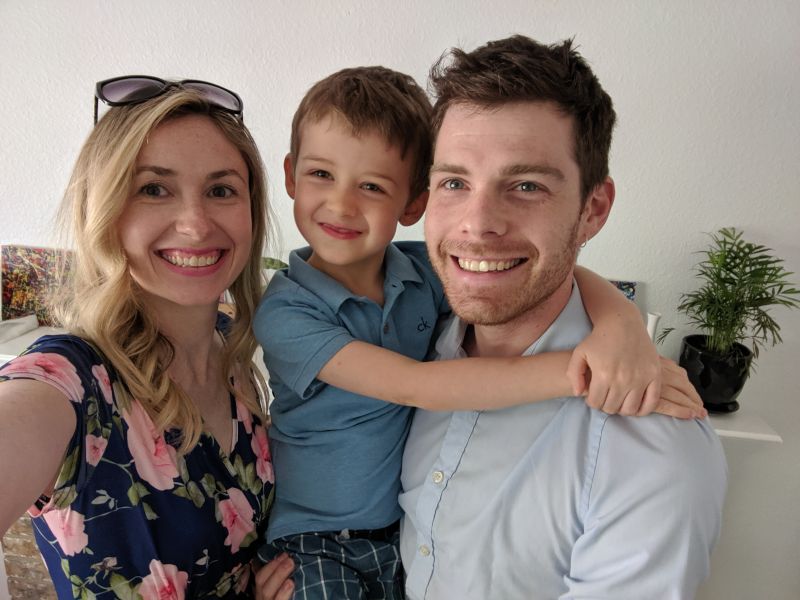 12 / 12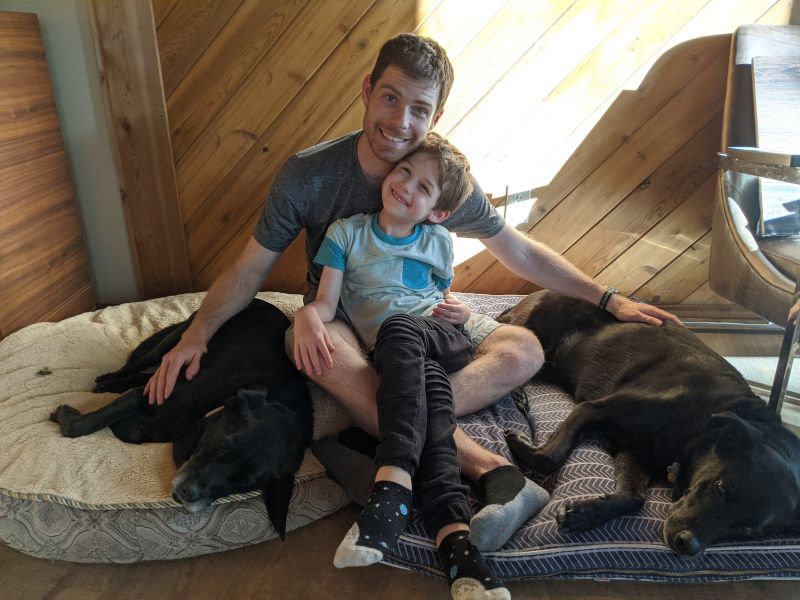 ❮
❯
Our Extended Families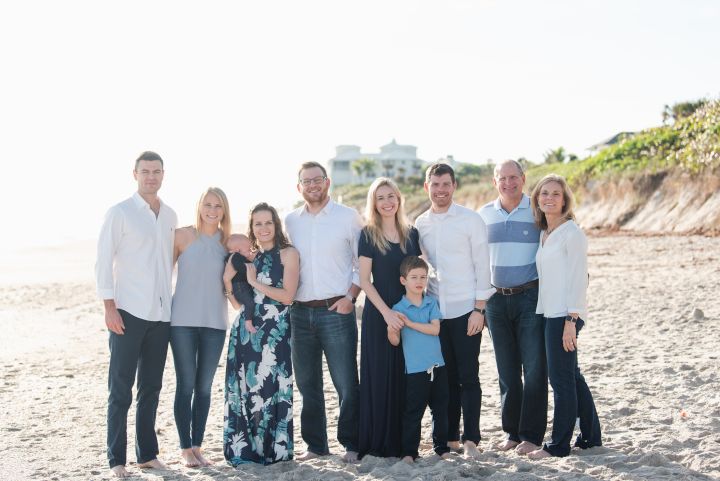 We adore our extended family. Our parents absolutely love being grandparents, and our children will make memories exploring beaches, mountains, and Disney Parks with them. And having them so close means we see each other nearly every week! They love helping Ethan learn to ride his bike, experiment with new recipes, and grow things in the garden.
Our grandparents, and many of our aunts, uncles, siblings and cousins (and their families!) also live nearby, so there's always something to celebrate and always plenty of people to celebrate with. Whether it's a birthday, a holiday, an award, or an engagement, we love to gather together. We're incredibly lucky that some of our closest friends are also our family, and we hope for the same for our kids.
Some of our favorite memories with extended family over the last few years include boating and splashing around at the family lake house, award dinners honoring Mike's mom and grandpa, hiking through the Canadian Rockies, biking to the beaches of Hilton Head, and board games around the kitchen table.
We recognize how fortunate we are that our big extended family is filled with loved ones of different backgrounds and ethnicities, as well as families built through adoption. It's an amazing thing to be a part of, and so many hearts are ready to open to this child.
Our House and Neighborhood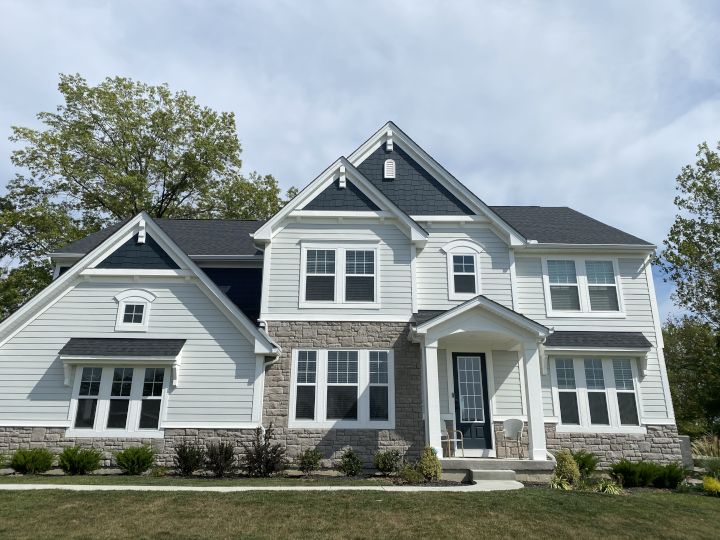 Ohio - We built our house in a beautiful neighborhood with lots of trees, ponds, and young families. The community pool and playground are a two-minute walk from our front door, and the running trails zigzag through greenspaces and gardens. Our neighbors are the sweetest, trading their homegrown veggies for our freshly baked chocolate chip cookies.
Along the main street in town are a ton of shops and some of our favorite local restaurants, as well as our favorite coffee shop. We love to grab coffeehouse treats and then take a family stroll on the wooded trails nearby. Within ten minutes from our home, we're at the library and grandparents. Within thirty we're in the city, with access to museums, stadiums, and broadway shows. And within forty-five, we're at the family lakehouse!
We love this home we've built, settled at the end of our long driveway, tucked away from the road with its sunny rooms and stone fireplace, and dedicated space for Mike to work from home. We love watching the fawns and goslings from our big windows, running around the backyard with our dogs, and making s'mores in the firepit.
From Us to You
Dear birth parent,
We've grown together in our ten years of marriage, loving and supporting each other through each chapter. We've been able to travel around the world, do fulfilling work, have fun, and most importantly - start building our family.
We met in college, friends of friends. The first time Jamie saw Mike, he was playing guitar, and later the piano! We bonded over board games and dancing, and soon enough we were on our first date. A few years later, we were married in a beautiful old museum in our hometown. 
Mike currently works for one of the biggest tech companies in the world, in the music division. He's been able to combine his skills in technology and business with his lifelong love of music. Though his office is located on the west coast, he is able to work from home in Ohio, allowing him to be here for family breakfasts, bath nights, bedtimes, movie nights, and the moments in between. His work also presents him with opportunities to travel each year, both back west and around the world. 
Before becoming a stay-at-home mom, Jamie worked in education, teaching at a university, training teens at a summer camp during her breaks, and then working alongside community leaders nationwide for education reform. She became a stay-at-home mom when Ethan was born, allowing her to be there for all of his moments, to teach and guide him. Her love of knowledge has been passed to our son, who loves to read and learn. Through her availability as a stay-at-home parent, his early days have been filled with cuddles on the couch, daily doses of nature, homemade meals, and lessons in whatever interests him - from tennis, to Spanish, to cooking, to art.
Family is our top priority, and we were over the moon when we welcomed Ethan into the world - as were our two dogs, who instantly fell in love with their new person. When we were ready to have a second child, we were told that we couldn't have another biological baby. As adoption had always been close to our hearts, we knew it was our path.
We are so excited for the future, and we are anxiously awaiting the opportunity to grow our family. This child will be surrounded by a community of people who love them, including a big brother who is eager to pick out the baby's first stuffed animals and to read them his favorite storybooks. We promise to nurture, support, and celebrate this child for who they are, and to provide them opportunities and experiences to see the world and make it better.
We want you to know how important you are to us, and that you will always be respected and loved. As the child grows, we will happily send photos and letters, updates and stories. We're also open to visits when the time is right. This child will always know their adoption story, and that it's a story of love. Thank you for considering us, and opening your heart to ours.
Mike & Jamie
Favorites
Actor
Simon Pegg
Chris Pine
Actress
Emily Blunt
Reese Witherspoon
Animal
Meerkat
Snow Leopard
Author
Hank Green
Kurt Vonnegut
Book
The Martian
Harry Potter
Candy Bar
Reese Cup
Butterfinger
Childhood Memory
Exploring the Creek
Vacationing with Family
Childhood Toy
Legos
Teddy Bear
Children's Book
The Lorax
You Are My I Love You
Classic Movie
Blank Check
The Princess Bride
Day of Week
Thursday
Monday
Dessert
Creme Brulee
Cherry Pie
Disney Movie
Wall-E
Frozen 2
Dream Car
Tesla Roadster
Electric VW Bus
Dream Job
Environmental Philanthropist
Summer Camp Creator
Dream Vacation
Backpacking in Patagonia
Hiking through New Zealand
Family Activity
Hiking
Hiking
Flower / Plant
Redwoods
Willow Tree
Form of Exercise
Hiking
Hiking
Fruit
Strawberries
Cherries
Holiday
Christmas
Christmas
Holiday Song
Christmas Tree Farm by Taylor Swift
What Christmas Means to Me by John Legend
Holiday Tradition
Christmas Eve Family Walk
Christmas Book Countdown
Ice Cream
Peanut Butter Cookies and Creme
Coffee
Junk Food
Pretzels
Potato Chips
Leisure Activity
Podcasts
Reading
Magazine
All About Space
National Geographic Traveler
Memory with a Child
Watching the Disney World Parade
Watching the Eiffel Tower light show
Memory with Spouse
Breakfast by the water while visiting Seattle
Hiking Machu Pichu
Movie Munchie
Popcorn
Ice Cream
Movie Quote
"I admit it's fatally dangerous, but I'd get to fly around like Iron Man." - The Martian
Just Keep Swimming
Movie Type
Science Fiction
Action Comedy
Musical
The Greatest Showman
La La Land
Musical Group
Midnight Kids
Mumford and Sons
Nursery Rhyme
Twinkle Twinkle Little Star
Twinkle Twinkle Little Star
Olympic Event
Table Tennis
Skiing
Personal Hero
Lin Manuel Miranda
Jane Goodall
Poet
Maya Angelou
Billy Collins
Quality about my Spouse
Empathy
Dependability
Quote
"Being silly is still allowed, not excluded by adulthood. What's excluded by adulthood is thoughtlessness, so be thoughtful and silly" - Hank Green
"A purpose of human life... is to love whoever is around to be loved." Vonnegut
Restaurant
Chipotle
Any place with curry!
Sandwich
Grilled Cheese
Veggie
Shopping Store
REI
West Elm
Song
Clarity by Zedd
I Wanna Dance with Somebody by Whitney Houston
Sport to Play
Ultimate Frisbee
Tennis
Sport to Watch
Tennis
Tennis
Sports Star
Rodger Federer
Roger Federer
Sports Team
Cincinnati Bengals
Team USA
Subject in School
Science
Creative Writing
Superhero
Spider-Man
Captain America
Tradition
Friday Movie Night
Family Trip
TV Show
Ted Lasso
Parks and Rec
TV Show Character
Chris Traeger
Ted Lasso
Type of Music
Electronic
Whatever I can dance to!
Vacation Spot
The Mountains
National Parks
Video Game
Roller Coaster Tycoon
Just Dance