1-800-ADOPTION
Thank you for viewing our profile
If you would like to learn more about us, please call 1-800-ADOPTION (2367846), fill out the form at the bottom of our on-line profile page, or email us at bp_information@americanadoptions.com.
To revisit our on-line profile page and view our profile video at American Adoptions, simply use your mobile phone to scan the QR code on the right. We are looking forward to hearing from you!
TJ & Jodi
Adoption is very prevalent and cherished in our family and is an amazing gift! Thank you for looking through our profile. We are excited to open our arms and share our love with your child. If you choose us to be your child's parents they will have a home and place where they are loved and belong. We hope you consider us and look forward to walking this journey with you.
About Us
Job
Solutions Architect
Loan Processor
Education
Master's Degree in Business Administration
Bachelor's Degree in Sociology
Relationship
Legally Married
Adoption in Our Lives
Adoption has been a big part of our family. Jodi, herself, was adopted as an infant. Her brother was also adopted and TJ has an uncle who was adopted.
TJ has a daughter, Kenadie, from a previous relationship who is an amazing young woman and big sister. We knew when we were married that we wanted to grow our family together. Adoption was such a positive part of Jodi's childhood that she never questioned weather to have a child or adopt. When we met this was discussed early on and we both agreed with no question, when we build a family, we will build it through adoption. Our journey did not start with infertility and adoption was not a second choice. Our journey through adoption was our first choice.
In 2019 we were blessed to be able to adopt our son, James. We have built a wonderful relationship with his birth parents, and we are still actively engaged with them. Jodi created a picture book about his journey to us and we read it to him often. We plan to do the same with this adoption. Starting at a young age, we will share your child's adoption story with them. This child will know that so many people care for them and their journey was one of love!
Qualities We Love, Admire and Respect in Each Other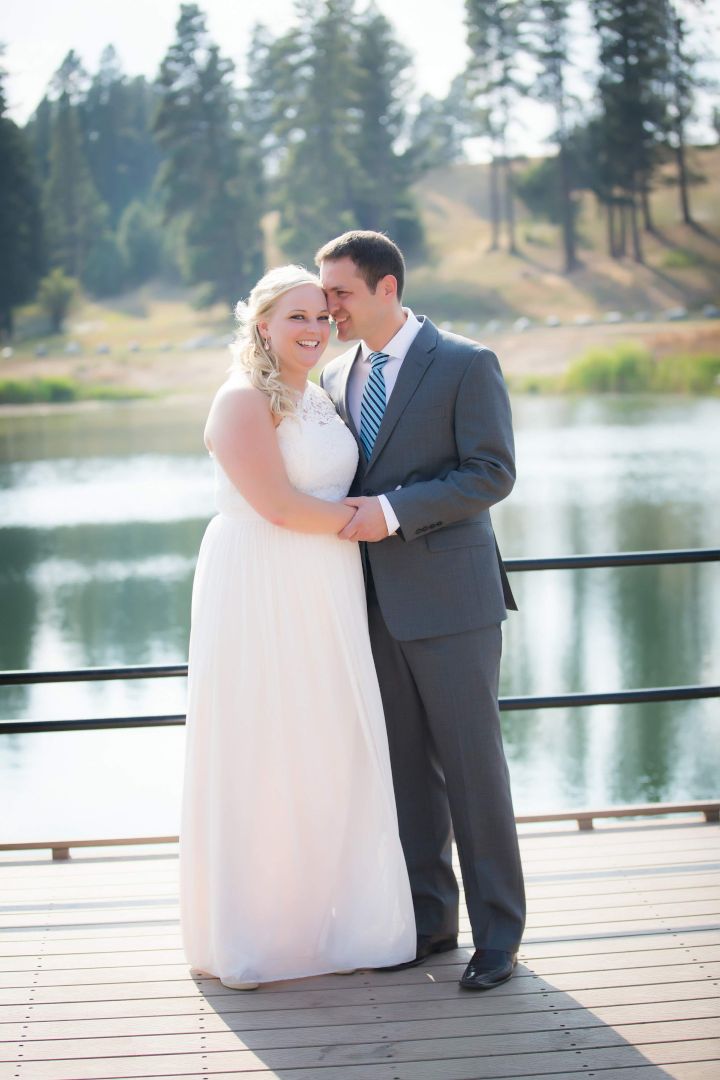 TJ About Jodi: Caring, thoughtful, non-judgmental, and hardworking are attributes of Jodi. One of the first things that attracted me to her was her non - judgmental and caring attitude toward everyone. If you needed a friend to talk to, she would be there for you. Jodi has always wanted to be mom and her big heart has made her a great mother. Her love and compassion has a plenty of room for another child. I love that she supports me in my goals and aspirations. For example, when I decided to go back to school when I was 27, she was supportive and would allow me study time without pressure. I love that Jodi is a team player. I love that she has accepted Kenadie, my daughter, as her own, and is a great parent to her. She plans activities and the future with our whole family in mind.
Jodi About TJ: I consider myself incredibly lucky to have found him. He is a very hard-working man and an amazing father. I know he will be a great dad to your child because I have seen him raise Kenadie, who is such an awesome young woman and James who adores him! TJ is very driven, and I am so proud of him for always striving for more and continuing to grow and educate himself. I am beyond thankful that he is excited to grow our family together through adoption again. I am blessed he is so supportive of my dreams and I feel like he would do anything necessary in the future to ensure we, as a family, are all safe and happy. He is an incredible partner and I can't wait to see what the future brings for us together.
Our Lifestyle
Our lifestyle consists of playing outdoors, long adventures to new places, and visiting family. Day to day we spend a lot of time together as a family. We eat dinner at the table together almost every night. When indoors, we will play with toys, watch TV, or play video games. When we are able, we like to get out of the house. Either to explore a new location near by or to go on longer adventures like hiking or camping. On warm nights in the summer, we will set up a fire pit and a telescope in our back yard and look at the stars. We love adventure and try not to waste any time getting our kids hooked on adventure as well.
Photos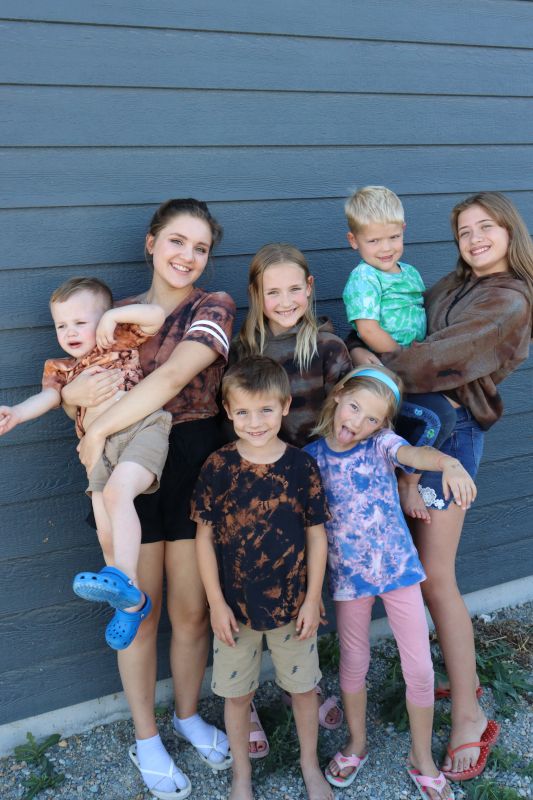 ×
1 / 12
2 / 12
3 / 12
4 / 12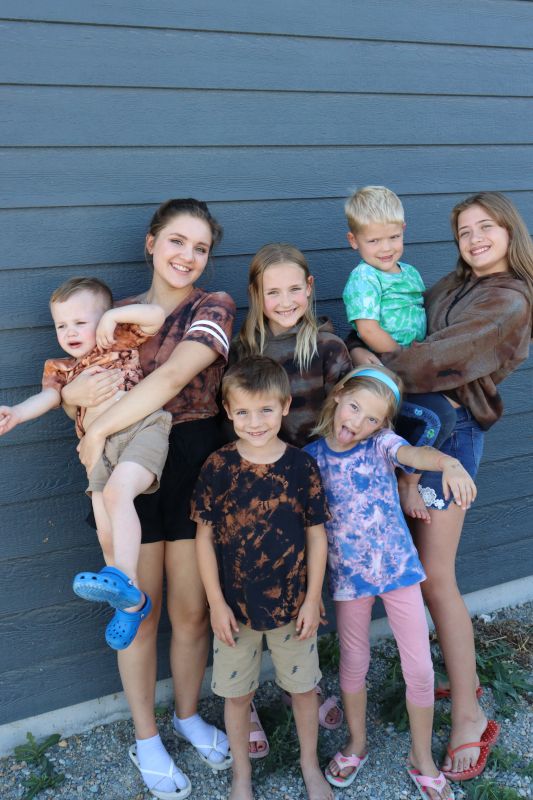 5 / 12
6 / 12
7 / 12
8 / 12
9 / 12
10 / 12
11 / 12
12 / 12
❮
❯
Our House and Neighborhood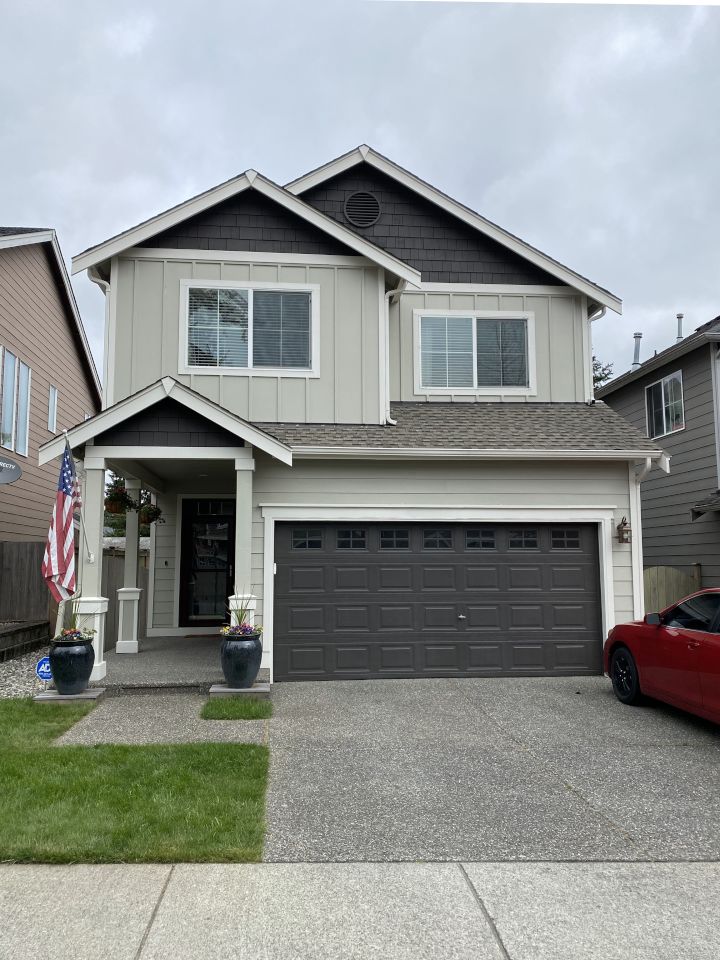 We live in a great little neighborhood on a dead-end road in Washington. Our community has several families with little children who play together. Through our backyard we have a gate that opens to a large field. The field is great for playing catch, frisbee, playing with our dogs, or just running around. At the end of our large field is a playground where all the neighborhood kids gather. Also, just down the road is an amazing elementary school with an amazing playground for toddlers and school kids.
Our house is two stories tall. It has the main living areas on the main floor (living room, dining room , and kitchen) and the bedrooms and laundry upstairs. Facing our backyard is a large three-piece glass door. During the day and all activities in our house bring us together. Someone may be cooking, another playing in the living room, or someone in the back yard. It's all visible and together at our house. We adore the openness of our main living area.
We live about a mile from a small community lake. During the summer we like to join others at the lake and play on the sandy beach and walk the docks. The area is full of families and kids playing and having a great time. There are also many schools, parks and dog parks nearby we spend time at. Overall, our community is a great place for a child to have fun, explore, and make friends.
Our Extended Families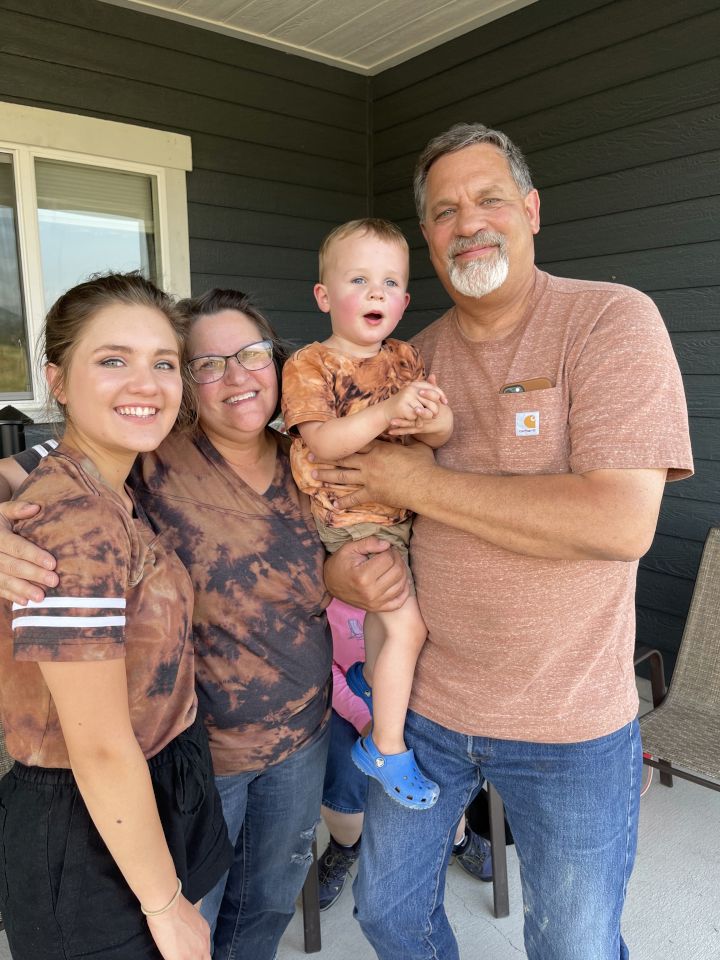 Our families are currently spread out. We are both originally from Montana and both of our parents still live there. TJ's sister, Jamie, lives in Arizona with her husband and five children. Jodi's brother, Justin, lives in Texas with his son. We have great relationships with them but don't get to see them as much as we would like. We spend most of our vacation time going back to Montana to visit them. Many times we will meet our siblings in Montana so we can all spend time together and all the cousins can be together. The cousins always have so much fun together!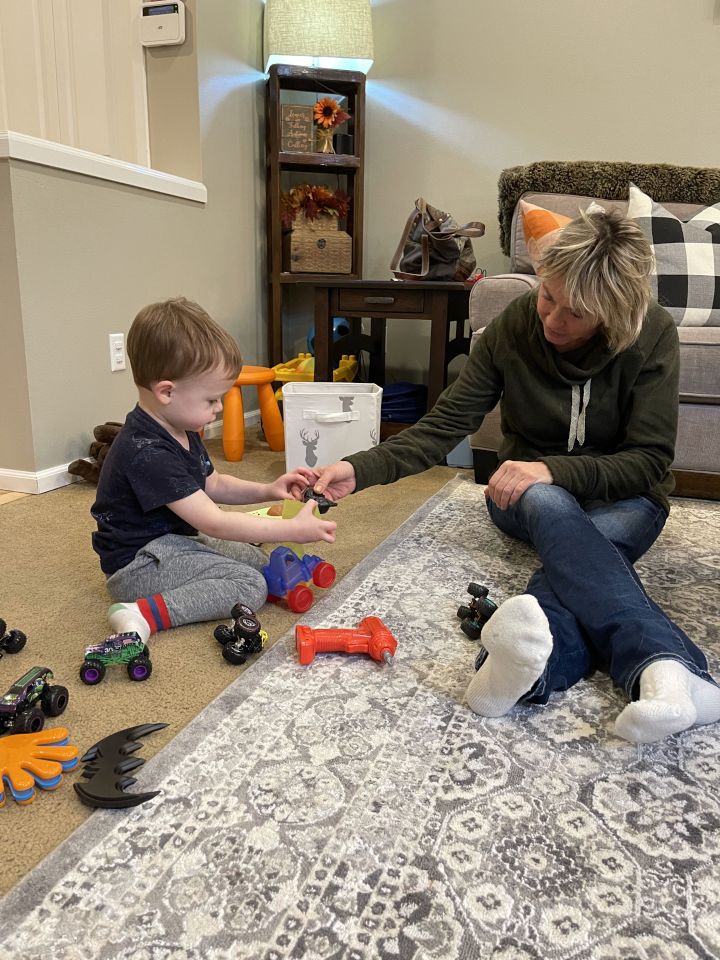 We do have a large friend group in our area. We love to host dinner and game nights at our home. We have a huge game collection and are always looking for something new to play. In the summers we play outdoor games, BBQ and have a firepit to roast s'mores on.
They are all very excited and supportive of our journey to adopt again and can't wait to meet him or her. Adoption is a normal and open part of our entire family. We also know James will be an amazing big brother and will be so excited.
From Us to You
Thank you so much for considering us. We are honored that you have decided to read more about us and how we will love and care for your child. If we are blessed with the opportunity to raise your child, he or she would be loved and have a safe place where he or she belongs. Your baby will have a lifelong family who they can depend on to support and encourage them as they grow. Your story and role in your child's life is important to us and would be a cherished topic that will be discussed openly as part of his or her life story.
We have been together over 10 years and have been married for 6 years. We were both raised in northwest Montana and love the outdoors. Today, we live in a safe suburban neighborhood north of Seattle, Washington. In the summers we like to hike, float rivers on innertubes, go camping, and have friends to our house to grill. Jodi likes to read and craft and has recently gotten more into photography. Jodi also enjoys making a yearly photo book for our family of our adventures together. TJ likes woodworking and working in the garage. He has made several pieces of furniture that we use every day.
Kenadie is TJ's daughter and Jodi's bonus daughter. She attends full time high school, takes advanced placement courses, she works at Starbucks, and enjoys spending time with her friends. She recently earned her driver's license, and we gave her a car for her 16th birthday. She now drives herself to school and work. She is a great role model for James and is an amazing big sister.
Additionally, we were blessed to have been chosen to be James' parents through adoption in 2019. We are building an amazing relationship with his birth mother and hope that continues to grow into the future. James is a caring and rambunctious little boy. He loves playing outside, rough housing with dad, and cuddling with mom. He loves his superheroes and dinosaurs, especially Spiderman. He likes helping us take care of our dogs and will feed them and pet them if he feels they need a little attention. James will be a great brother and will lead a lot of adventures for a younger sibling.
We are thrilled to be expanding our family again through adoption. Jodi and her brother were also adopted at birth and know how adoption, although a difficult decision, can be done in a positive and loving way. The loving choice their birth mother made showed both her and her brother first-hand what it is like to be raised by an adoptive family and how rewarding it can be. Adoption is such a beautiful gift to give to your child and we would be honored to be a part of that gift. We are open to many ways of staying connected throughout your child's life, including photos, letters, calls, visits, etc.. We are excited to build a lasting relationship based on your comfort levels and what you want most for your child.
We understand that your decision to consider adoption is a big and difficult one to make. You most likely have many questions and, in the end, want the best life for your baby. We have the utmost respect for your courage and strength through this time. We hope to offer you some comfort in knowing that if we are chosen, your baby will have a family who cherishes them and showers them with love every day.
Sincerely,
TJ & Jodi
Favorites
Actor
Ryan Reynolds
Ryan Reynolds
Actress
Betty White
Jennifer Aniston
Cartoon
Duck Tales / Bobs Burgers
Anything Disney!
Childhood Memory
Travelling to visit Grandma and Grandpa in MT
Playing outside and riding horses
Childhood Toy
Bike
My Little Pony
Children's Book
Fox in Sox
Dr Seuss
City
Kalispell, MT
Kalispell MT
Classic Movie
It's a wonderful life
Day of Week
Saturday
Sunday
Disney Movie
Aladdin
All of them!
Dream Car
4x4 truck with all the features
Fully loaded F150 or Yukon
Dream Job
Adventure planner for my family
Stay at home Mom or something in the adoption field
Dream Vacation
Anywhere we can explore new things
Somewhere warm and new to explore
Family Activity
Hiking
Camping or game nights
Flower / Plant
Ponderosa pine tree
Lillies
Form of Exercise
Outdoor activities
Being active with family
Fruit
Pomegranate
Watermelon
Game
Exploding Kittens
Ticket to Ride
Hobby
Shooting / Reloading
Crafting and Photography
Holiday
Christmas
Christmas
Holiday Song
White Christmas
Jingle Bells
Holiday Tradition
Cookies and milk for Santa
Baking and decorating together
Ice Cream
Rocky Road
Carmel Cone
Junk Food
Frech Fries
Anything sweet or pastries
Leisure Activity
Playing Video Games
Watching TV shows
Magazine
American Rifleman
Memory with a Child
Bath time games
Bedtime routine with James and pedicures and nails with Kenadie
Memory with Spouse
Trip to Maui
Trip together to Maui
Movie
Tommy Boy
The Notebook
Movie Munchie
Popcorn and nacho cheese (everyone should try this)
Popcorn
Movie Quote
"Shut up, Richard" - Tommy Boy
So it's not gonna be easy. It's gonna be really hard, and we're gonna have to work at this every day. But I wanna do that because I want you. I want all of you, forever. You and me. Every day." - The Notebook
Musical
Mary Poppins
Mamma Mia
Musical Group
Garth Brooks
Garth Brooks
Nursery Rhyme
Twinkle Twinkle Little Star
Twinkle Twinkle Little Star
Olympic Event
Gymnastics
Snowboarding
Personal Hero
My Mom
My Mom
Play
Phantom of the Opera
Mary Poppins
Poet
Shakespeare
Shel Silverstine
Quality about my Spouse
Loving and Caring
Hardworking and Authentic
Quote
You miss 100% of the shots you don't take. - Wayne Gretzky
One small positive thought can change your whole day.
Restaurant
Qdoba
Olive Garden
Sandwich
Turkey Bacon Bravo from Panera Bread
Is a cheeseburger a sandwich?
Scripture
John 3:30 - He must become greater; I must become less.
Shopping Store
Cabela's / Sportsmans Warehouse
Target
Song
You got it in you - Banners
Standing Outside The Fire - Garth Brooks
Sport to Play
Baseball
Soccer
Sport to Watch
Football
Football
Sports Star
Marshawn Lynch
Sports Team
Seahawks
Seahawks
Subject in School
Math
History
Thing to Cook
Ribs on the charcoal grill
Tacos
Time of Day
Morning
Evenings
Tradition
Saturday cartoons with the kids
Going out to see Christmas lights as a family
TV Show
Curse of Oak Island
Greys Anatomy and Yellowstone
Type of Music
Country
Country
Vacation Spot
Hawaii
Anywhere warm and sunny
Video Game
Witcher 3
Mario Cart
Get in Touch
Provide more information, so American Adoptions can connect you with this family.
---