1-800-ADOPTION
Thank you for viewing our profile
If you would like to learn more about us, please call 1-800-ADOPTION (2367846), fill out the form at the bottom of our on-line profile page, or email us at bp_information@americanadoptions.com.
To revisit our on-line profile page and view our profile video at American Adoptions, simply use your mobile phone to scan the QR code on the right. We are looking forward to hearing from you!
Chris & Alex
Hello! Thank you for taking the time to read our profile and get to know a little more about us. We share a wonderful life together filled with love, laughter, and adventure. It has been a dream come true for us to be dads and nothing would make us happier than an opportunity to expand our family through adoption! Thank you for considering us!
About Us
Job
Airline Pilot
Occupational Therapist
Education
Master's Degree in Aeronautical Science
Master's Degree in Occupational Therapy
Relationship
Legally Married
Adoption in Our Lives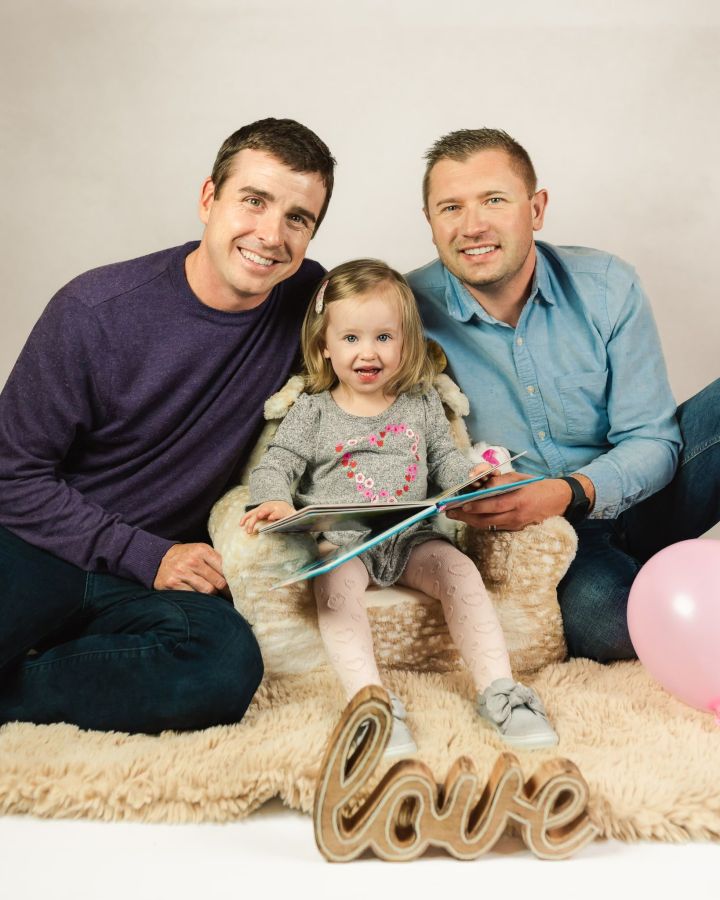 We adopted our daughter Amelia through an open adoption and feel overwhelmingly blessed by our adoption journey. We were present at her birth and she had us wrapped around her finger from her very first breath. We will be forever grateful to her selfless and brave birth mom for choosing adoption and selecting us to be Amelia's dads. We are in regular contact with both of Amelia's birth parents and we feel strongly that ongoing contact and communication is really best for everyone involved. We understand adoption to be a lifelong journey and we have a strong relationship with Amelia's birth parents built on mutual respect and appreciation. We have supported each other though challenging times and celebrated each of Amelia's milestones from first tooth to first step. We are absolutely supportive of another open adoption and hope to provide this child with a clear understanding of how and why our family was formed.
Lifestyle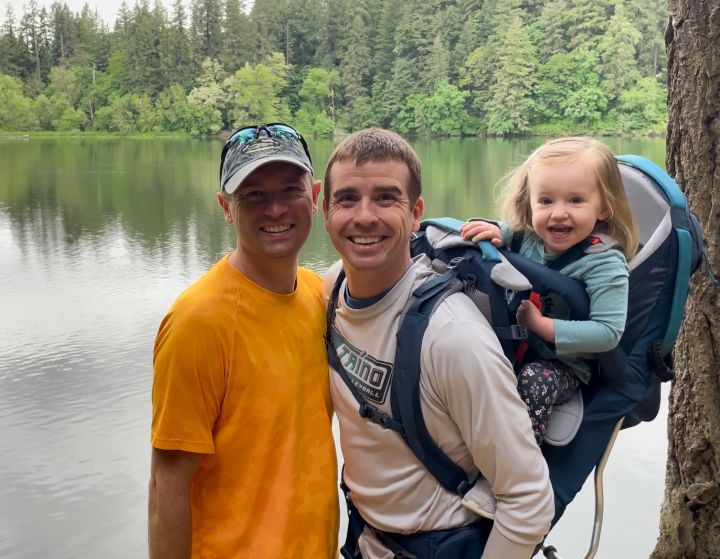 We love to travel and feel very blessed to be able to do so often. We enjoy visiting family and friends all over the country and exploring different regions and cultures around the world. We have continued to travel with Amelia and plan to do so with this child as well. Although it is always exciting to visit new places we also like to stay home and appreciate the beauty of the pacific northwest. When we are home, we stay active by kayaking, hiking and visiting parks or the swimming pool together as a family. We are members of our local zoo and season ticket holders for the Portland Thorns soccer team and we have loved sharing these experiences with our daughter. Chris is a skilled woodworker and he has made most of the furniture in our house and even built the pergola and raised flower beds on our outdoor patio. His favorite pastimes are biking, tennis, and downhill skiing. Alex is an avid volleyball player and he competes in local leagues and tournaments and has also coached youth and special olympic teams. He spends his downtime drawing, watching sports, and even though he knows it's nerdy, he loves a good jigsaw puzzle. We are excited to share our interests with our children but will also encourage them to try lots of different things and follow their own passions.
Our Professional Lives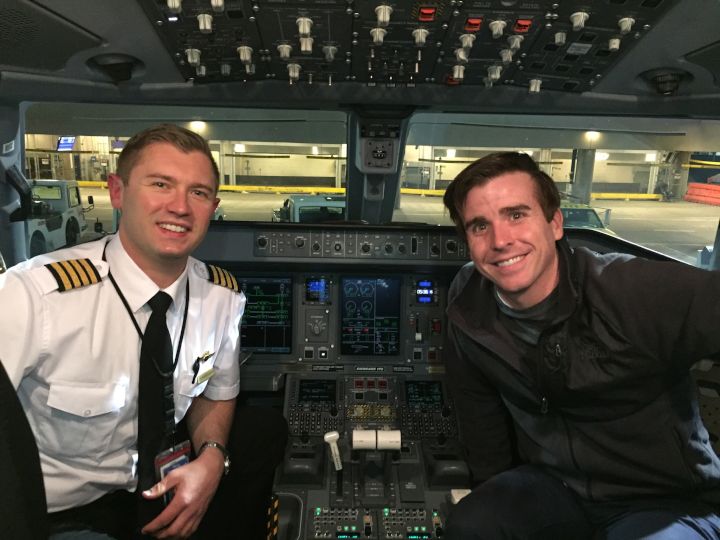 Chris is a commercial airline pilot. He is one of those people who always knew what he wanted to be, ever since he was a young boy and was jealous that birds could fly and he couldn't. He loves his work and has a true passion for flying and all things aviation related. Our home is like a small air museum with all the model airplanes and aviation memorabilia on display. Chris' career gives him a very flexible schedule with lots of time off to spend with family. Working for a major airline has also provided our family with opportunities to travel and see the world together.
Alex is an occupational therapist for our neighborhood school district. He helps children with special needs reach their highest potential and be as independent as possible. This includes helping students develop motor skills or social-emotional skills, consulting with teachers, and advocating for accommodations or supports that can help students increase their success at school. Alex loves that his job allows him to build relationships with children and families that can last for many years. As a school employee, Alex works a traditional school schedule with holidays off and longer breaks over Christmas and summer. This schedule will be ideal as our children becomes school-age and we would like them to attend the same school where Alex works.
Photos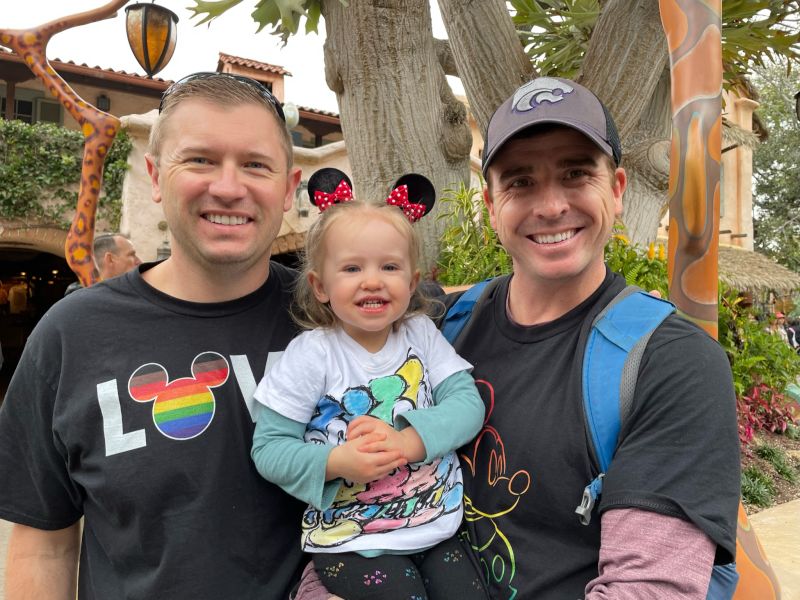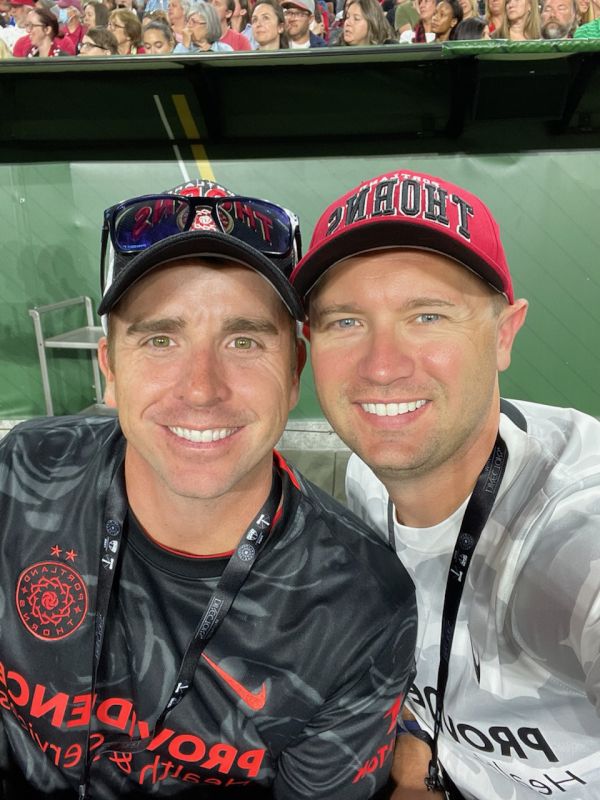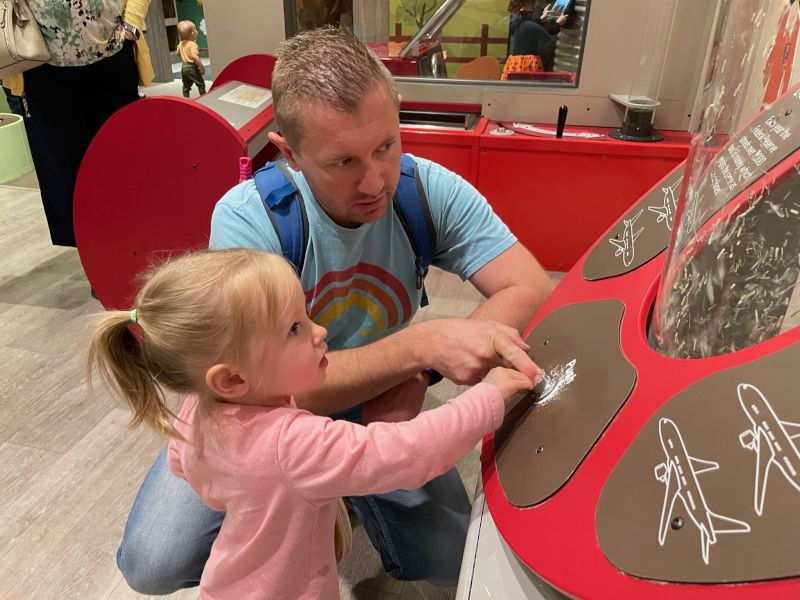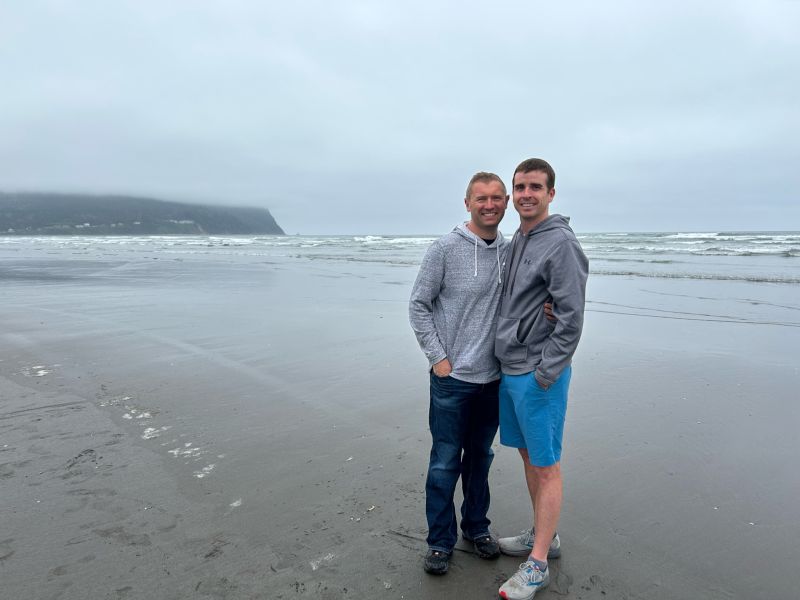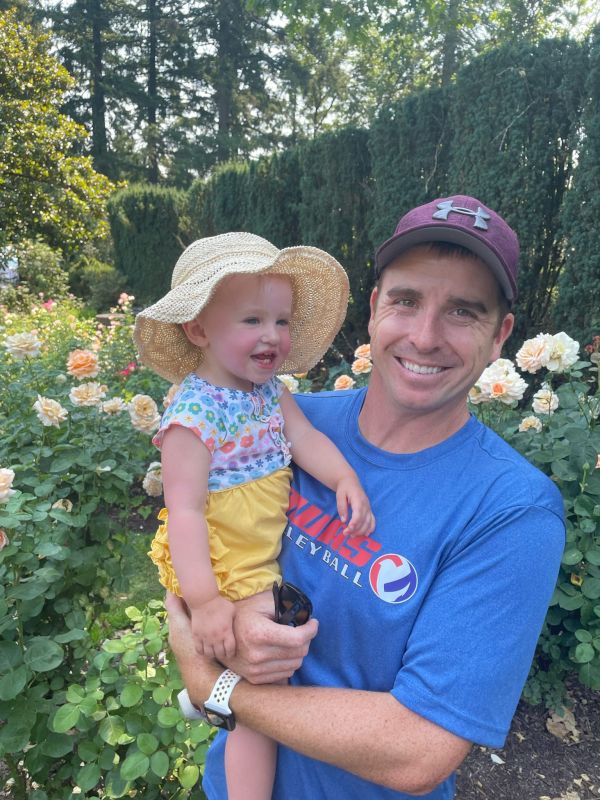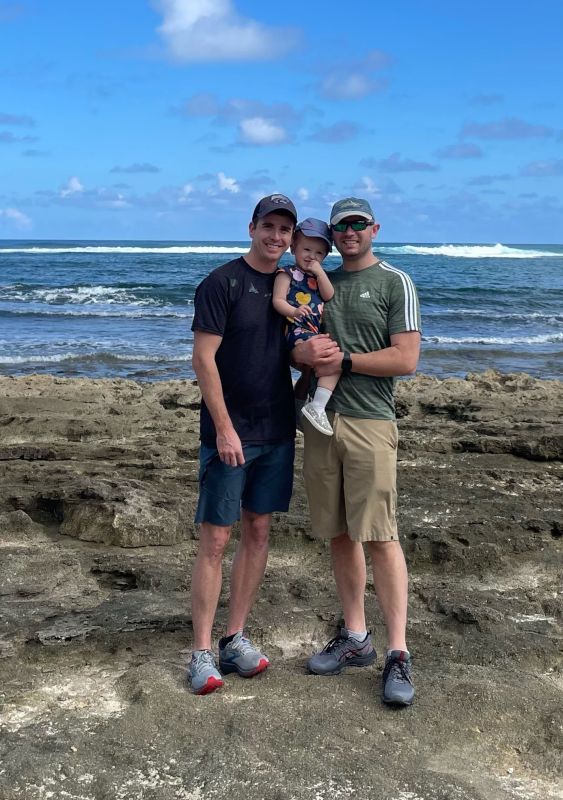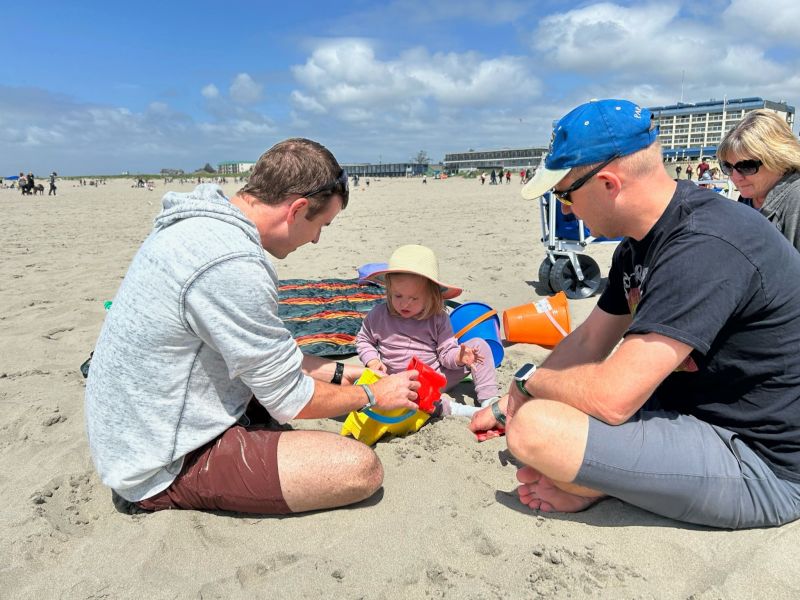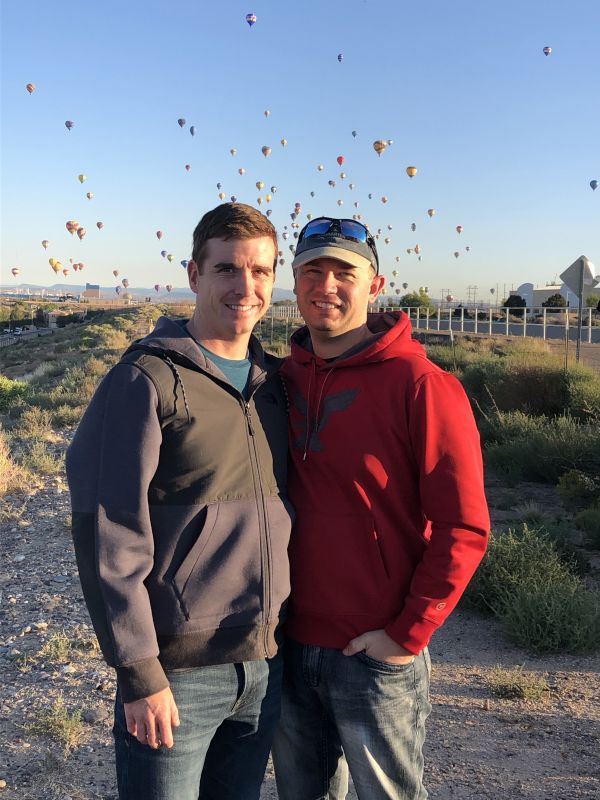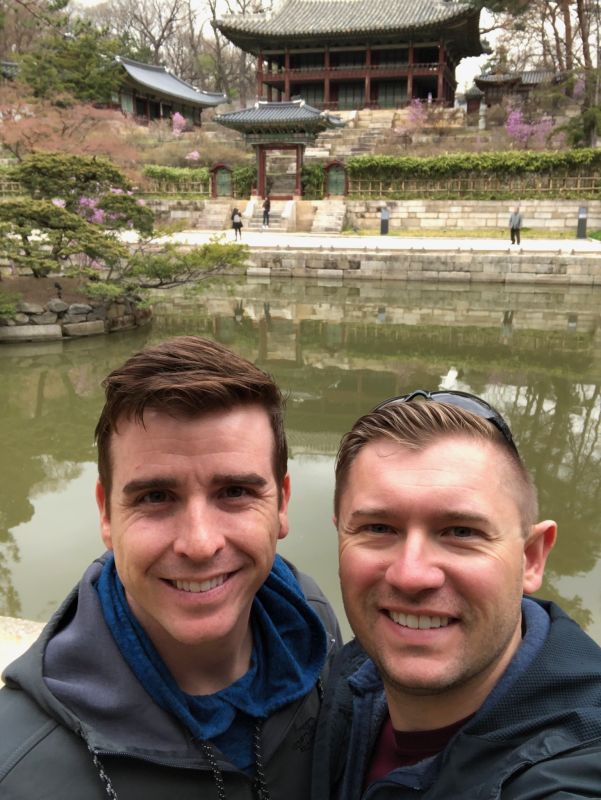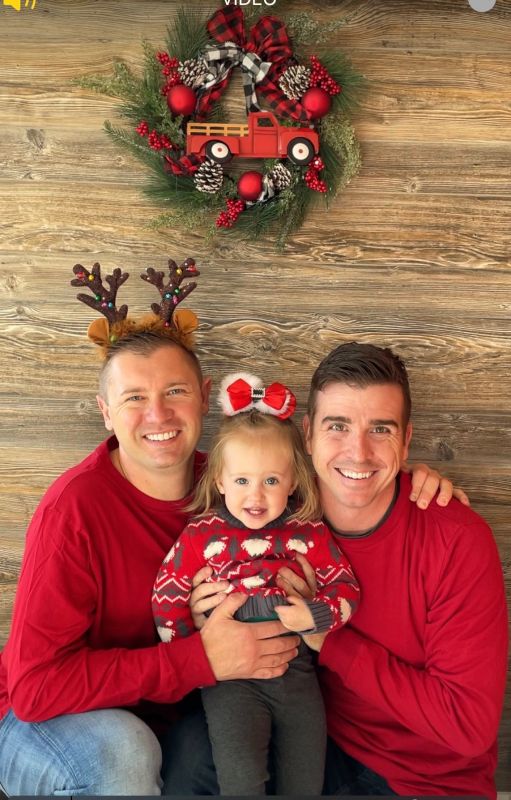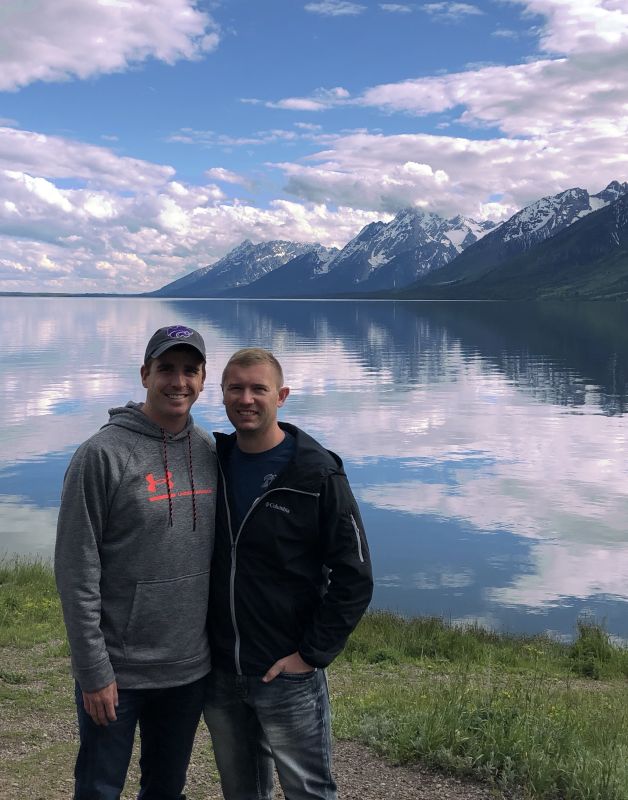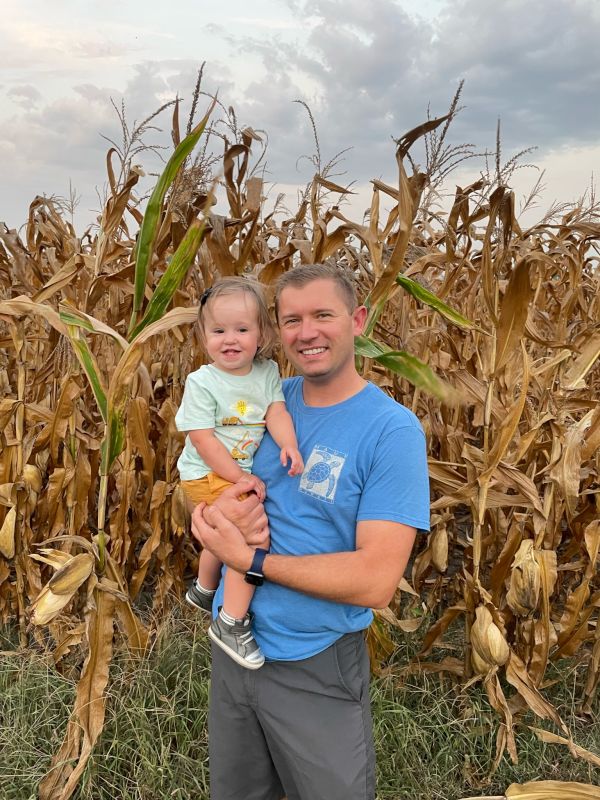 ×
1 / 12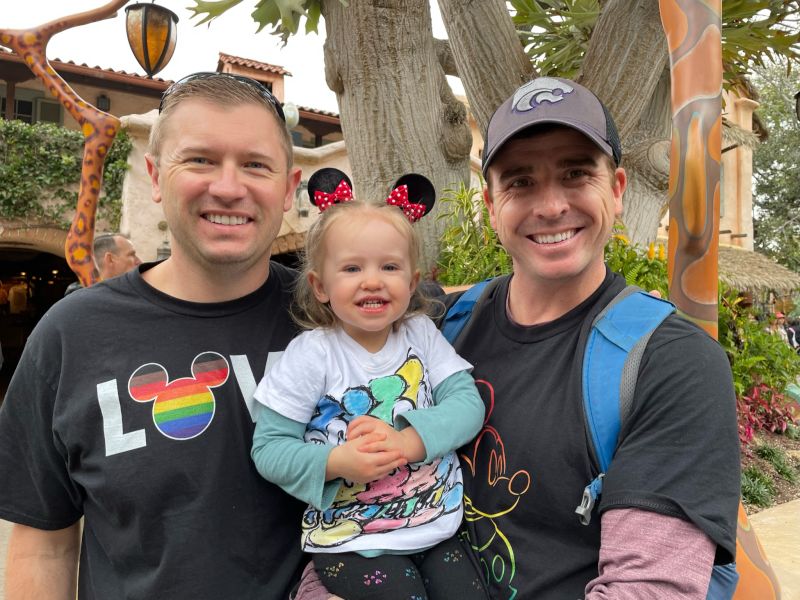 2 / 12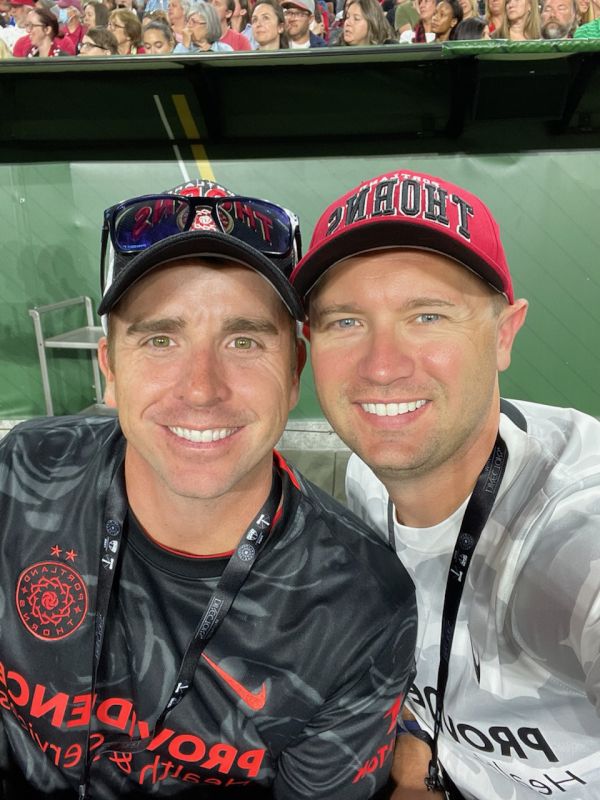 3 / 12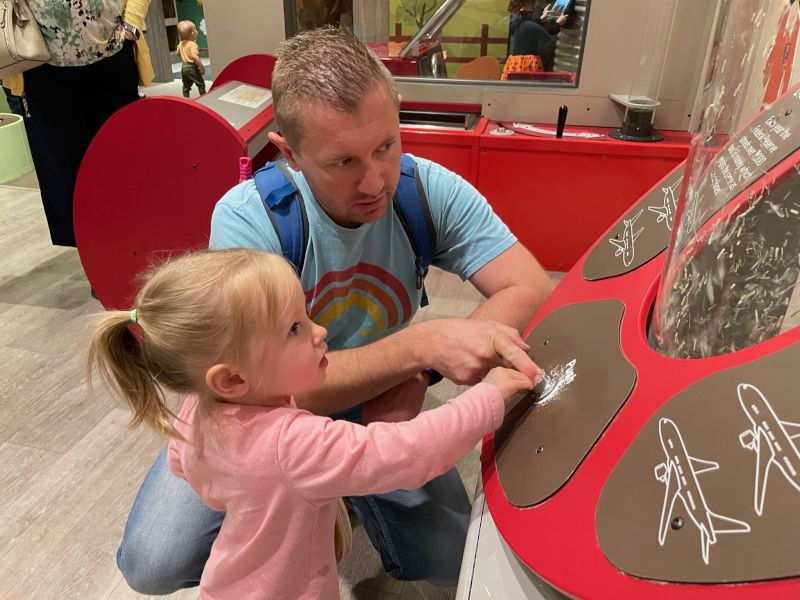 4 / 12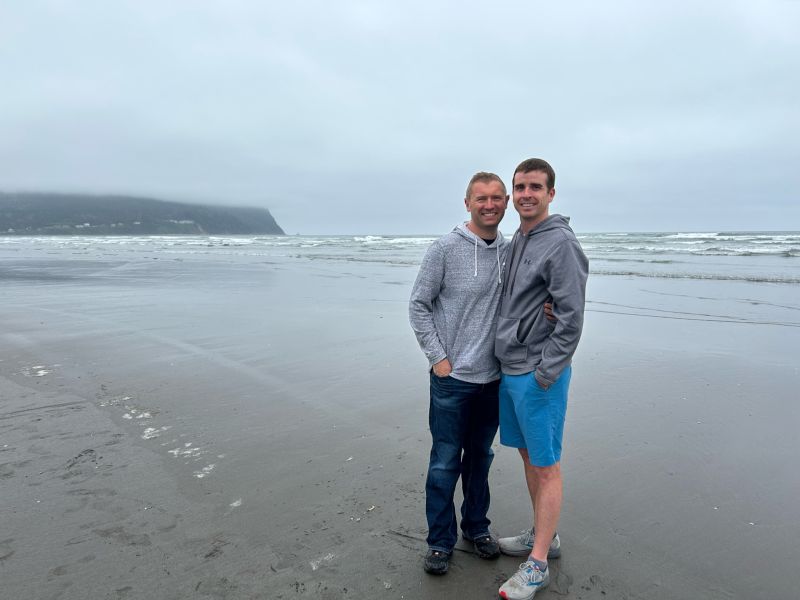 5 / 12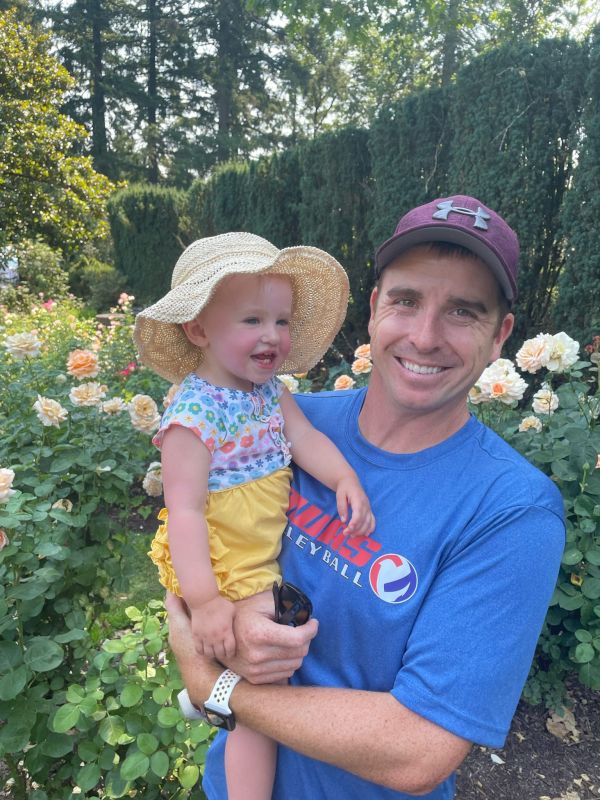 6 / 12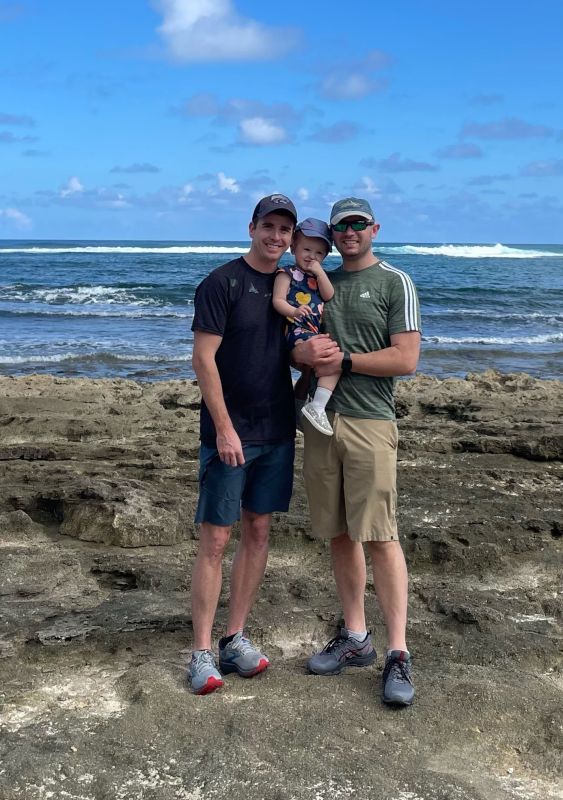 7 / 12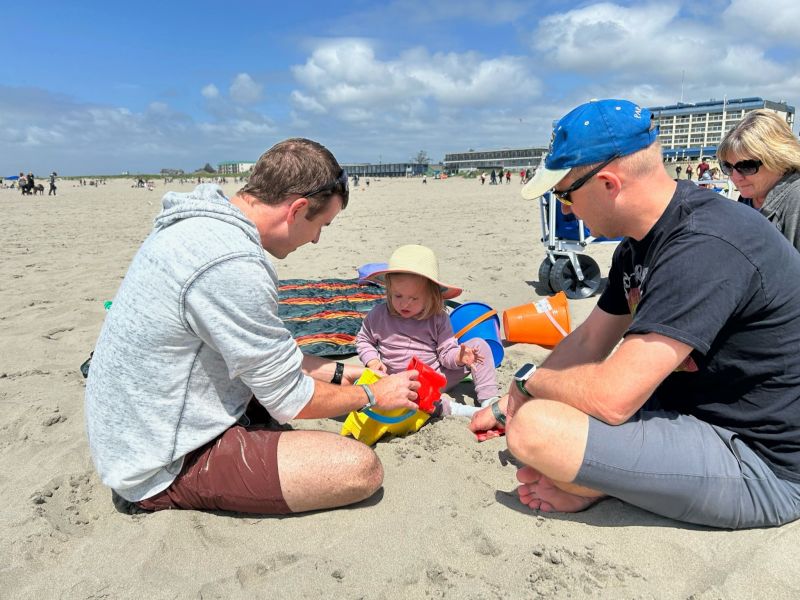 8 / 12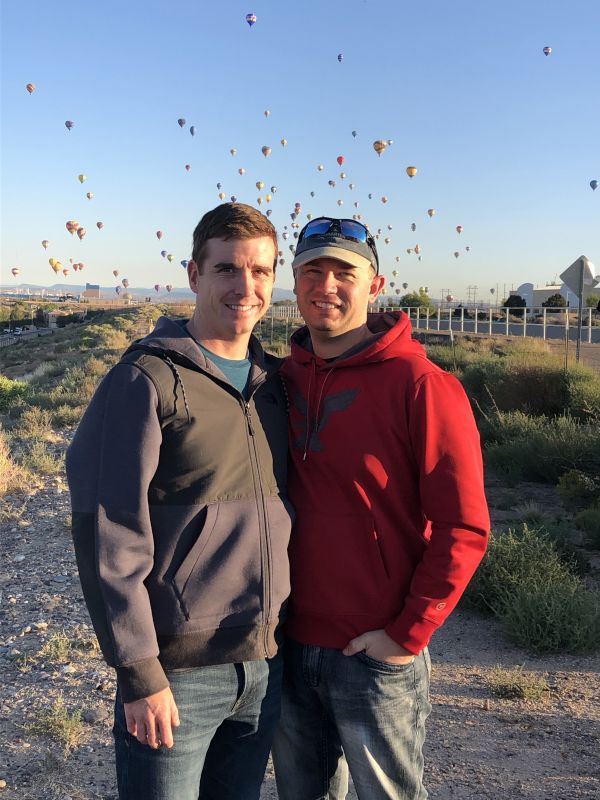 9 / 12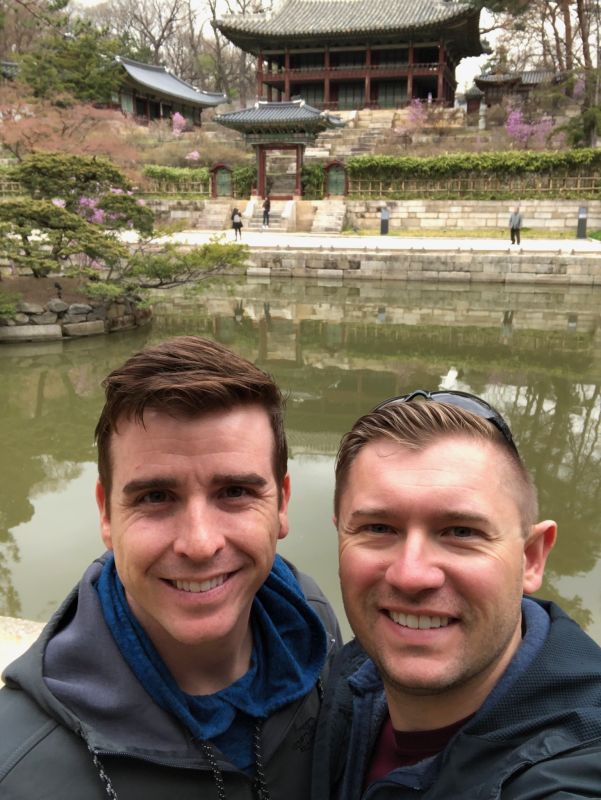 10 / 12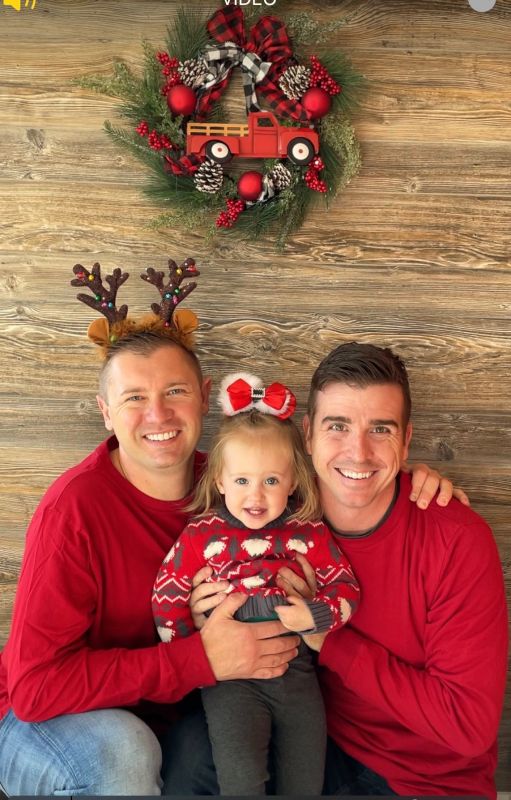 11 / 12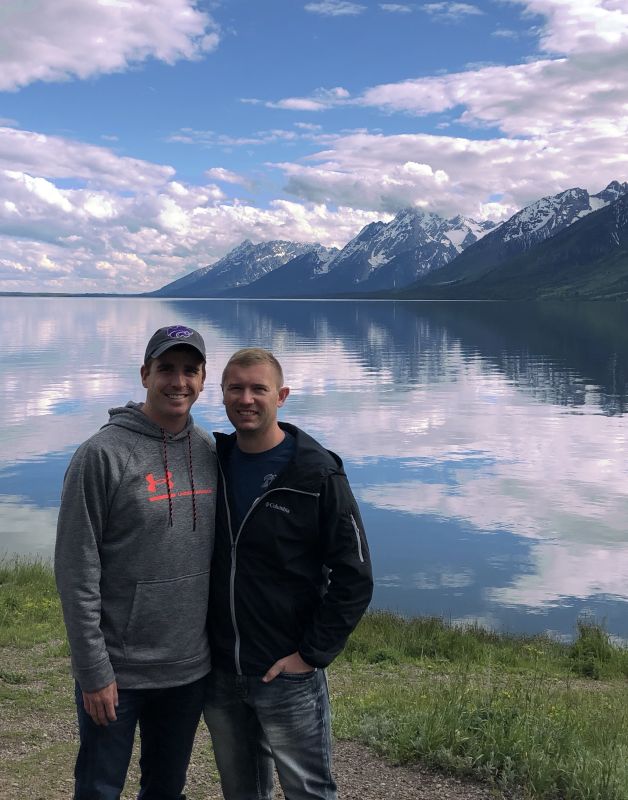 12 / 12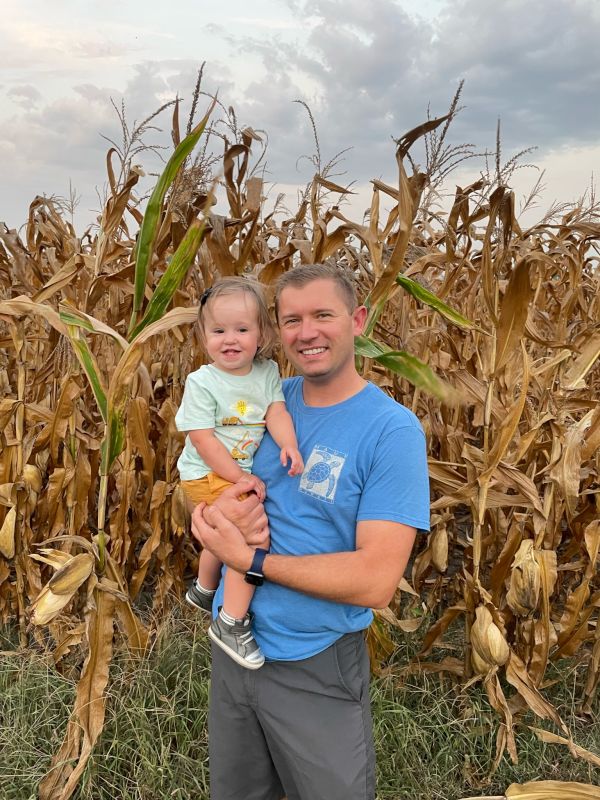 ❮
❯
Our House and Neighborhood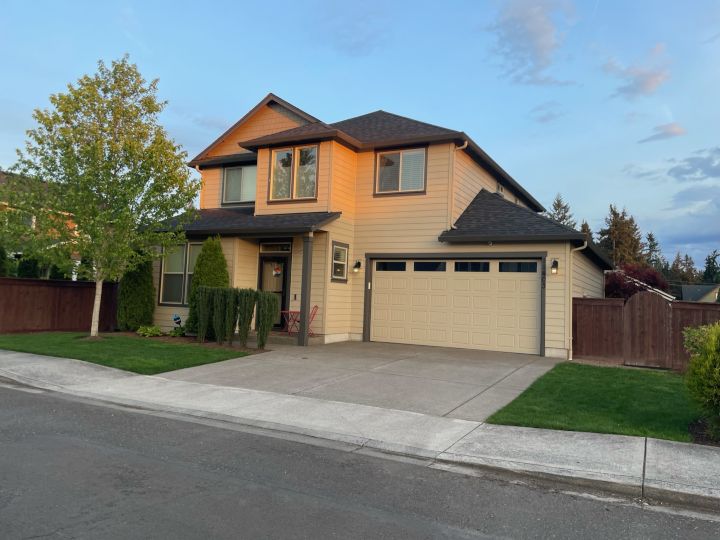 We live in a fun and active suburban neighborhood surrounded by neighbors we know and trust. All of our neighbors have been extremely accepting of us as a gay couple and have welcomed us with open arms into their homes for dinners and holiday gatherings.
There are lots of kids in our neighborhood and we live within walking distance of several parks and hiking trails and within a short drive to both the Cascade mountains and the Pacific Ocean. Opportunities for outdoor adventures are endless and some of our favorites include hiking, skiing, cycling, and kayaking.
Our home is a newer two-story house with lots of space to grow our family. It has a large fenced-in back yard where we spend our time barbecuing, playing yard games, or relaxing by the fire-pit. Our main floor has lots of open space, perfect for entertaining family, friends and neighbors. Music is always playing throughout the house and our family room frequently doubles as a dance floor with Amelia making sure everyone is dancing or playing their instruments. The most recent addition to our home is a child-sized playroom that Chris built under our stairs. It is a perfect little nook for Amelia and a brother or sister to draw or look at books together. Daddy and Papa can and do fit inside, but only by personal invitation. We love to decorate our home for every season and gather everyone together to celebrate special events at our place!
Our Extended Families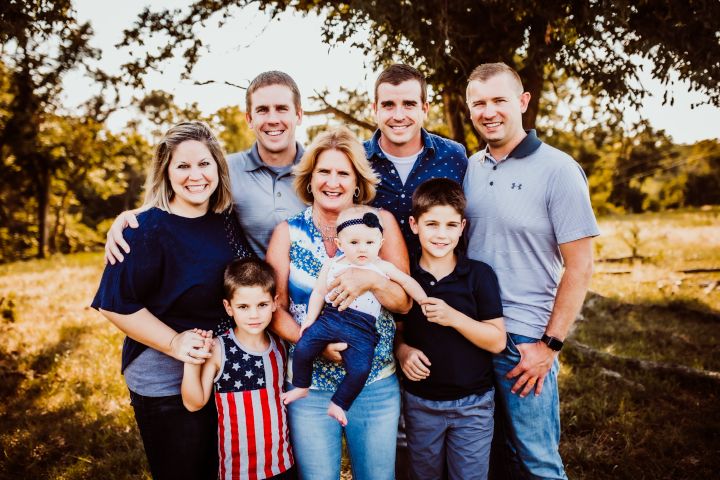 We grew up in separate parts of the country, but had very similar upbringings. We both have close-knit and supportive families. Both of our fathers have passed away but raised us to be productive, loving members of our families and communities. Our moms are strong presences in our lives and we get to spend lots of quality time with each of them. Chris' mom lives close by and has been a tremendous support to us, especially since becoming parents. In fact, Grammy's house is one of our daughter's favorite places to go! Alex's mom lives in Kansas but is retired and able to visit often. Both of them are completely in love with Amelia and would love nothing more than another grandchild to spoil and snuggle.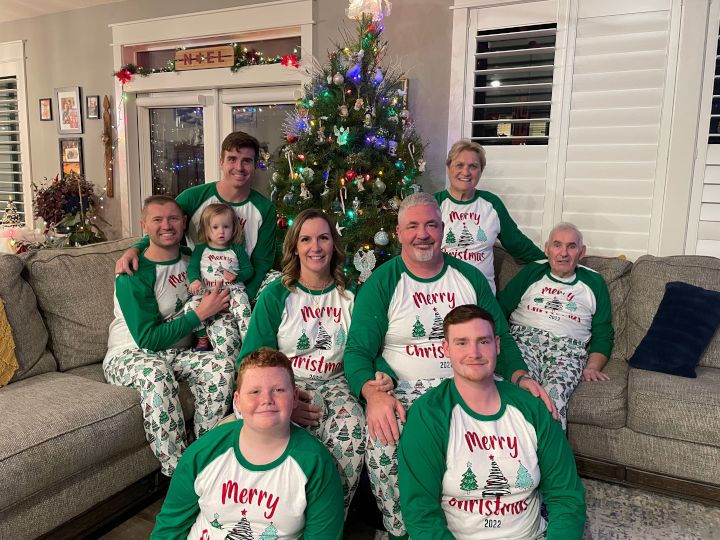 We each have one brother and both of them are married with two boys. Amelia loves spending time with all of her cousins. We regularly get together for birthdays, holidays and vacations! Some of our favorite family trips have been to the beach with days spent playing in the sand and nights filled with board games and cards. Our families have both been extremely supportive of our adoption and love Amelia unconditionally! They can't wait for us to add another member to the family.
From Us to You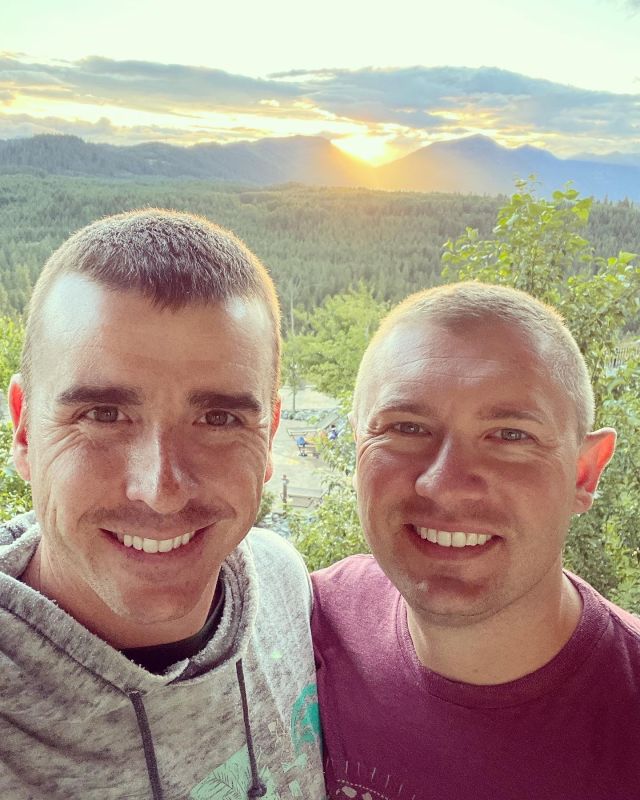 If you have made it this far into our profile then we know you must be a very accepting and open-minded person. When you first started considering adoption you might not have thought about two men raising your child, but somehow you found us and are giving us a chance. We are already extremely grateful to you for even considering us as potential adoptive parents.
When we met eight years ago the Supreme Court was just considering legalizing same-sex marriage nationwide. The idea that one day we could not only be married but raising a child together would have blown our minds. But here we are, married for six years, raising a toddler and living out our wildest dreams every single day. Still, as blessed as we have been, we know that we have so much more love to give and would love nothing more than to welcome another child into our family.
We realize that we will never be considered a traditional family, but we're alright with that. We are proud of our life together and we want to raise our children to be confident and proud as well. This will mean sharing our adoption story early and often, and that story will include you, the birth mom. We want this child to understand where they came from while also respecting your wishes with how much information to share. We will make sure they know how much you love them and what a selfless act adoption truly is. We will absolutely embrace an open adoption and feel that ongoing contact and openness will be important to give this child the best understanding of their own story.
We know that this is a very difficult time for you, and our goal now, and throughout this journey will be to make you feel respected, informed, and appreciated. We want you to be at peace with whatever decisions you make. We will respect your wishes, including what kind of contact you want before and after the baby's birth. We are open to continuing communication through phone calls, texts, emails, letters and photos. With our ability to easily travel around the country, we would welcome opportunities to visit you before or after the birth. We also understand that you may not know how much contact you want right now and that's OK. We want to work together to find the right level of openness to meet your needs and to support you and this child throughout our journey together.
You are surely feeling a lot of uncertainty and we realize it must be a daunting task to make such a difficult decision. There are no guarantees in life but we can promise you that we will do everything in our power to give your child a loving, positive, and safe home to grow up in. We will love your child just as much as if we shared a biological connection. We will strive every day to keep our promises to you and provide the guidance and support that you would want for your child.
We live in a very diverse and inclusive part of the country that we feel will foster the development of a healthy and open minded individual. This child will grow up surrounded by caring family members, friends, and neighbors. Although he or she will have two dads, there will always be strong and confident women nearby in the form of our moms, cousins and friends. Our home will be filled with family dinners, game nights, dance parties, and bedtime stories. We are excited to provide opportunities for this child to experience new places and cultures all around the world while always having a safe and nurturing home to come back to.
Thank you for getting to know us through our profile and we hope to get to know you better soon. We have the utmost respect and admiration for your courage and willingness to explore adoption. Whether you choose us or not, we sincerely hope you make the best decision for you and your child.
Sincerely,
Chris & Alex
Favorites
Actor
Morgan Freeman
Tom Hanks
Actress
Amy Poehler
Reese Witherspoon
Author
Michael Crichton
J.R.R. Tolkien
Book
Holes
Lord of the Rings
Candy Bar
Sour patch kids
Reese's Peanut Butter Eggs
Cartoon
Winnie the Pooh
Futurama
Childhood Memory
Lake vacations
Camping and boating with my family
Childhood Toy
Dirt bike
Legos
Children's Book
Goosebumps
Where the Wild Things Are
Classic Movie
Titanic
Wizard of Oz
Day of Week
Saturday
Friday
Dessert
Chocolate milkshake
Chocolate Chip Cookies
Dream Job
Pilot
Ice Cream Taster
Dream Vacation
All inclusive Caribbean beach destination
Bora Bora
Family Activity
Kayaking
Hiking
Flower / Plant
Rhododendron
Dahlia
Food
Chips and Guacamole
Pizza
Form of Exercise
Running
Playing any sport
Fruit
Blueberries
Strawberry
Holiday
4th of July
Christmas
Holiday Song
All I Want for Christmas - Mariah Carey
Underneath the Tree- Kelly Clarkson
Holiday Tradition
Stockings
Hunting Easter Eggs
Ice Cream
Cinnamon swirl
Cookies N' Cream
Junk Food
Tortilla chips
Doritos
Leisure Activity
Wood working
Jigsaw Puzzle
Magazine
Flying Magazine
Sports Illustrated
Memory with a Child
First Hawaii trip
Taking our daughter to Disneyland
Memory with Spouse
Vacation to Amsterdam
Vacation to Rome
Movie Munchie
Popcorn
Popcorn
Movie Quote
You can be my wingman anytime - Top Gun
"There's no place like home"- Wizard of Oz
Movie Type
Action/mystery
Comedy
Musical
Dear Evan Hansen
Moulin Rouge
Musical Group
Simple Plan
ABBA
Nursery Rhyme
Wheels on the bus
Twinkle Twinkle Little Star
Olympic Event
Ski jump
Gymnastics
Personal Hero
My husband
My dad
Poet
Emily Dickinson
Robert Frost
Quality about my Spouse
Patience
Generous spirit
Quote
When once you have tasted flight, you will forever walk the earth with your eyes turned skyward
"Adventure is worthwhile in itself"- Amelia Earhart
Restaurant
Chipotle
Red Robin
Sandwich
Turkey Swiss
Club
Scripture
Love thy neighbor
Do everything in love
Song
Life is a highway - Rascal Flats
Try Everything- Shakira
Sport to Play
Tennis
Volleyball
Sport to Watch
Football
Football
Sports Star
Patrick Mahomes
Serena Williams
Sports Team
Kansas City Chiefs
Kansas City Chiefs
Subject in School
Chemistry
Biology
Superhero
Spiderman
The Flash
Thing to Cook
Macaroni and Cheese
Lasagna
Time of Day
Dinner time
Late afternoon
Tradition
Yearly family vacation
Whole family table tennis tournament
TV Show
Stranger things
Schitt's Creek
TV Show Character
Leslie Knope
Michael Scott
Type of Music
2000's country
Oldies
Vacation Spot
Hawaii
Hawaii
Video Game
Duck hunt
Super Mario Bros.
Get in Touch
Provide more information, so American Adoptions can connect you with this family.
---