1-800-ADOPTION
Thank you for viewing our profile
If you would like to learn more about us, please call 1-800-ADOPTION (2367846), fill out the form at the bottom of our on-line profile page, or email us at bp_information@americanadoptions.com.
To revisit our on-line profile page and view our profile video at American Adoptions, simply use your mobile phone to scan the QR code on the right. We are looking forward to hearing from you!
Matt & Marisa
Becoming parents through the gift of adoption has been our life's greatest joy! It's a profound blessing and humbling responsibility to have been chosen by our children's first families to love them forever. It's a gift we are deeply grateful for every day and we are SO excited for our family to grow again through adoption. We are honored that you have taken the time to get to know us better.
About Us
Job
5th Grade Teacher
Doctor
Education
Master's Degree
Doctor of Medicine
Relationship
Legally Married
Our Family Traditions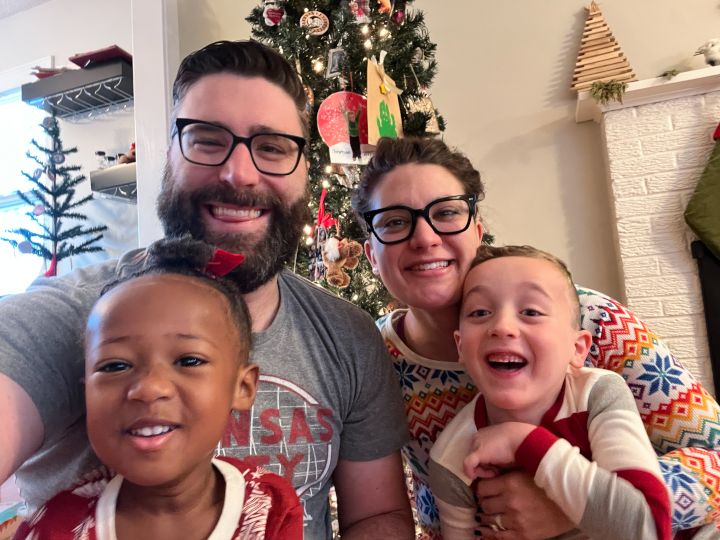 We both grew up in families where traditions were an important part of life. Marisa comes from a big, Italian family and her grandparents are incredible cooks. Each year during the holiday season, Marisa's grandparents teach the family how to make a new Italian dish! Similarly, Matt's family gets together every Christmas to make batches and batches of Christmas cookies and dance to their favorite Christmas music. Jack, our oldest nephew, has been working hard to teach Max and Gianna how to sing his favorite Christmas song, "All I want for Christmas is You." It's an amazing gift to spend quality time with the people we love the most during the holiday season!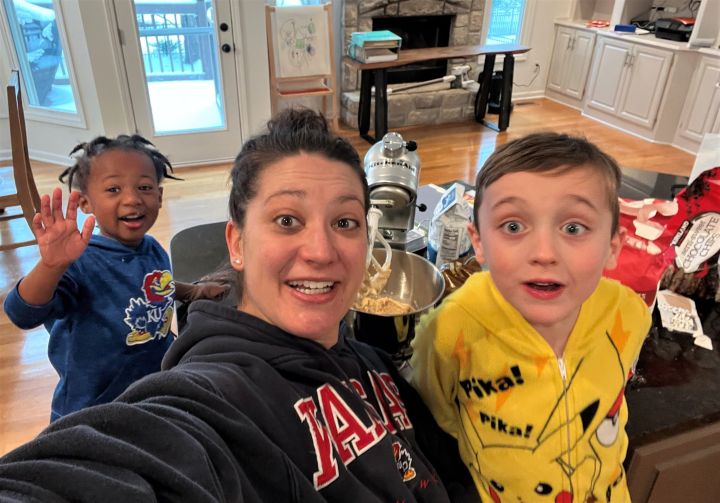 Another holiday tradition we have is New Year's Day. In our family, we call this "Bon Bon Day" where we stay in our pajamas and watch movies all day! We treat ourselves to popcorn and candy and enjoy ringing in the New Year together as a family. We are excited to share these traditions and make fun family memories with another child.
Our Leisure Time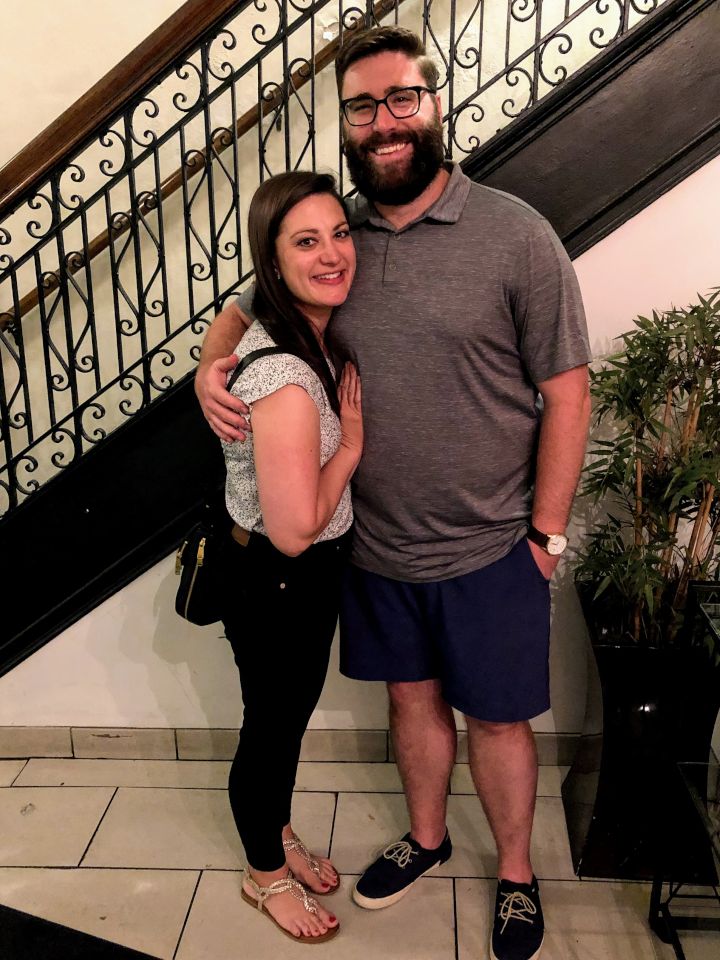 In our free time, our first priority is spending time together as a family. Whether it's a special dinner out at a new restaurant or an afternoon at the park or simply a lazy weekend afternoon at home we are intentional about enjoying quality time together as often as possible. We also love FOOD! Marisa loves to cook and enjoys the challenge of becoming a better chef with every new recipe.
Matt has a very impressive talent for wood-working and has hand-crafted beautiful pieces of furniture for our home. Matt has also been a die-hard fan of the Royals and Jayhawks since he was very young. He loves watching every game on TV and tries to go to as many games as he can. Some of Matt's greatest childhood memories are of watching games with his dad—he can't wait to make those same memories with our children.
We also love traveling and believe it's important to explore new places and get out of our "comfort zone". Combined, we have been to over twenty countries and hope to eventually make it to every continent. Max and Gianna have already been on several trips in their young lives. We are so excited to travel with our children and introduce them to new people, new perspectives and help show them the beauty of this world.
Cultural Diversity
As a transracial family, we are deeply committed to raising our children surrounded by cultural and racial diversity. This has always been something we wanted for our children but after our daughter, Gianna, was born we began to learn and understand how crucial it is that we intentionally seek this out for her and our family. As white parents to a Black daughter we know there will be times when she will need more than what we can give her and times when we won't be able to fully relate to something she's going through. It is our responsibility now, even as young as she is, to surround her with a village of role models that look like her and have walked in her shoes. It is our responsibility to surround her with a village who will be able to love and support her in those moments. As our children have gotten older we have sought out racially and culturally diverse churches, schools and neighborhoods and have been intentional about the books we read, the shows they watch and the toys they play with. As a transracial family, cultural and racial diversity is a profoundly important part of who we are both as individuals and as a family. We will always honor and celebrate that our family is not beautiful despite our differences but because of our differences.
Photos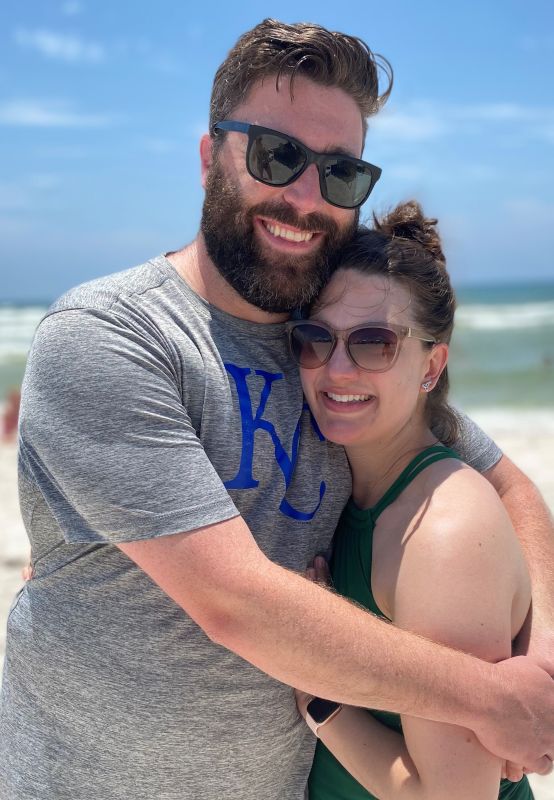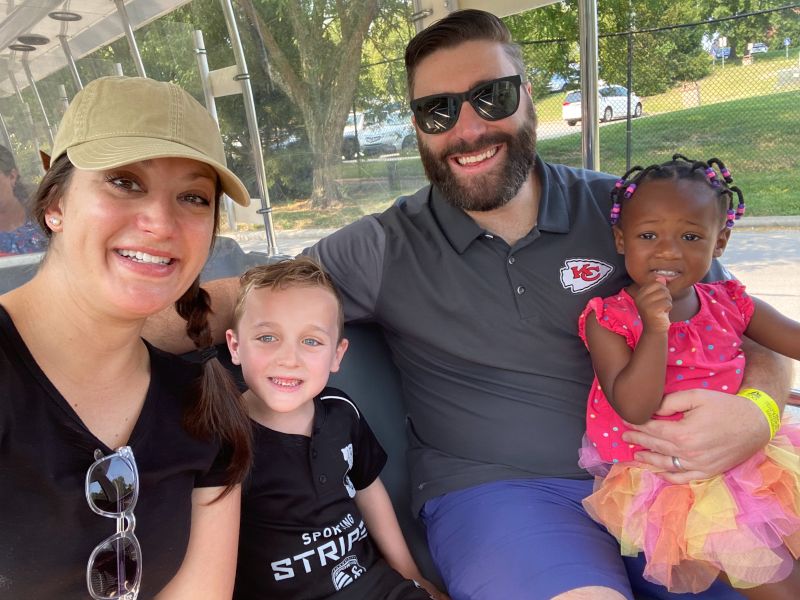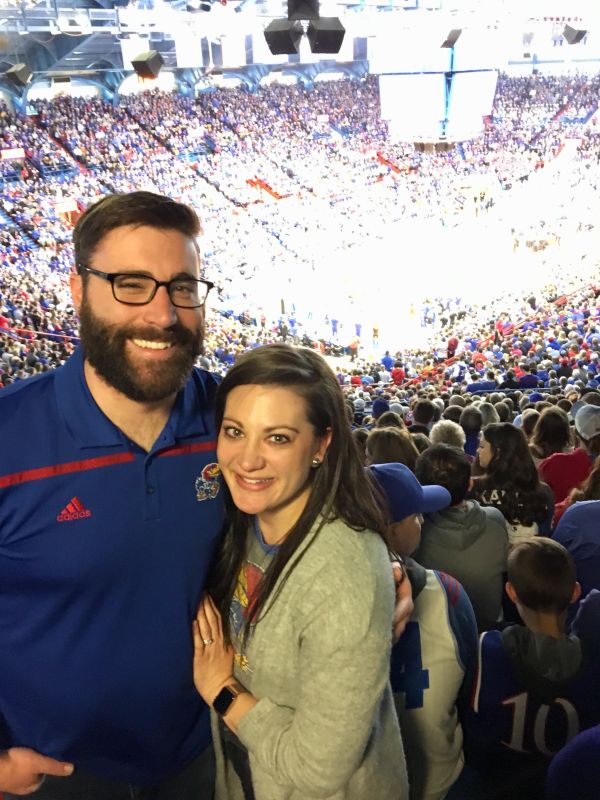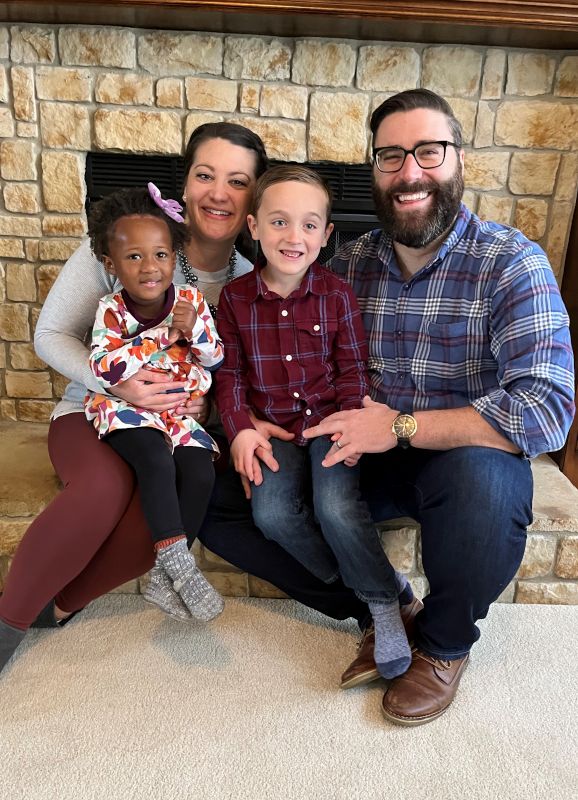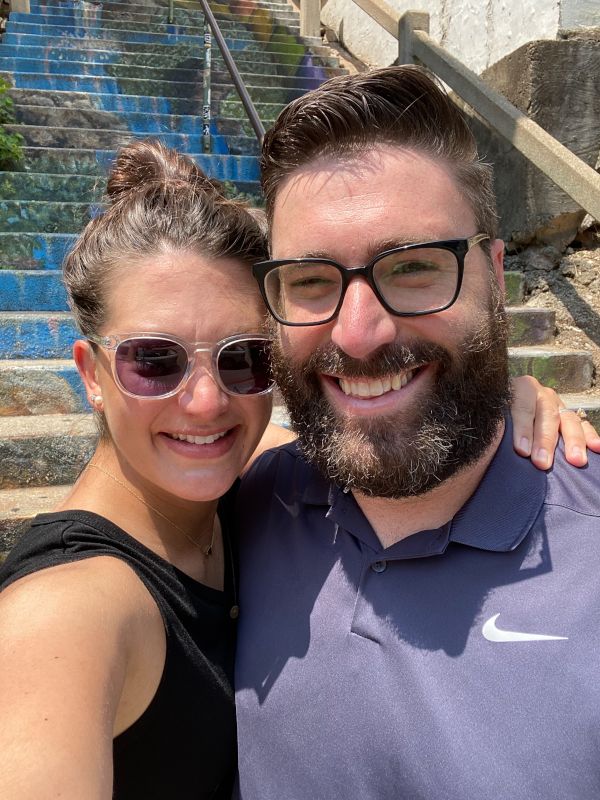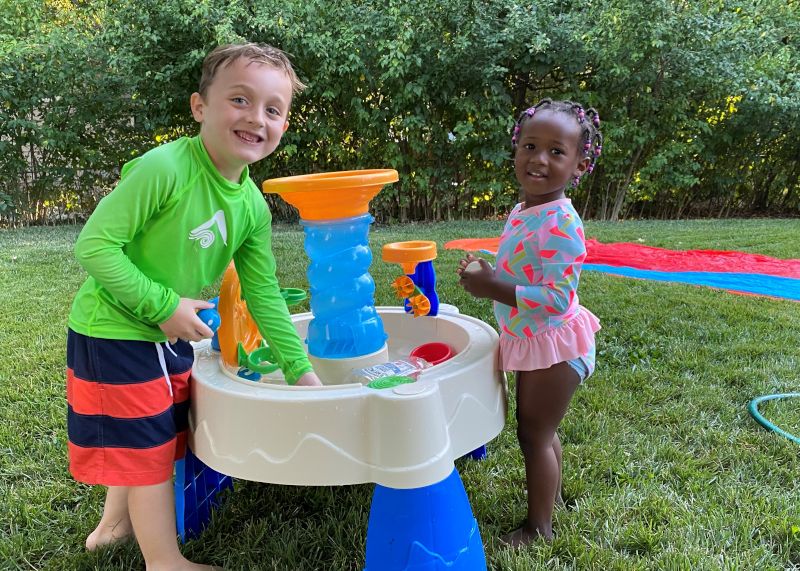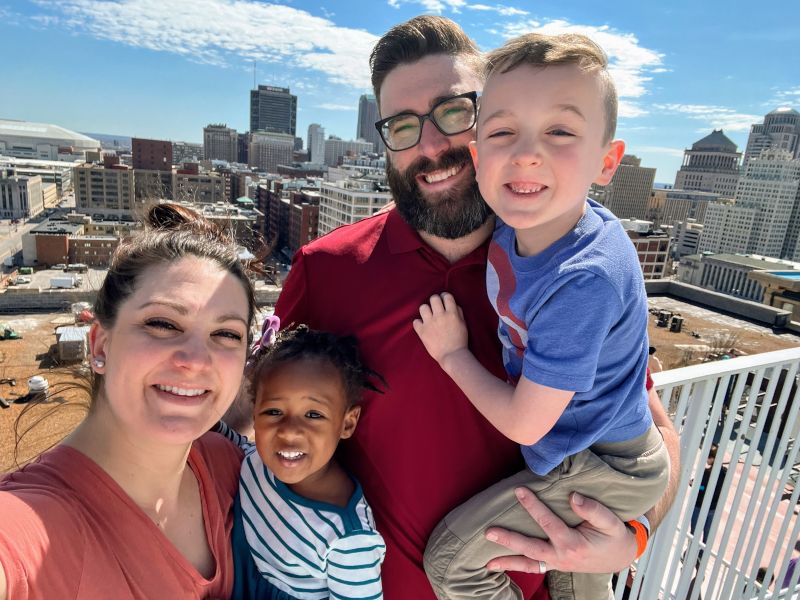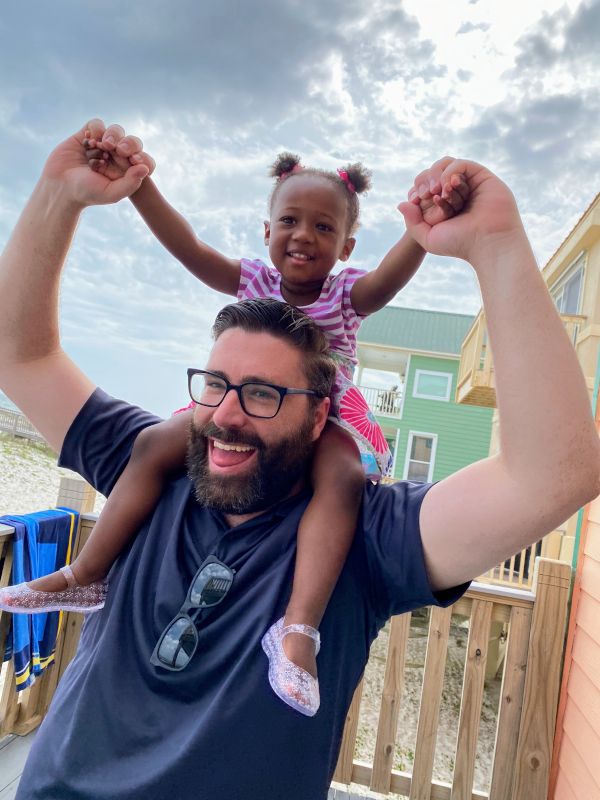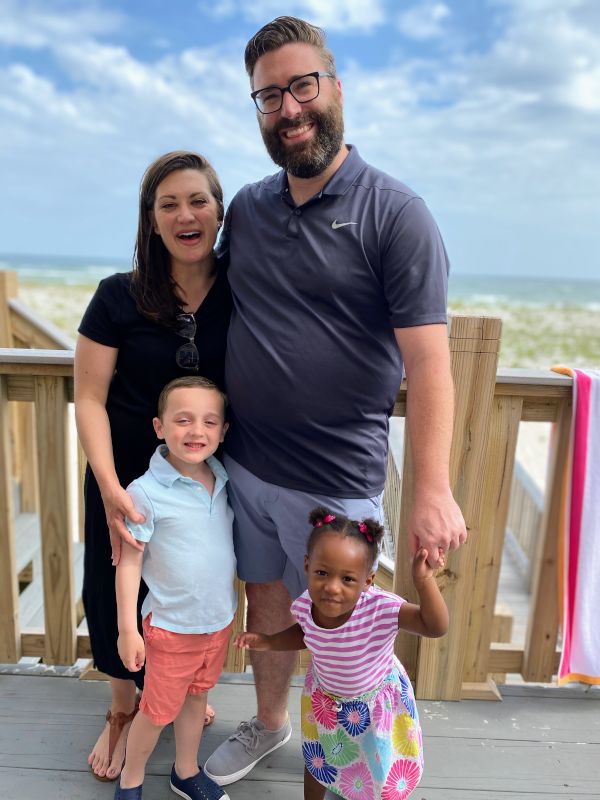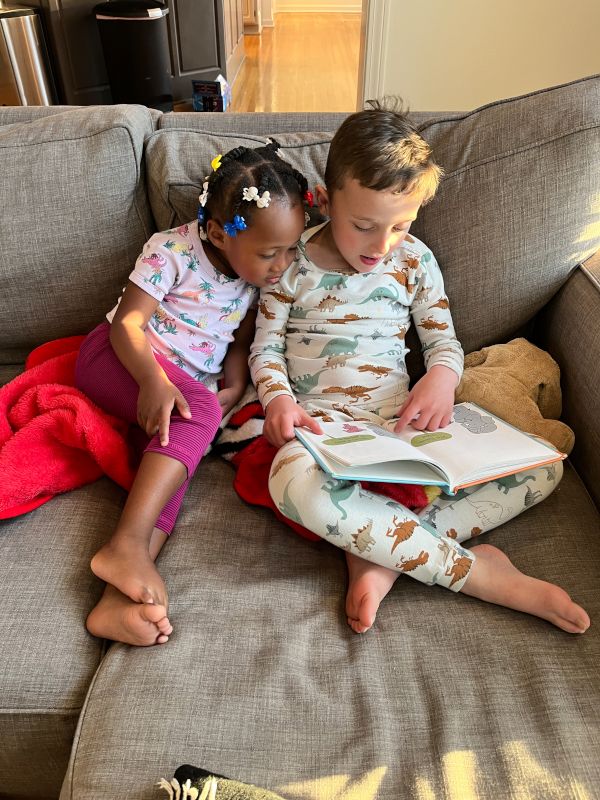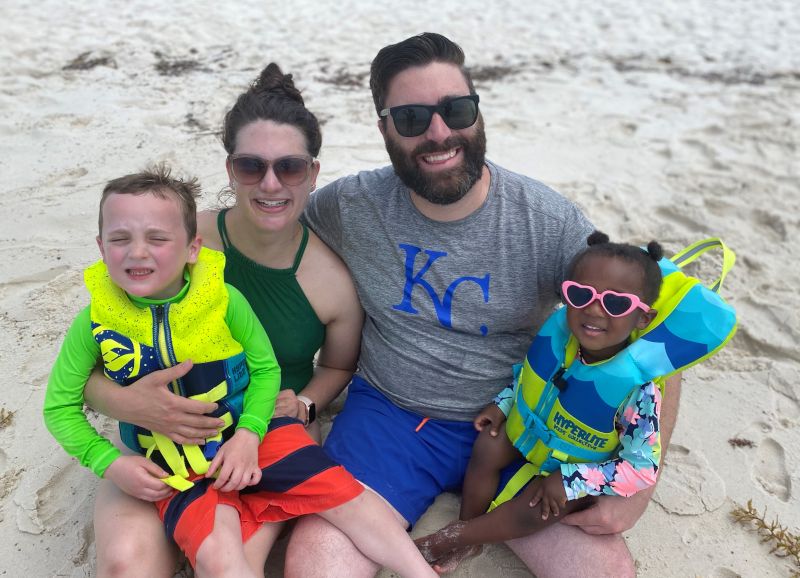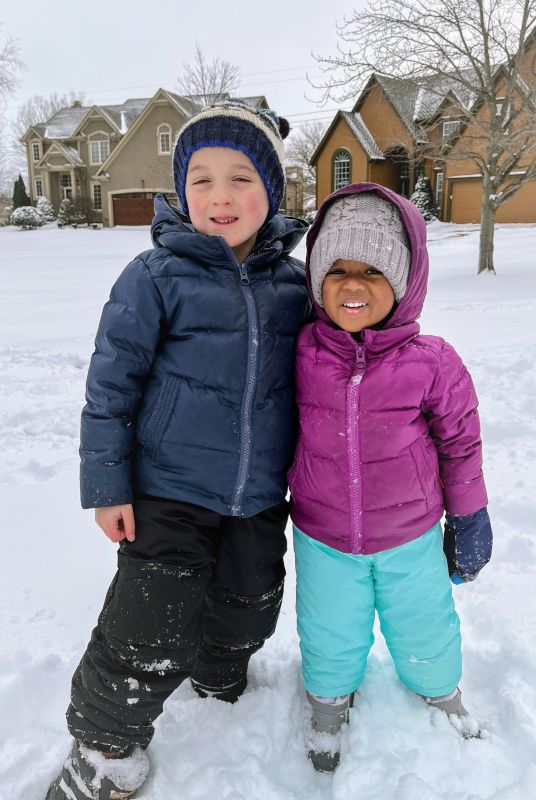 ×
1 / 12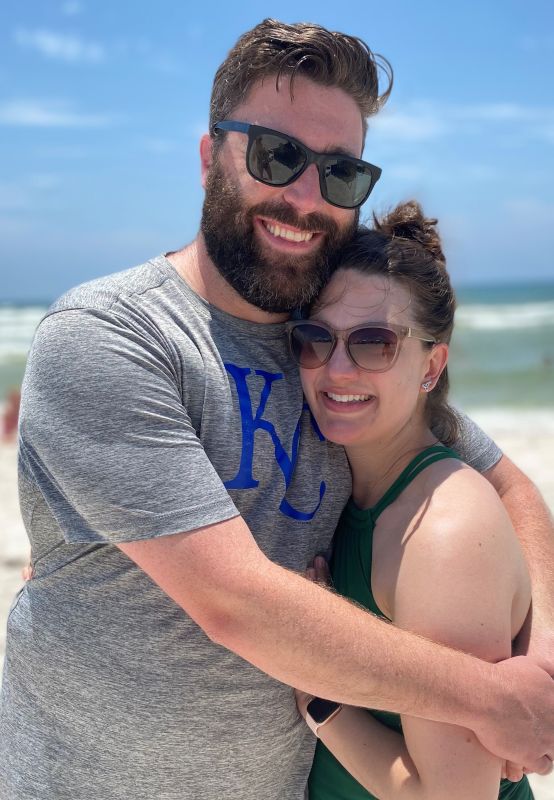 2 / 12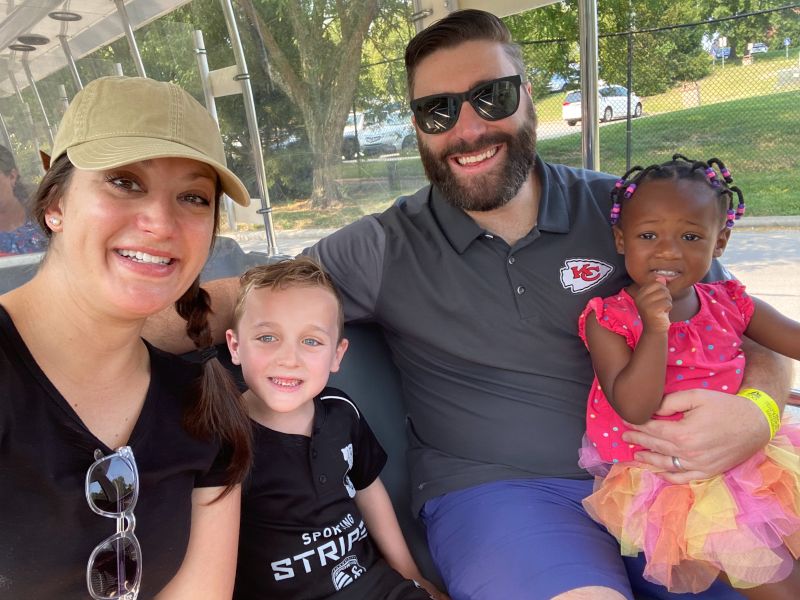 3 / 12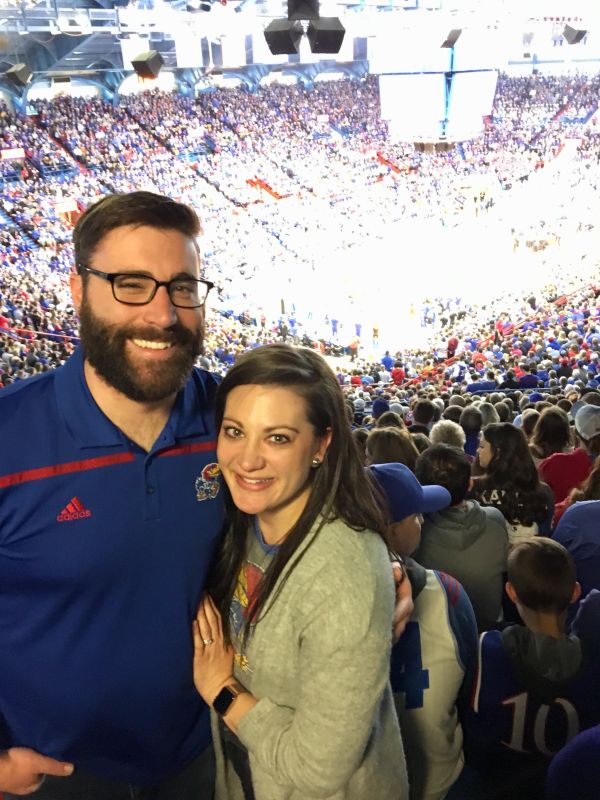 4 / 12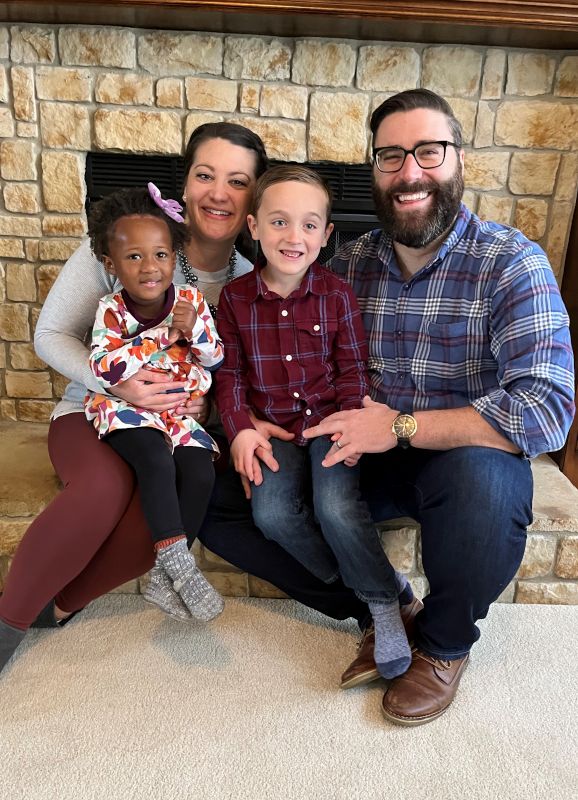 5 / 12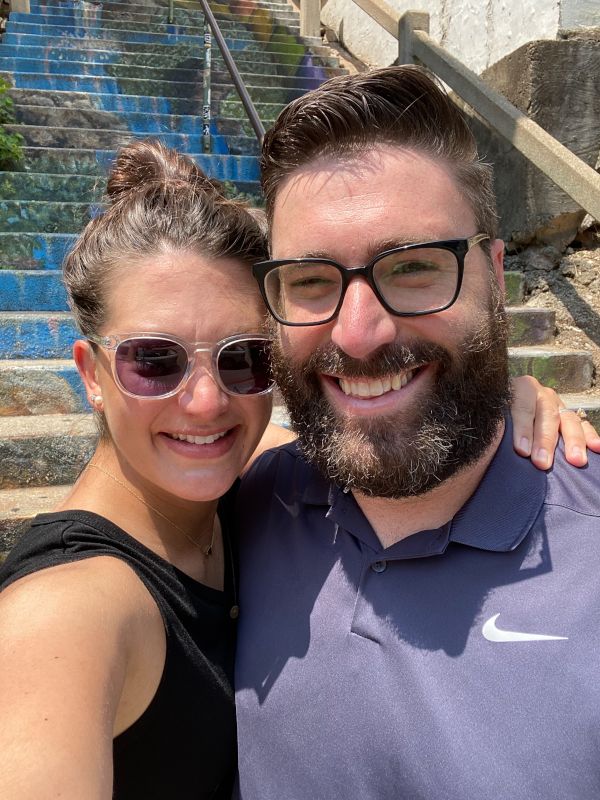 6 / 12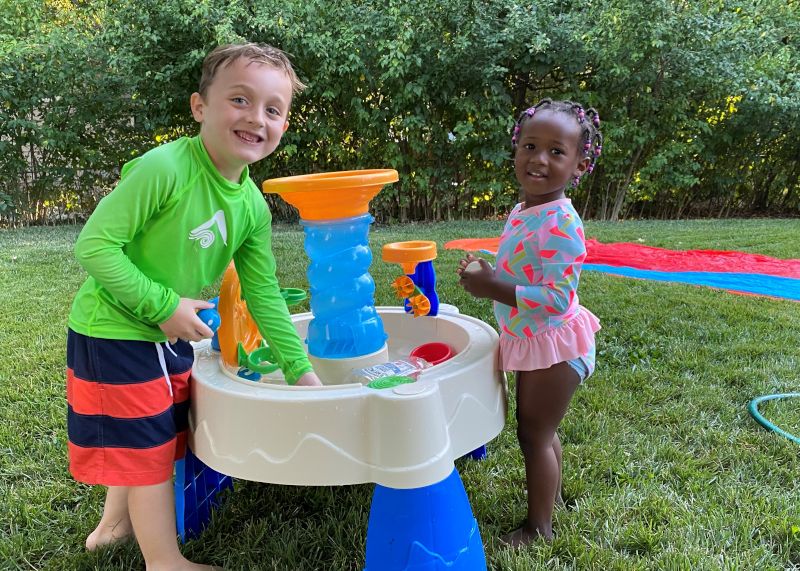 7 / 12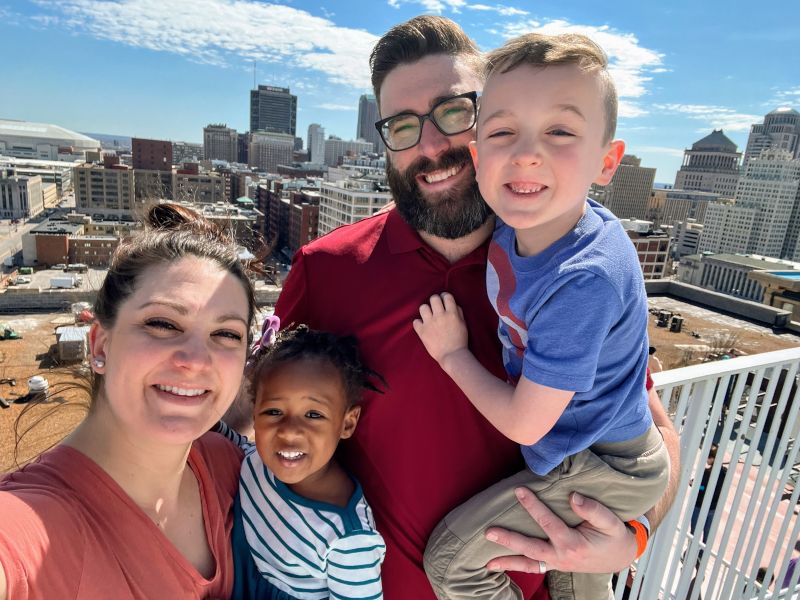 8 / 12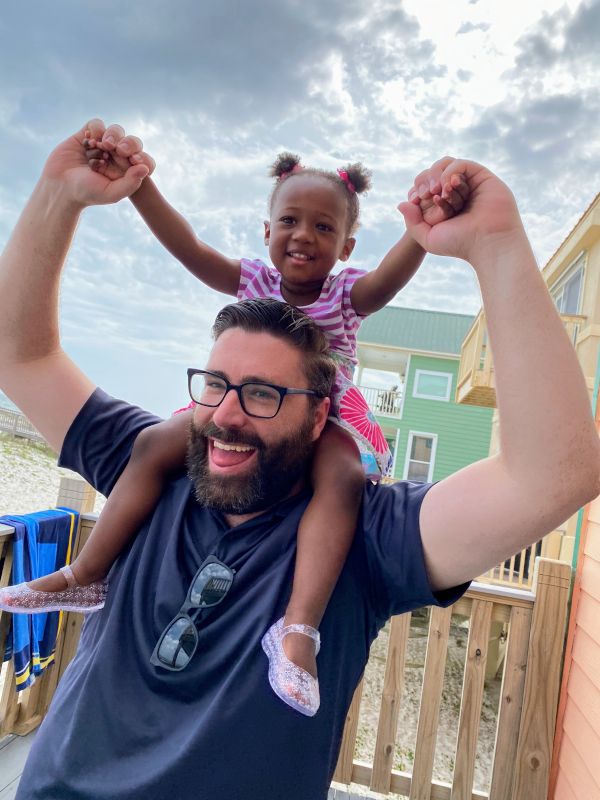 9 / 12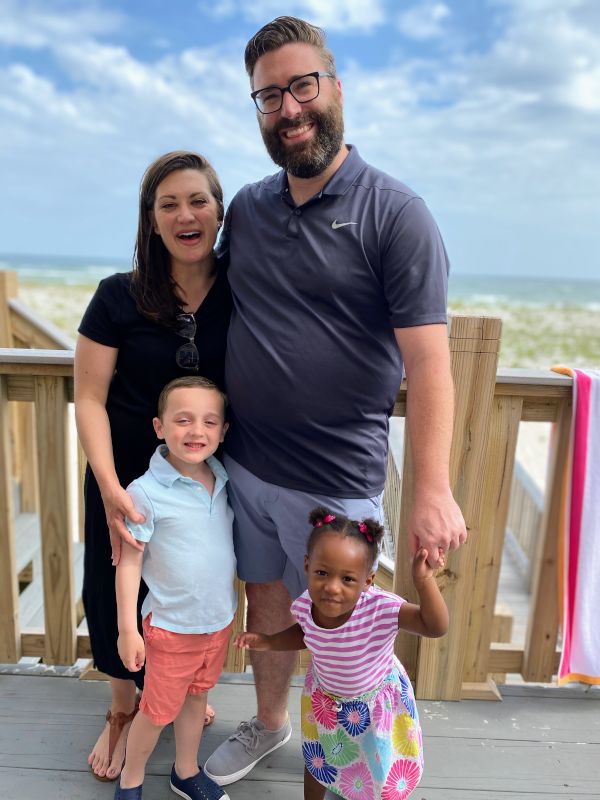 10 / 12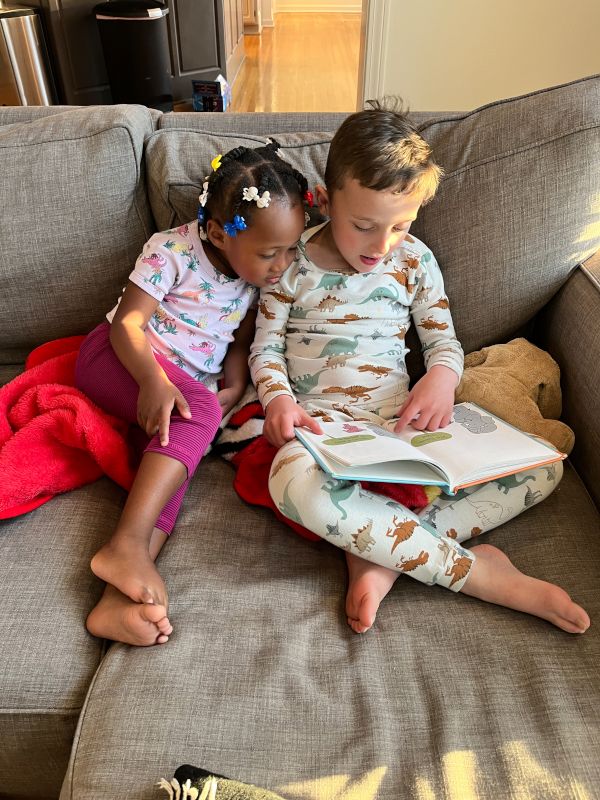 11 / 12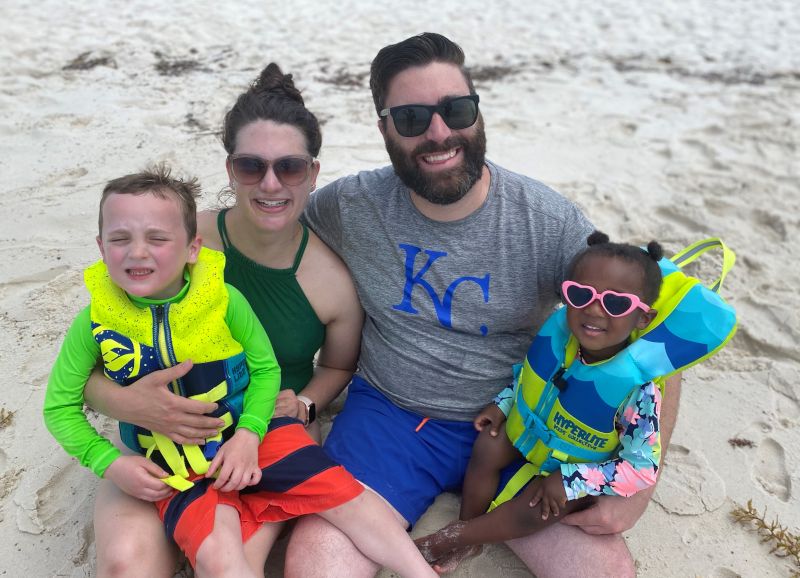 12 / 12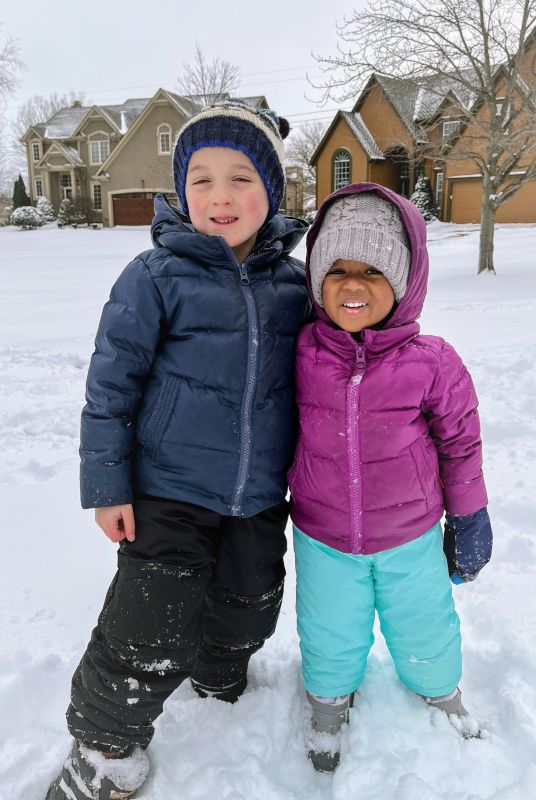 ❮
❯
Our House and Neighborhood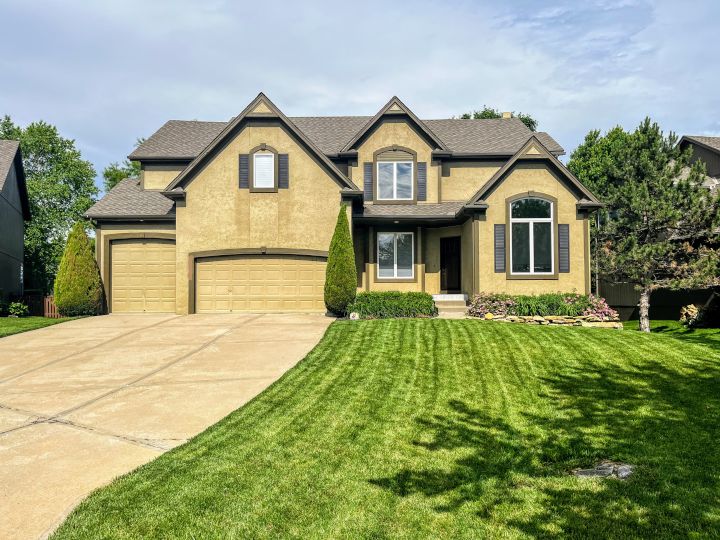 We live in a family-oriented community in a large suburb of Kansas City with a ton of things to do for families and children of all ages. We are surrounded by top-ranked school districts, beautiful libraries, unique museums, excellent shopping and delicious restaurants. As our children have gotten older we've discovered more outdoor parks than we can count-- full of kids and families enjoying time together. Our community is extremely safe and the people here are kind and friendly. Our neighborhood is full of young families with lots of children always playing together outside. Working in healthcare, Marisa also loves the fact that one of the highest-rated children's hospitals in the country is right around the corner from our house.
We really love going into downtown Kansas City to try new restaurants, attend various festivals and art fairs and take in the city life--just a thirty minute drive from home! When we were first married we lived downtown in a tiny loft apartment and the city is still one of our favorite places to visit and holds many special memories for us.
In February 2022 we moved into our FOREVER home...with a spacious backyard, a beautiful finished basement and a large playroom on the main level it's exactly the home we've been dreaming of! We're nestled on a cul-de-sac in a safe, quiet, diverse neighborhood and we've loved making new friends and building community with the many young families and kids who live so close to us. As we continue to make sweet memories in our new home we know it's the perfect place for our family to grow!
Our Extended Families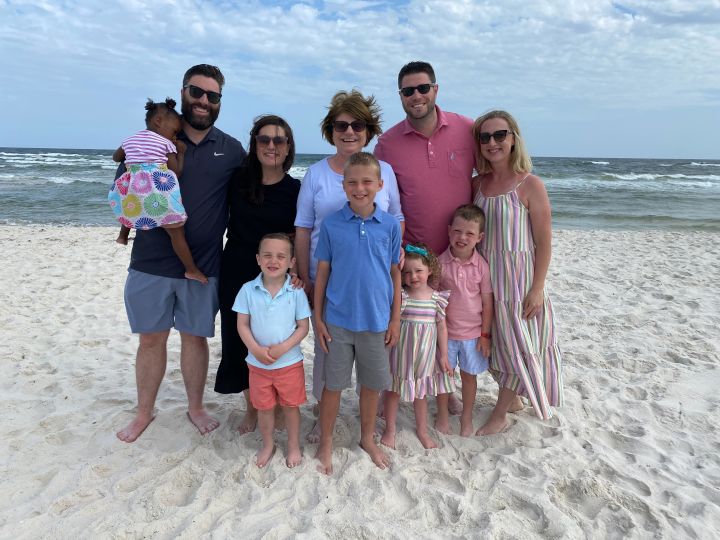 One of the greatest joys in our life is our family. We both come from close-knit families and were blessed to grow up in loving, happy homes. Our parents have supported and encouraged us through every chapter of life and have become the most amazing grandparents who have adored and spoiled our kids from the moment we brought them home. We strive to be the kind of parents to our children that our parents were to us.
Matt and his older brother, Andy, have been there for each other through everything. They can make each other laugh for hours and they both LOVE Royals baseball and KU basketball. Andy and his wife, Kelly, have three amazing children who are the sweetest cousins to our kids!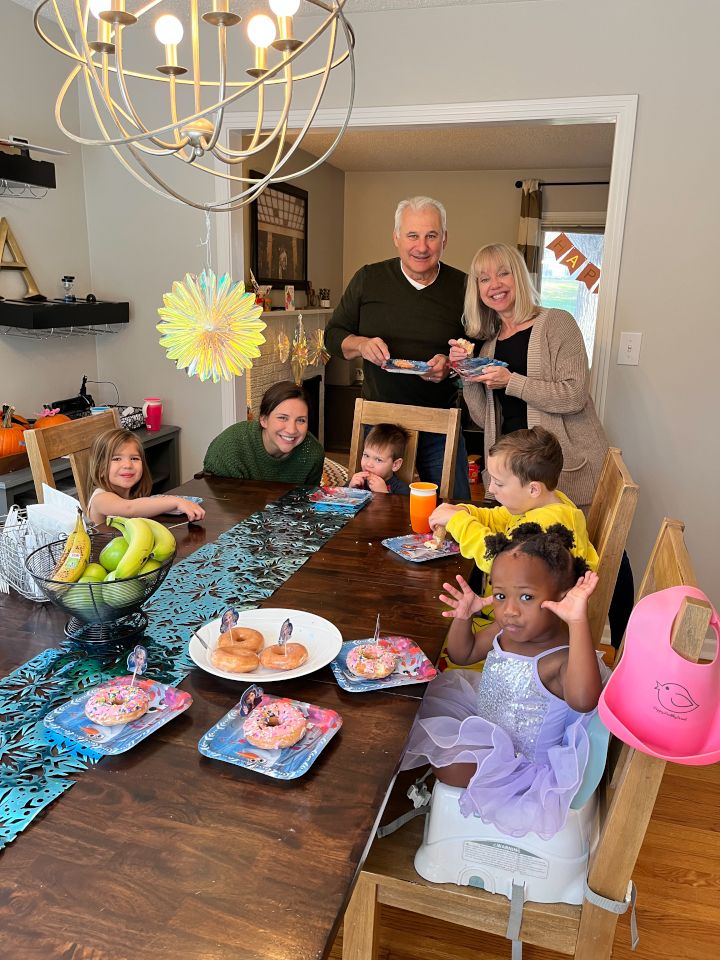 Marisa's younger sister, Jenna, is truly the best aunt in the world and she's Marisa's best friend. Jenna is loving, thoughtful and hilarious and has a really special bond with both of our children. She and her husband, Ryan, have three beautiful children really close in age to Max and Gianna. We're excited to watch them create special friendships with their cousins as they grow older.
Both of our families live close by and we get to see them all very often. We're so excited for the many family memories we will continue to make and we're grateful for the love and support our children will be surrounded with as they grow up.
From Us to You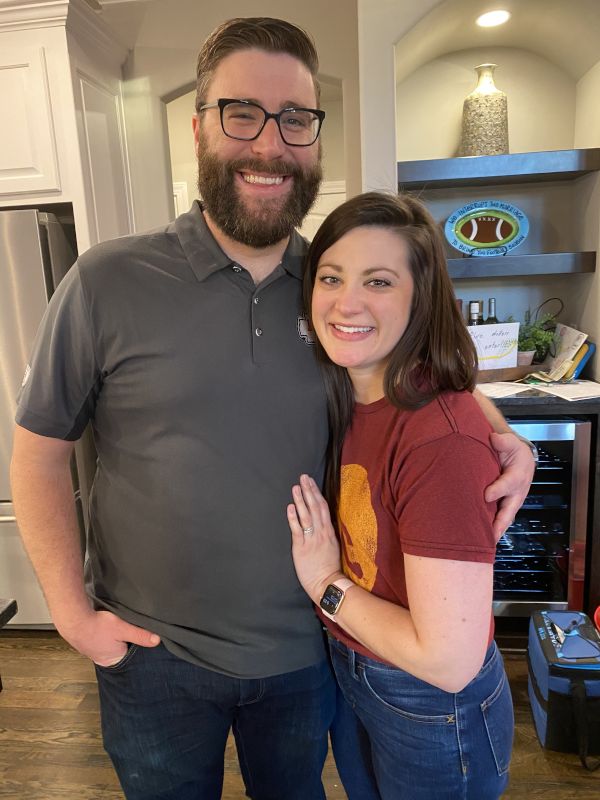 Above all else, we want to thank you for choosing to give your child the gift of life. While we don't know your story, we know that it's out of deep, unconditional love for your child that you have chosen adoption. We cannot begin to imagine the complex whirlwind of emotions you've experienced on this journey but we believe our world is better because of mothers like you who are strong, brave and selfless. We are humbled and honored that you have taken the time to get to know us better!
We are truly best friends and have been married for nine years! We LOVE being married and walking together through the ordinary and extraordinary moments of life. We have both been blessed to find careers that we are passionate about--that challenge us, inspire us and allow us to advocate for people every day. We are surrounded by loving family and amazing friends who have celebrated with us in life's most wonderful times and who have supported us during life's most difficult times. The foundation of all of this though is our deep faith in God. Our Catholic faith is the center of our lives, our marriage and our family. We really believe the greatest gift a parent can give a child is to help them understand how deeply they are loved by God.
Even before we were married, adoption was on our hearts. When we found out that it was going to be difficult for us to have biological children, it wasn't even a question - we knew immediately that God was calling us to build our family through adoption. For us, adoption is not a "backup plan" but is truly the foundation our family is built on. We feel lucky that we have gotten to build our family in such a beautiful way. When we welcomed each of our children into our family our hearts grew larger than we ever thought possible. Being their mom and dad has brought us more joy than we even knew existed and is truly our greatest honor and privilege in life.
When we picture what life will be like as our family grows, we dream about the very special bond our children will hopefully have with one another. Our siblings are our best friends and we believe it's a special gift to have siblings to walk through life with. Having siblings who are also adopted will allow them to support one another as they each navigate this beautiful but uniquely complex part of their identity. Ultimately, we believe that family is made through love and commitment and each of our children's adoption stories will be celebrated and cherished every single day. Your child will know from the earliest age possible that their adoption story is so special and something to be very proud of. They will ALWAYS know how much you love them and we will rejoice with them that they are profoundly loved not just by one family but by TWO families!
Our dream as parents and our promise to you is to do everything in our power, every day, to make your child's life happy, healthy and full. We will cheer them on as they discover their own unique talents and passions. We will support them as they pursue their dreams and set off on their own adventures. We cannot wait to share letters and pictures with you throughout your child's life as they meet milestones, make memories and create each new chapter of their life. It's important to us that you are able to share in the joy of seeing them become the person God created them to be!
As you prepare to make this incredibly difficult decision, we will be praying for you and asking God to give you peace as you walk this journey. You will always have our greatest admiration and respect.
With Love and Gratitude,
Matt & Marisa
Favorites
Actor
Christian Bale
Tom Hanks
Actress
Regina King
Meryl Streep
Author
Malcolm Gladwell
Brene Brown
Book
To Kill a Mockingbird
Outlander
Cartoon
Scooby-Doo
Daniel Tiger's Neighborhood
Childhood Memory
Playing catch with my dad and brother
Spending time with family during the Holidays
Childhood Toy
Nintendo 64
Stuffed animal monkey named "Jeremy"
Children's Book
Oh The Places You'll Go!
The Giving Tree
Classic Movie
The Godfather
The Sound of Music
Day of Week
Friday
Saturday
Disney Movie
Cars
The Little Mermaid
Dream Car
F-150
Chevy Tahoe
Dream Job
Race Car Driver
Florist
Family Activity
Riding bikes
Family Dance Parties
Flower / Plant
Sunflower
Gerbera Daisy
Form of Exercise
Running
Running
Holiday
Thanksgiving
Christmas
Holiday Song
"All I Want for Christmas Is You"
"Mary, Did You Know?"
Holiday Tradition
Christmas Mass
Christmas Eve Mass
Ice Cream
Chocolate Chip Cookie Dough
Cookies & Cream
Leisure Activity
Watching sports on TV
Spending time outside with our kids
Magazine
Family Handyman
Real Simple
Memory with a Child
Holding our kids for the first time
Holding our children for the first time
Memory with Spouse
Traveling through Greece
The days we met our children
Movie
"Fast and the Furious"
The Notebook
Movie Munchie
Popcorn
Popcorn
Movie Quote
"I'm going to make him an offer he cant refuse." - Godfather 2
"Life is like a box of chocolates, you never know what you're going to get"-Forrest Gump
Musical Group
Foo Fighters
One Republic
Nursery Rhyme
Itsy Bitsy Spider
Twinkle, Twinkle Little Star
Olympic Event
Track and Field
Gymnastics
Personal Hero
St. Maximilian Kolbe
My kids' birth parents
Play
Glengarry Glen Ross
"Romeo & Juliet"
Poet
Shel Silverstein
Maya Angelou
Quality about my Spouse
Her Selflessness
His sense of humor
Quote
"It's not about how much you do, but how much love you put into what you do that counts." - Mother Teresa
"My mission in life is not merely to survive, but to thrive; and to do so with some passion, some compassion, some humor and some style"
Restaurant
Chick-fil-A
Panera
Sandwich
Brisket
Grilled Cheese
Scripture
"Greater love has no one than this, to lay down one's life for one's friends." - John 15:13
"Be joyful in hope, patient in affliction and faithful in prayer"- Romans 12:12
Shopping Store
Scheels
Target
Song
"Bohemian Rhapsody" by Queen
"Scars" by I Am They
Sport to Play
Basketball
Soccer
Sport to Watch
Football
The Olympics
Sports Star
Patrick Mahomes
Simone Biles
Sports Team
Chiefs, Royals and Jayhawks
Kansas Jayhawks
Subject in School
Math
Science
Superhero
Black Panther
Black Panther
Thing to Cook
Burnt Ends
Italian Food
Time of Day
Evening
Morning
Tradition
Annual trip with my brother to a sporting event
Reading to our kids before bedtime
TV Show
The Wire
This is Us
TV Show Character
Michael Scott from "The Office"
Beth on "This is Us"
Vacation Spot
The Beach
Anywhere with a beach!
Get in Touch
Provide more information, so American Adoptions can connect you with this family.
---