1-800-ADOPTION
Thank you for viewing our profile
If you would like to learn more about us, please call 1-800-ADOPTION (2367846), fill out the form at the bottom of our on-line profile page, or email us at bp_information@americanadoptions.com.
To revisit our on-line profile page and view our profile video at American Adoptions, simply use your mobile phone to scan the QR code on the right. We are looking forward to hearing from you!
Kevin & Amy
Becoming parents is the best, most important thing we have ever done, but our family is not complete. We hope to grow our family through adoption with the love and support of a birth parent. We want to thank you for even considering us as potential parents to your child. We recognize how unbelievably hard this journey is, and your love and compassion mean so much to us.
About Us
Job
Research Scientist
First Grade Teacher
Education
Ph.D. in Physics
Master's Degree in Elementary Education
Relationship
Legally Married
Our Leisure Time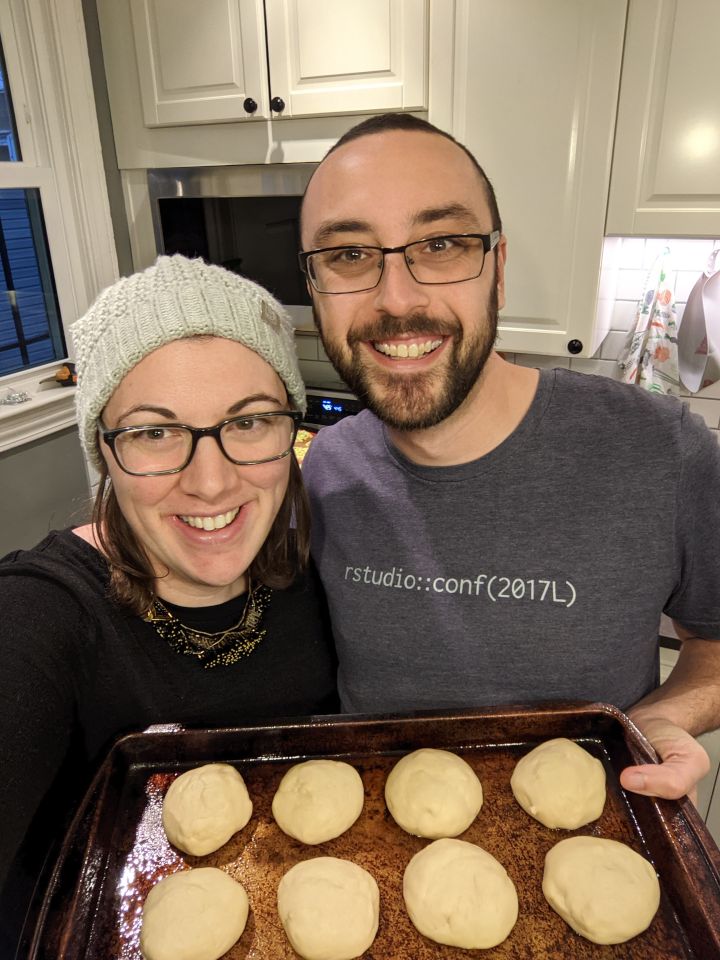 The kitchen is the heart of our home and we spend a lot of time together cooking, baking, and eating. We love trying new foods. Indian, Ethiopian, Korean and Middle Eastern are among our favorites. Kevin is always trying new bread recipes that Amy gets to braid. Amy prefers to bake pastries from new favorites like sprinkle cookies, to family classics like orange nut cake (Kevin is always happy to help with baking and licking the bowl). Our favorite part of cooking is sharing it with our daughter, she is excellent at measuring, pouring, and stirring (always in a fun apron)!
Another of our hobbies is exploring the area we live, taking photos of our adventures to add to the yearly photo album. Most weekends we can be found heading into the heart of the city, meeting up with a family member or friend to check out a museum or festival or hiking in our backyard. Our favorite city events include the National Book Festival, the National Cherry Blossom Festival, and the Asian Festival DC. Our kids will grow sharing these experiences with us, broadening their understanding of the world and their place in it.
Our Favorite Vacation Spot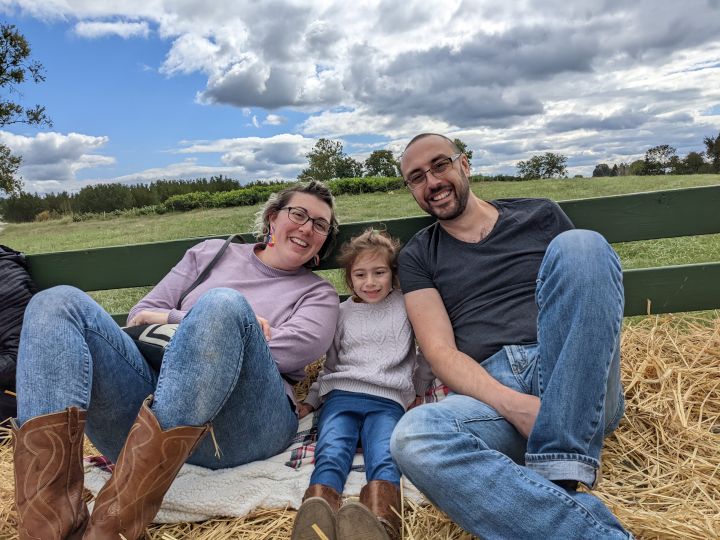 Our memories are full of childhood outings to the beach with our families. We wanted to continue this tradition with our children. Kevin spent most summer vacations going to Cape Cod with his parents, brother, and grandparents. They would stay in cabins, walk to the beach, overeat ice cream and cookout most nights. Amy went to her cousin's beach house on the Long Island Sound in CT. She would play on the sandbars and in the tidepools searching for hermit crabs, lobster pot for dinner and biking to ice cream with her cousins.
As adults, we still love the beach, it is our happy place. Every summer we attend a family reunion at that same beach house from Amy's childhood (lobster pots still included). There is a new yearly family tradition where all of the kid cousins on Kevin's side go on a beach trip to Cape Cod with the Aunts. The kids have a blast and grow closer together and the parents get a mini-break at the beach. To us, the beach will always be a place of magic, joy, and important people.
Qualities We Love, Admire and Respect in Each Other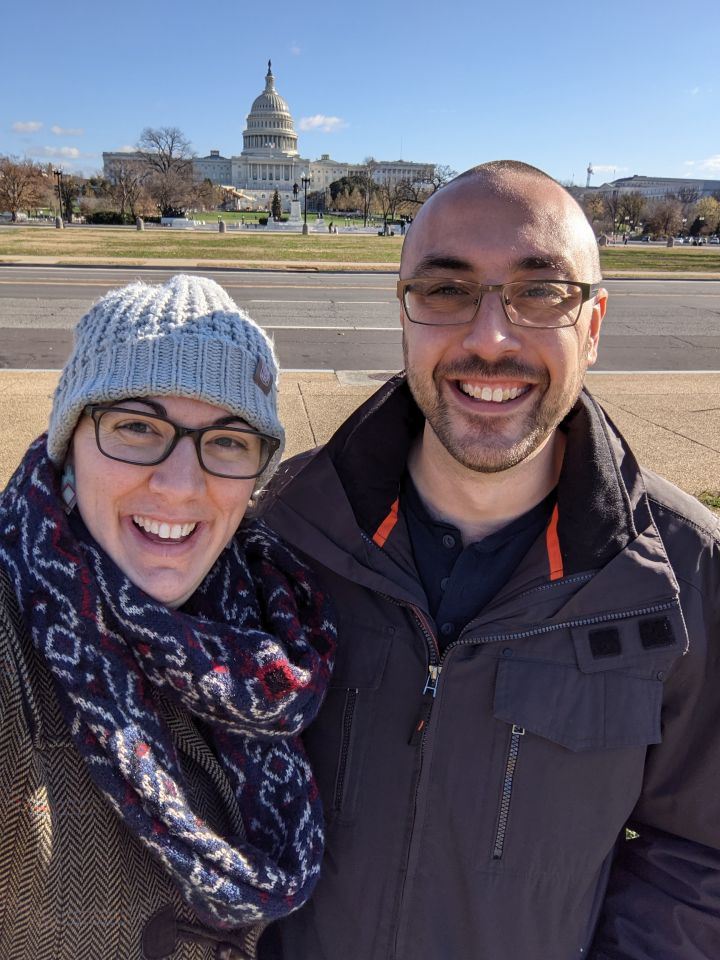 Amy About Kevin: Kevin is a brilliant scientist; therefore, he can build, fix, and explain pretty much anything. He built our back patio, installs household items, and helps Amy explain scientific concepts to her students. He is also hilarious, hardworking, and incredibly generous. If he knows that someone is having a hard time, he is always ready to help or call to check in. Our daughter did not sleep for the first 3 months of her life, so Kevin hilariously declared that "Evie the immortal needs no sleep". His humor always serves to lighten the load and brighten the darkest days. There is no activity beneath him, or not his "job". Laundry, cleaning, cooking, building, playing, diapers, you name it, he will always do it, without anyone needing to ask. He is Amy's favorite person.
Kevin About Amy: Amy is a loving, patient teacher. When she's not teaching our daughter about the world, she's teaching her how to handle her big feelings and play well with others. She is also absolutely brilliant; she always knows what's going to happen next in every book or show (you know because she talks while watching shows and movies, which is way more endearing than it sounds). Best of all, Amy is the first person we all run to when we're upset, because we know that she's always there to hug and comfort us.
Photos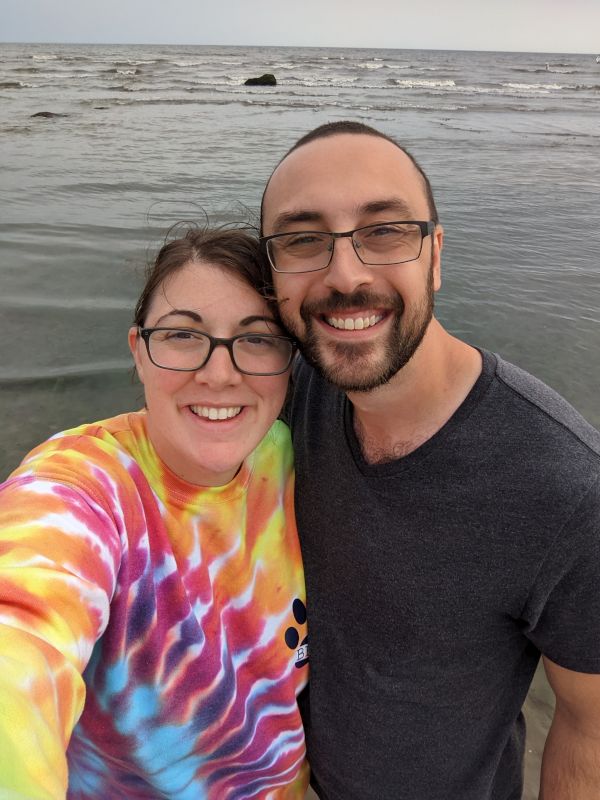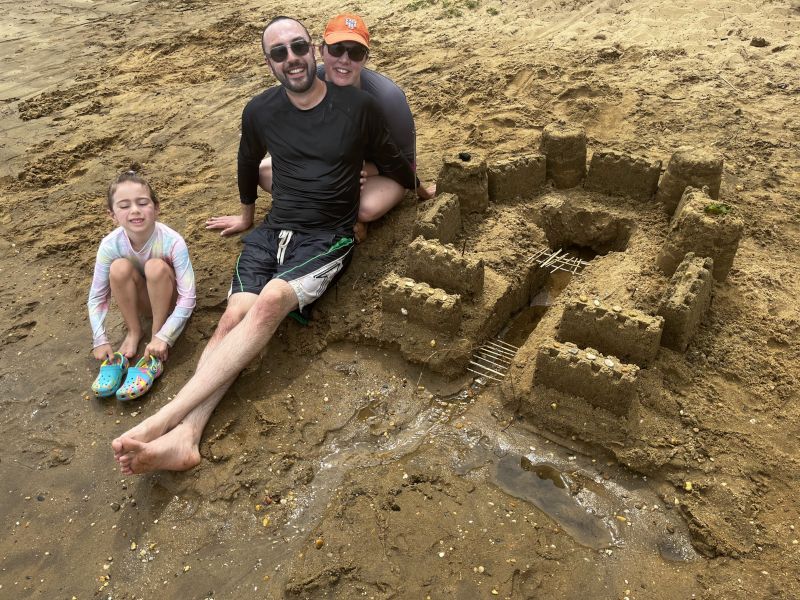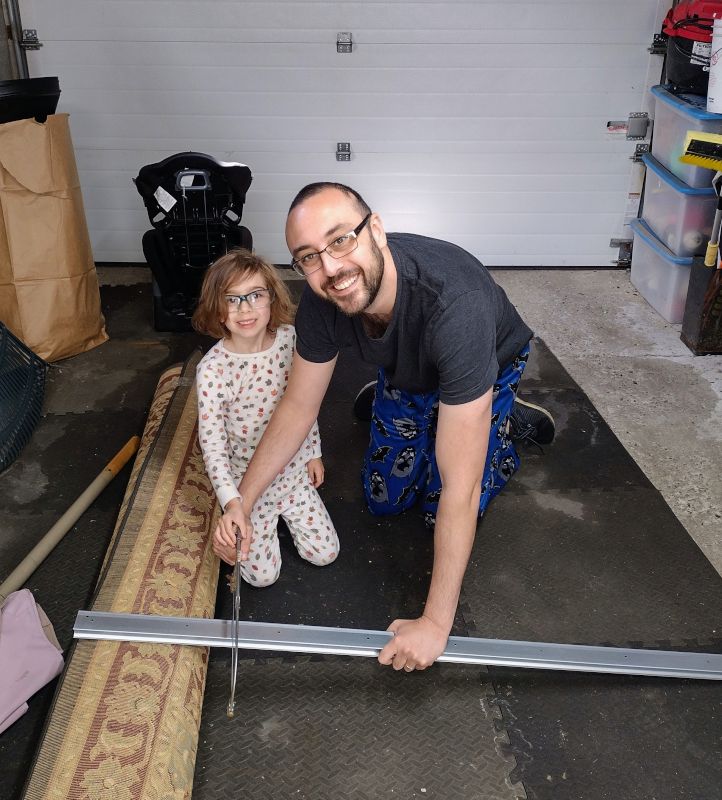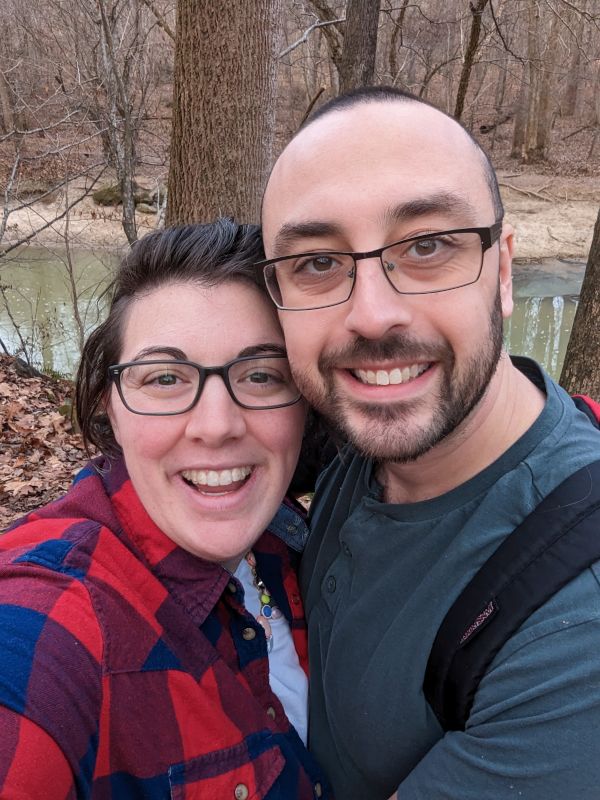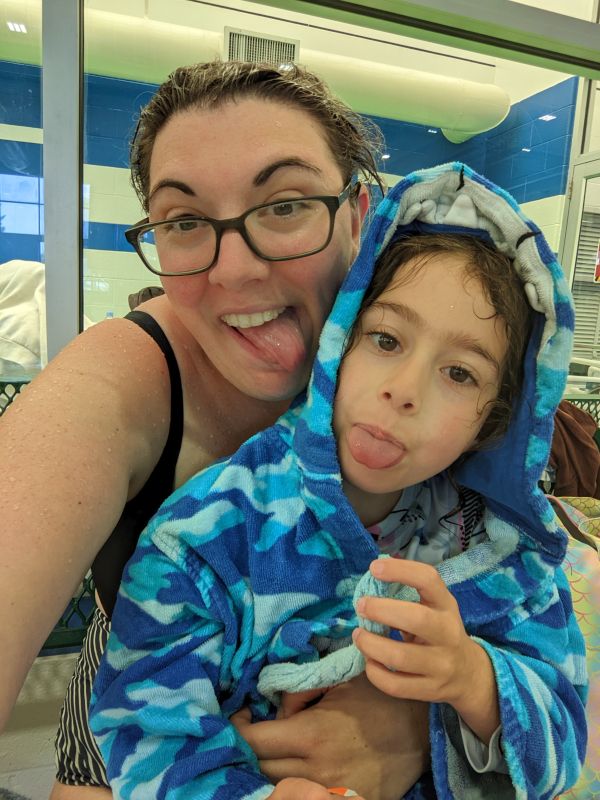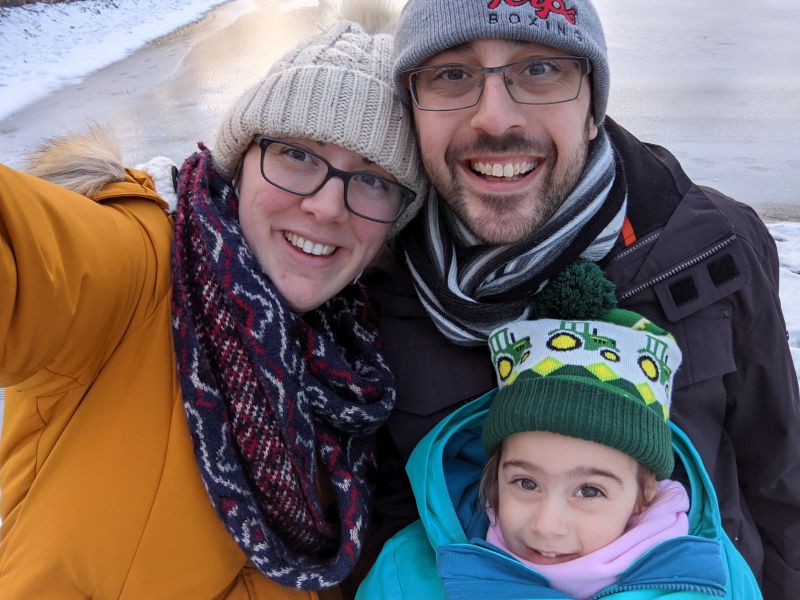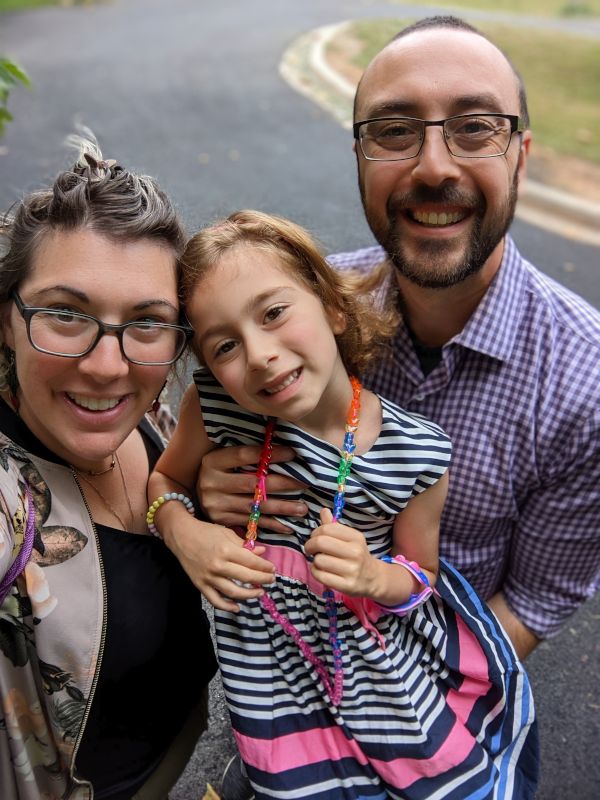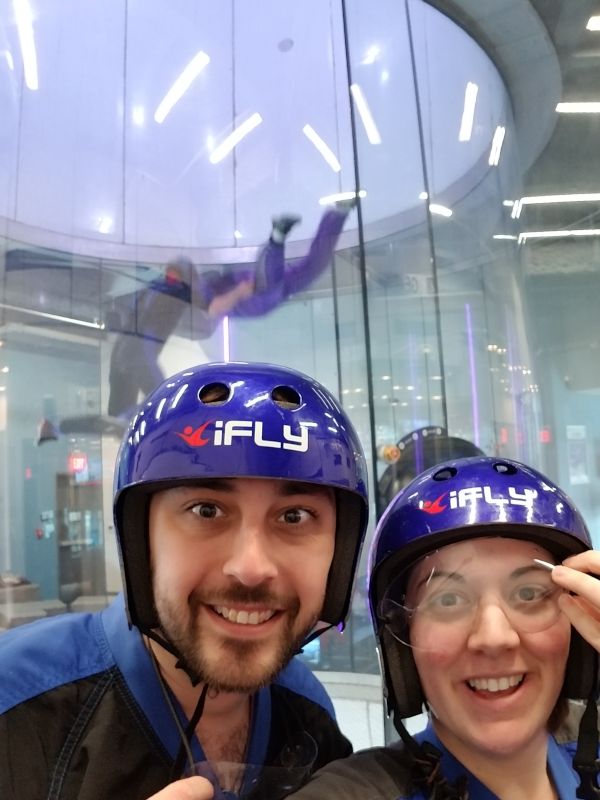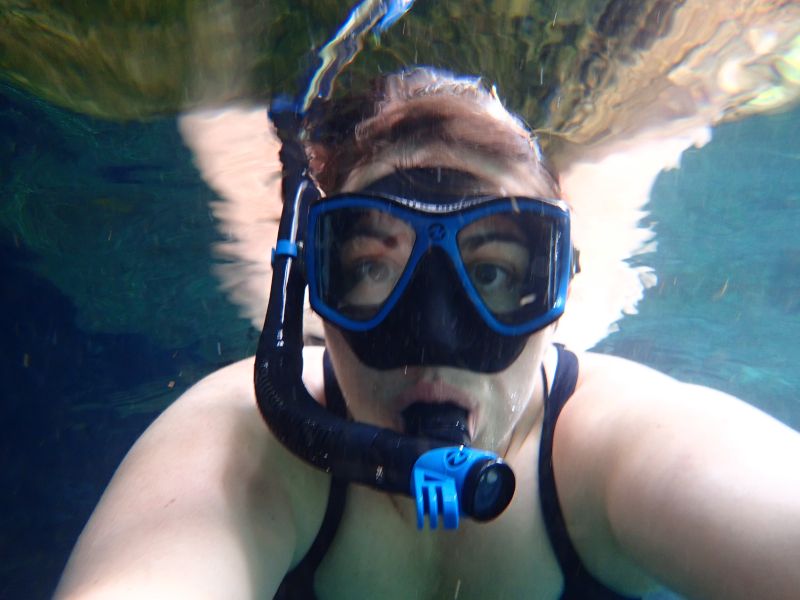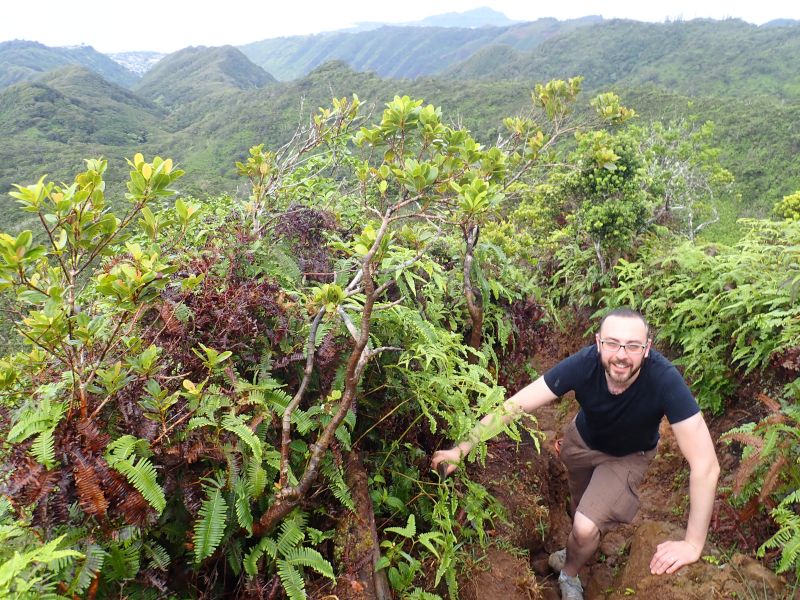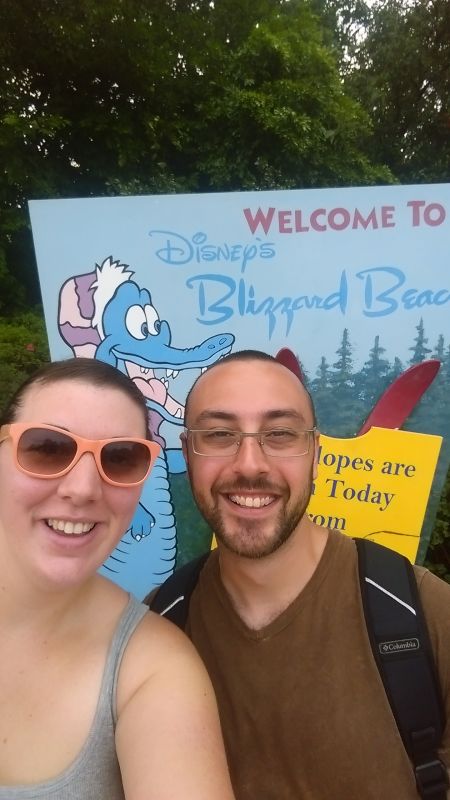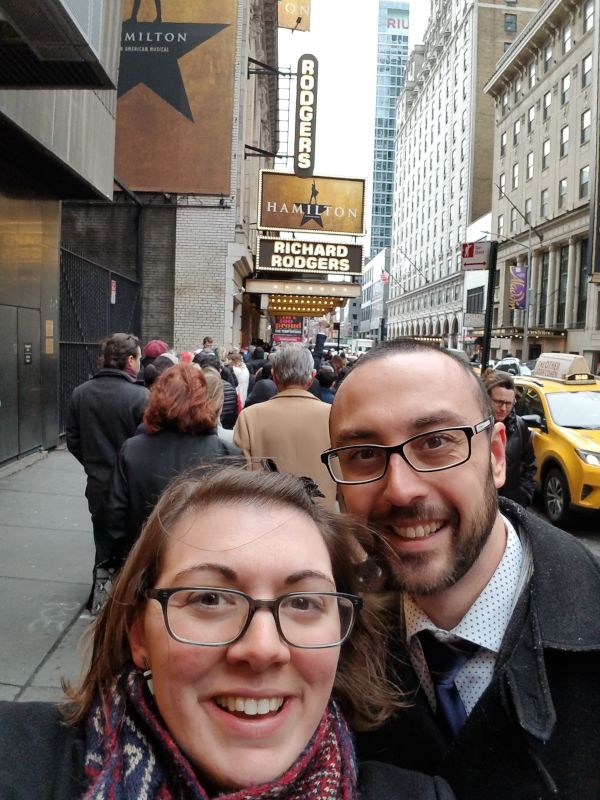 ×
1 / 12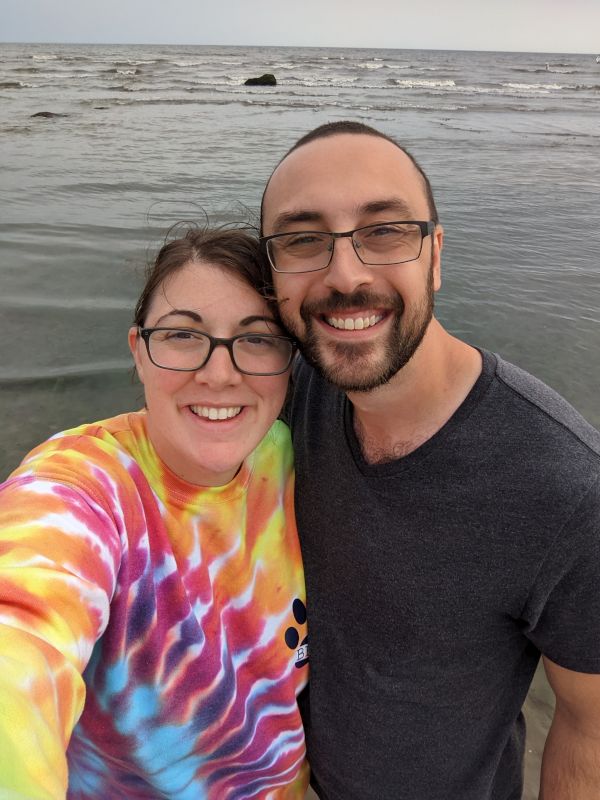 2 / 12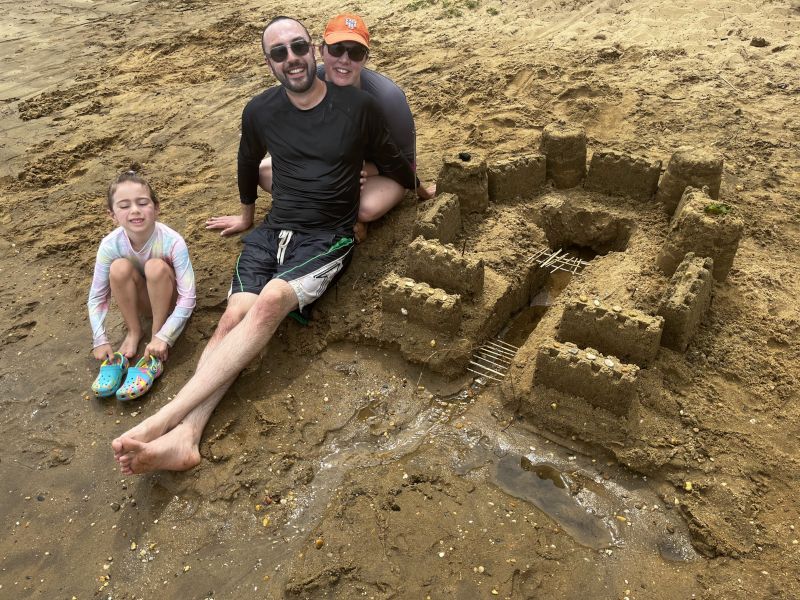 3 / 12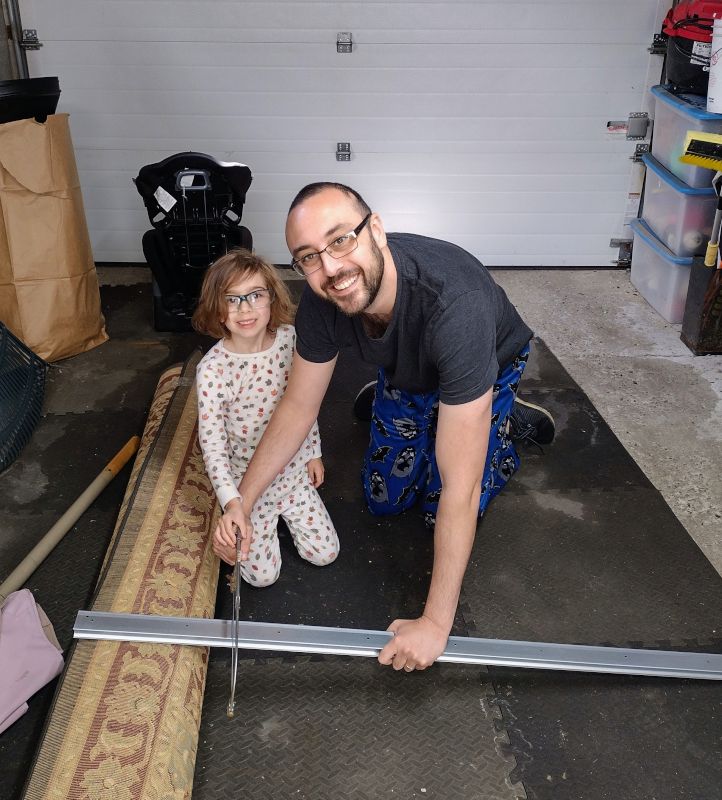 4 / 12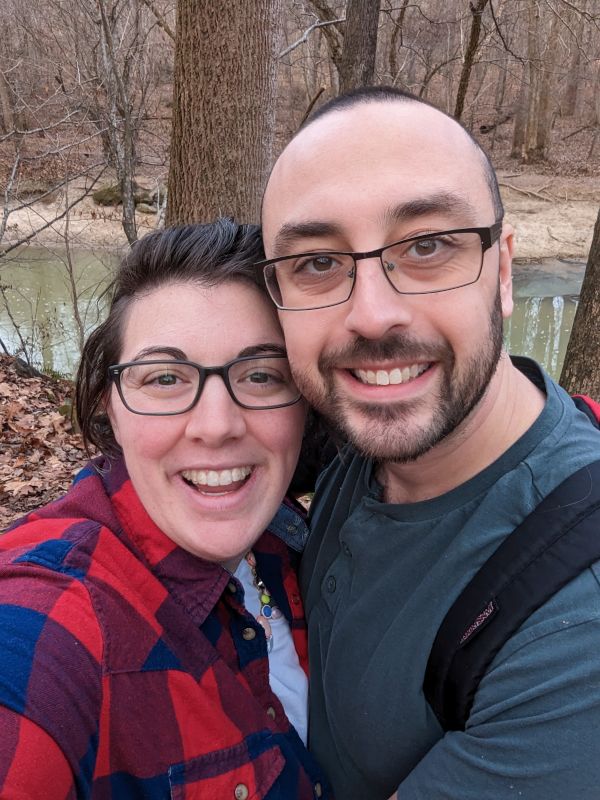 5 / 12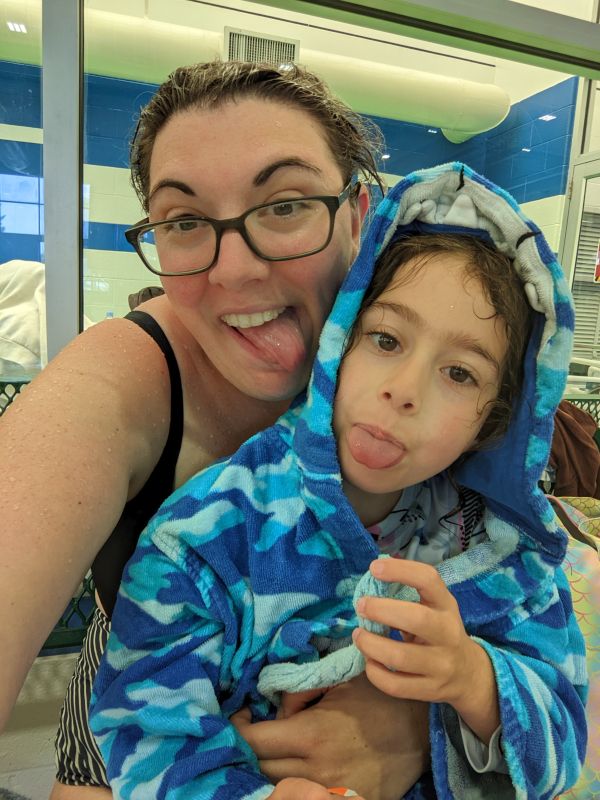 6 / 12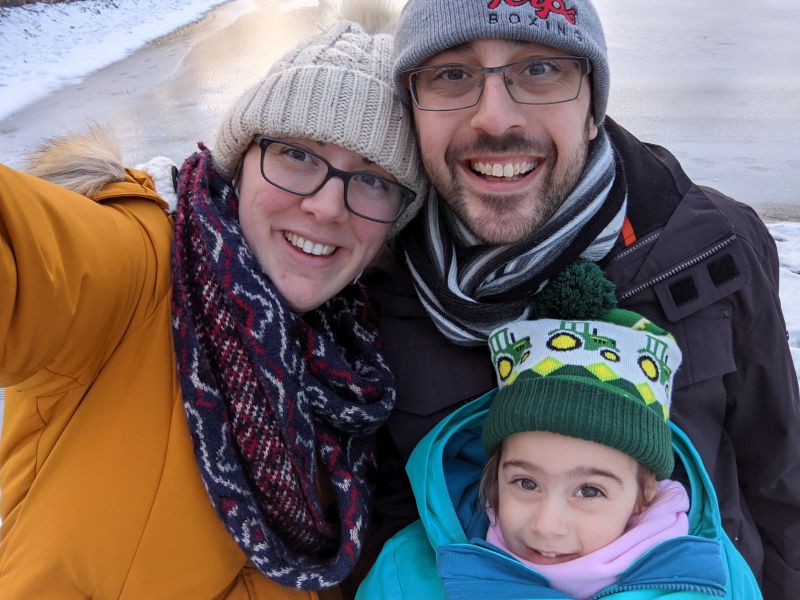 7 / 12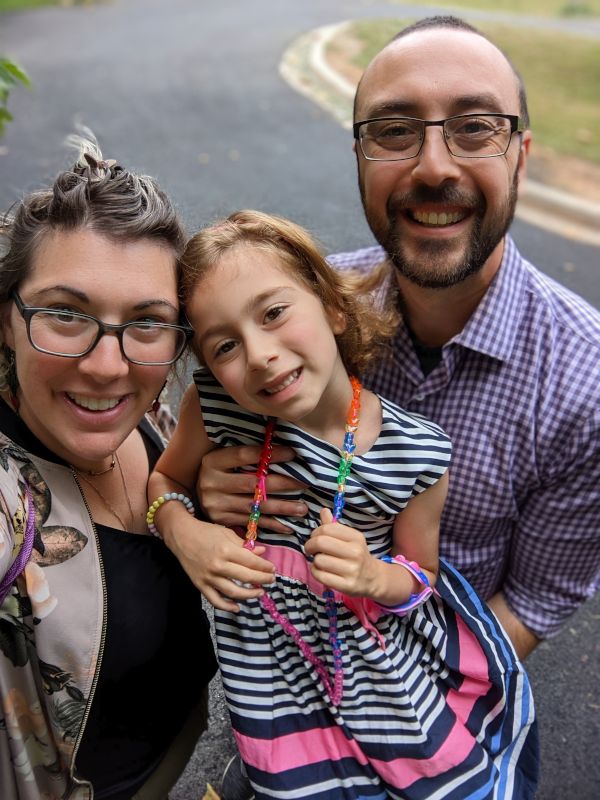 8 / 12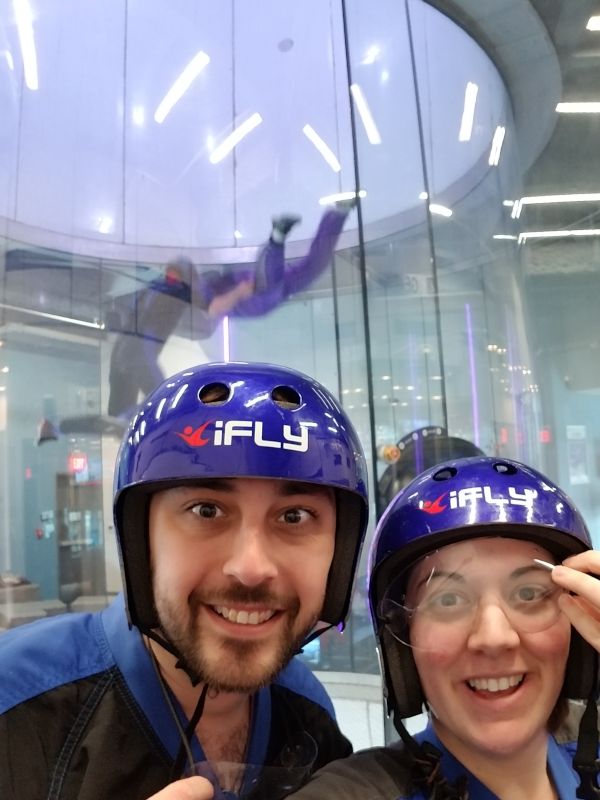 9 / 12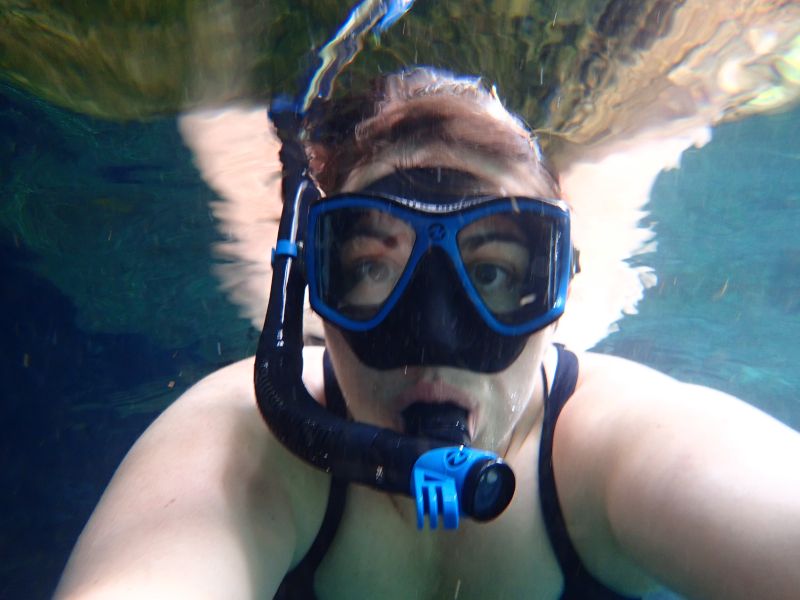 10 / 12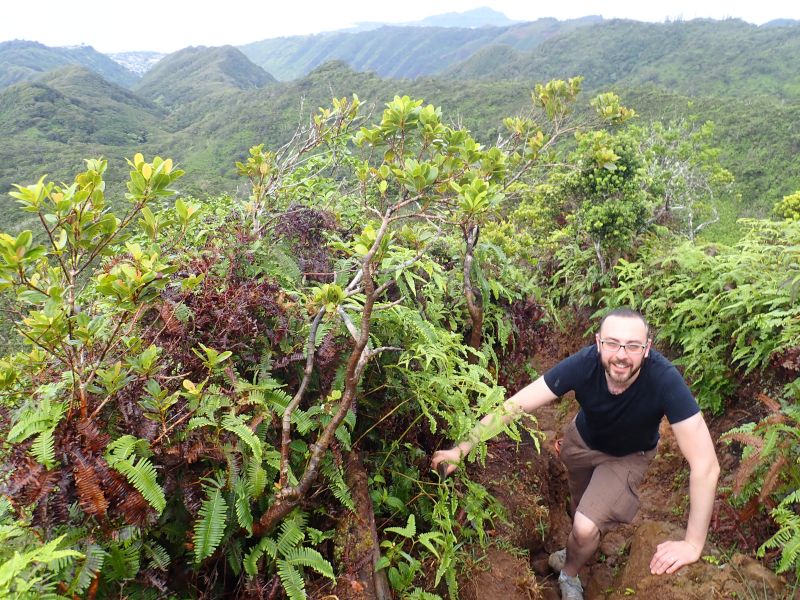 11 / 12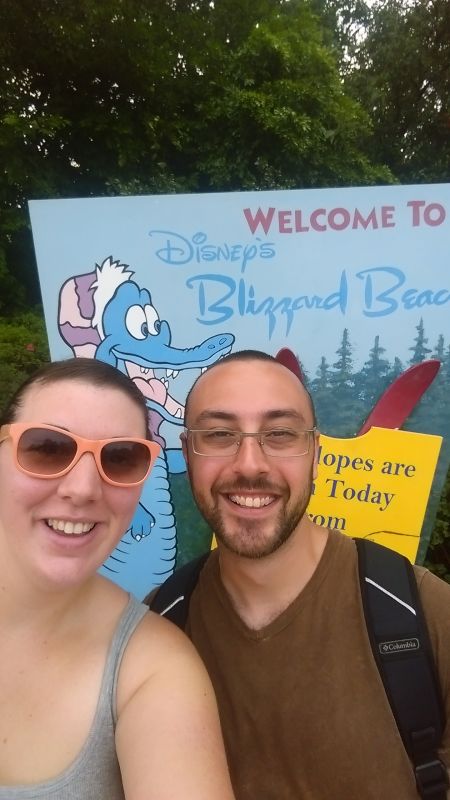 12 / 12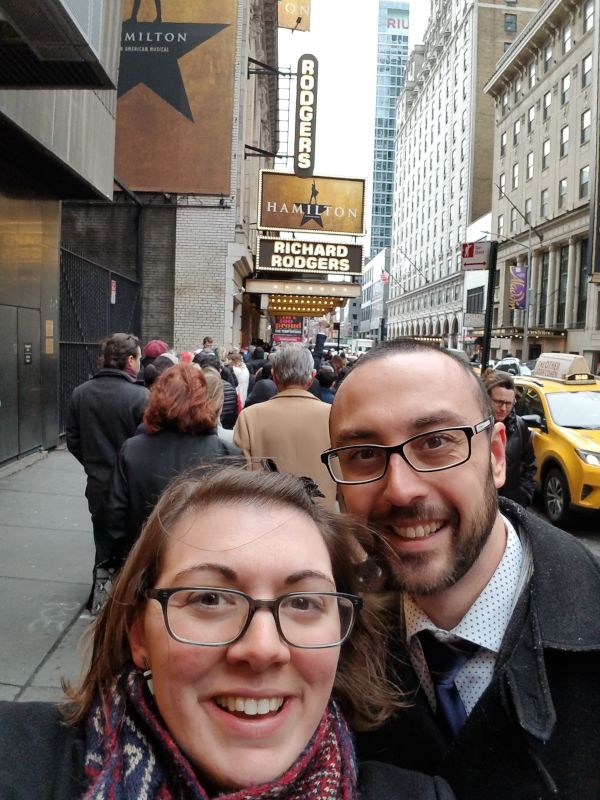 ❮
❯
Our House and Neighborhood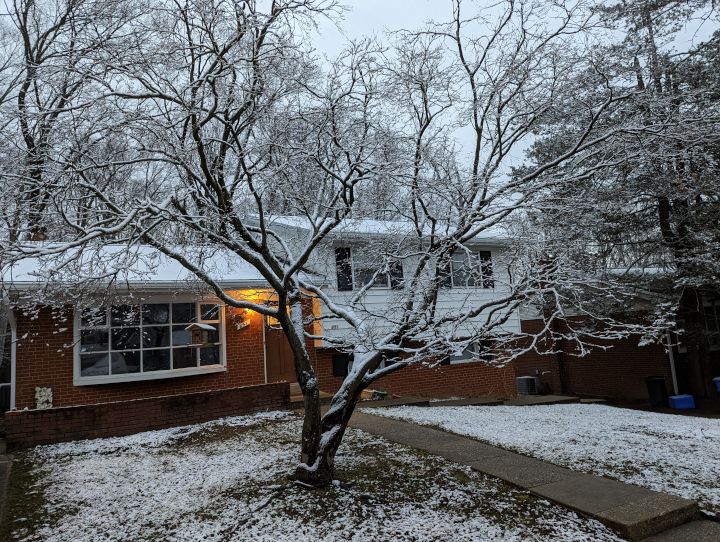 We're very lucky to live in a cozy, welcoming and diverse neighborhood on the outskirts of a vibrant city. Behind our house are extensive public trails through the woods with a stream running through. It feels like you are transported to a magical fairy land. Our house is a split level with 4 floors. We spend most of our time on the two main floors either in the kitchen cooking together, or in the family room playing and building forts together. The top floor has 3 bedrooms where we snuggle and read books together. The best part of our home is our yard. The front has a great climbing tree and a vegetable garden, and the back is a large space for BBQs and running around. We love to explore the woods or take walks around the neighborhood.
Our house is a 10 minute walk to the elementary school and with sidewalks and friendly neighbors the whole way. There are many young families as well as older, more established ones. There are always kids riding their bikes, going on walks with their parents or heading to the neighborhood pool located one block from our house. The neighborhood has a yearly block party as well as neighborhood events at the pool all Summer and Autumn.
We spend most weekends either playing at the local playgrounds or exploring all the activities that nearby Washington, DC has to offer. We are only 20 minutes from the Smithsonian museums, monuments, the National Zoo, the White House, kayaking, swimming, and hiking. We attend festivals, concerts, and shows. The city is rich with history and diverse cultural experiences. The easy access to the city as well as the nature at our fingertips makes our location the best of both worlds.
Our Extended Families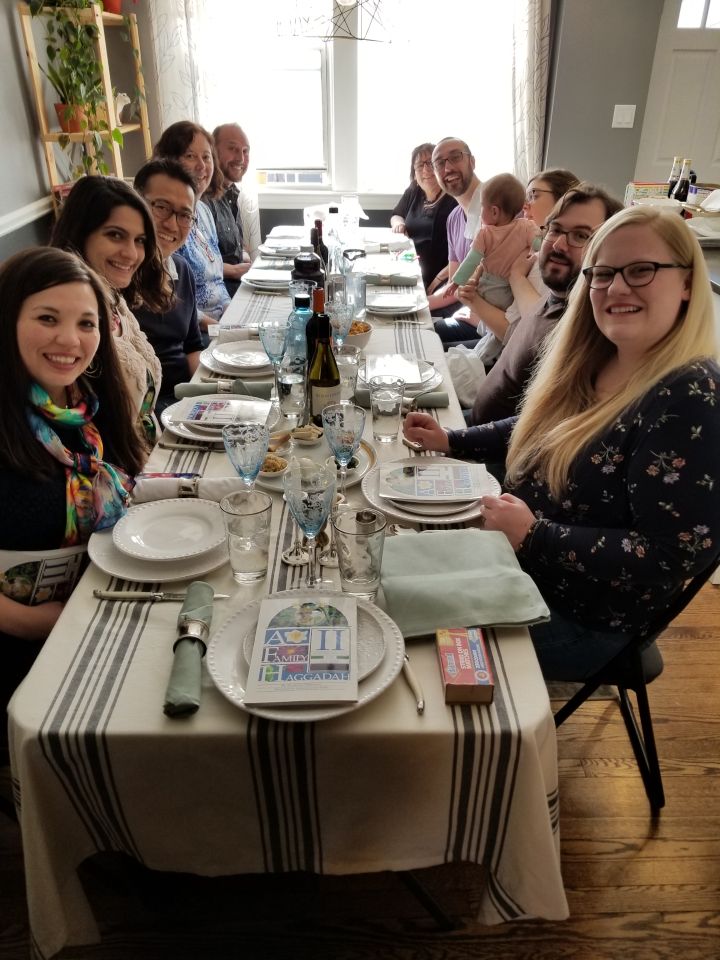 Whether we're dancing, singing, swimming, hiking, exploring, eating, traveling, laughing, playing, or just talking and relaxing, family time is always the best time.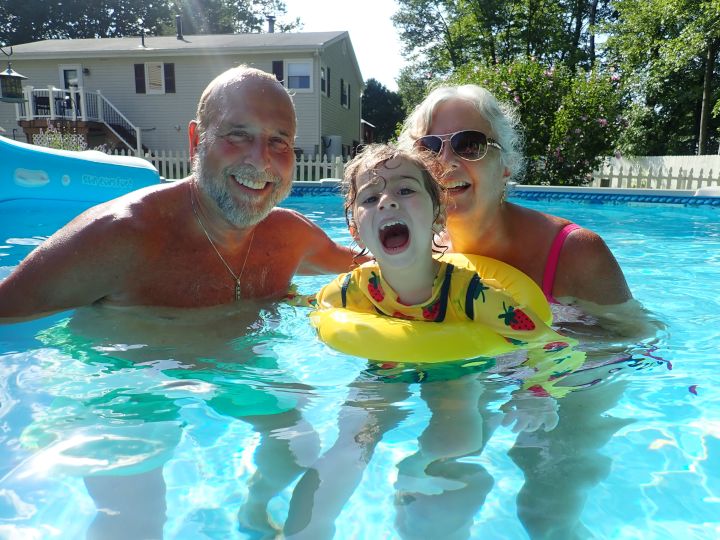 Our family is a big part of our lives. All of Amy's immediate family lives nearby. Amy's mom is retired and obsessed with grandchildren. She is practically jumping out of her skin in excitement for us to bring another grandbaby home. She is the keeper of all nursery rhymes, developmental stages, and children's songs, as well as being the baby whisperer. Amy's sister knows all the cool and interesting things to do in the area. From the Truck Touch to the newest splash park, we are always experiencing the city with her. Amy's brother and his family love to garden, host family holidays and watch our kids become obsessed with each other.
Kevin's family live further away but are always involved. We love swimming in his folk's pool in the summer, cooking a turkey in a can in the fall, ice skating on the field behind their house in winter and gardening in the spring. They are already in love with our future child. In addition to holidays, every summer we meet up with Kevin's twin brother and his family at the beach for fun in the sun. We always have a blast playing board games, watching movies, and hiking with them and our nephew!
Our families are incredibly supportive of our choice to adopt and can't wait to welcome a new baby into the family to love and spoil rotten.
From Us to You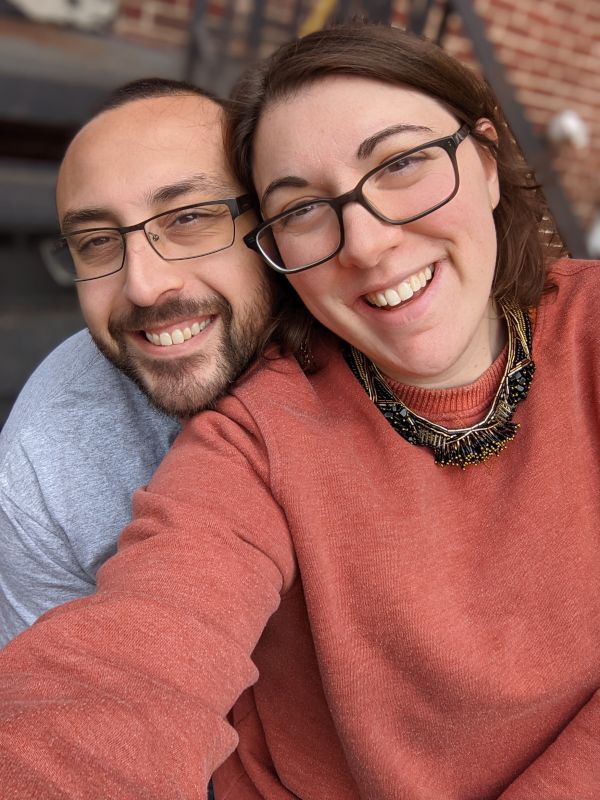 Thank you for taking the time to get to know us. We have tried our best to share who we truly are and how we feel. We hope one day we will be able to get to know you as well. Please understand, we are in awe of you, to even consider making the selfless choice of adoption is humbling. It is important to us that you know we would love your child with every fiber of our beings. Our love and yours would be a staple in their life.
Here is our story: We met, fell in love, and decided we could not stand to ever be apart. After 10 years of marriage, we would still rather be together than anywhere else. We should tell you; we are planners. This means we have talked about our hopes and dreams for the future for a very long time. The very heart of those dreams has always been multiple children. We both have siblings who have fundamentally shaped us. We also love the chaos, joy, and camaraderie that multiple children in a home create.
After an incredibly difficult pregnancy that gave us our daughter, Evie, we suffered a late term miscarriage of our 2nd child at 5 months. This loss nearly broke us. Through counseling, love, and support from each other and our families, we have grieved and come to terms with our loss. We have also closed the door on having more biological children. But what we refuse to give up is the hope of multiple children, that is too much to bear.
Becoming parents is the best thing we have ever done. Our daughter has stolen our hearts, but our family is still incomplete. We know that adoption is our future. To us, family is everything and we know we would give our children the life we all dream for them. We imagine our children running together in the park, having handstand competitions at the beach, whispering secrets to each other in the car, laughing hysterically about absolutely nothing and so much more. We promise to raise your child to be a strong, confident, kind, and curious human.
Know that we are fiercely loyal and protective of our people. Your child will feel the force of that love from the moment they are placed in our arms. The loyalty and protectiveness we feel for our people extends to you as well. We will always know that your unconditional love for your child is what brought our child to us. We want you to succeed and flourish as well as be a part of your child's life forever. We plan on always being honest with our child, sharing their story with them from the beginning. They will know that they have always been loved by their birth family and us. They will be proud of where they came from and confident in who they are.
We hope for an open adoption but we acknowledge and respect the many different emotions a birth parent can feel, especially early on. We envision a gradual development of this relationship and an open door to communication for whenever or if ever you are ready. We want you to be a part of our lives in any way that you can.
Please find comfort in the knowledge that we already love and value you, no matter your decision. You want only what is best for your child, who could ask for anything more.
Love,
Kevin & Amy
Favorites
Actress
Kristen Bell
Kristen Bell
Animal
Cow
Elephants & Giraffes
Author
Patrick Rothfuss
Patrick Rothfuss & Jon Scalzi
Book
The Name of the Wind
The Name of the Wind
Candy Bar
Cadbury Creme Eggs
Crunchie (Chocolate and Honeycomb)
Cartoon
Futurama
Archer (only for adults)
Childhood Memory
Going to the beach with my family
Playing the board game 'Life' with my siblings and laughing uncontrollably.
Childhood Toy
Teddy bear (green, named Clover, and thoroughly chewed)
My Blue Teddy Bear (still have him)
Children's Book
Interstellar Cinderella
Interstellar Cinderella
City
New York City
New York City
Classic Movie
Casablanca
Summer Stock with Judy Garland
Day of Week
Friday (when I get that day off work)
Friday (after work)
Dessert
Tiramisu
Cheesecake or Pie
Disney Movie
Lilo and Stitch (maybe Moana)
Moana
Dream Car
Mercedes-Benz S-class
Tesla
Dream Job
Sports data analyst
Astronaut
Dream Vacation
Tropical beach island
African Safari
Family Activity
Building with Legos
Apple picking
Flower / Plant
Berry bushes (blackberry, blueberry, and raspberry)
Peonies & Blackberry Cane
Food
A salad with chicken tenders, buffalo sauce, and bleu cheese
Pavlova
Form of Exercise
Pushups
Swimming
Fruit
Apples picked right off the tree
Lychee
Game
Carcassonne
Carcassonne
Holiday Song
Holly Jolly Christmas
Let it Snow
Holiday Tradition
Overeating
Being with the whole family
Ice Cream
Cookie Dough
Black Raspberry
Junk Food
Popcorn if I'm being good, potato skins if not
Ice Cream or Chips
Leisure Activity
Reading
Reading outside
Memory with a Child
Walking through our neighborhood with Evie on my shoulders. She just learned pointing so she is telling me which way to go every time we got to an intersection.
My daughter laughing uncontrollably at my husband's antics.
Memory with Spouse
Going to see a movie on our second date, trying to get close without scaring her off.
Kevin reading me the 'Name of the Wind' while I folded laundry. Even laundry is fun with Kevin.
Movie
The Fifth Element
Wet Hot American Summer
Movie Munchie
Popcorn or something that lasts a long time like twizzlers
Rasinets or Whoppers
Movie Quote
"Just keep swimming" - Dory from Finding Nemo
Movie Type
Sci Fi
Action, Fantasy or Sci-Fi
Musical
The Lion King
Hamilton
Nursery Rhyme
The Itsy Bitsy Spider
Olympic Event
One of the ones where they throw something (shotput, discus, javelin)
Gymnastics
Play
Romeo & Juliet
A Midsummer Night's Dream
Quality about my Spouse
How she puts everything together in her head and can basically see the future when we are reading or watching a show.
His kindness and his sense of humor
Quote
Better to do something imperfectly than nothing perfectly.
"One child, one teacher, one book, one pen can change the world." - Malala Yousafzai
Restaurant
A small restaurant near my parents called Bentleys. Every time I go in, I look at the menu and there is the exact thing I am craving. Salads, sandwiches, seafood, pizza.
Rose's Luxury
Sandwich
Buffalo chicken sandwich
Turkey & Cheese
Shopping Store
Target
Target
Song
Probably something sad by Adele
Something - The Beatles
Sport to Play
Soccer
Swimming
Sport to Watch
Football
Soccer
Sports Star
Matt Breida. He is just a backup running back, but every time I watch a game with him he scores a touchdown.
Rob Gronkowski - I don't care about football but this guy is fascinating
Sports Team
This year the Dolphins, but it changes sometimes
The Mets
Subject in School
Science. Probably physics
Art or Chorus
Superhero
Superman. When they write him well he is really compassionate and can do anything but cannot be everywhere at once.
Black Panther's Sister: Shuri (she makes being smart cool)
Thing to Cook
I make pizza from scratch sometimes and it always comes out good
Baking Cakes and Cookies
Time of Day
Late morning. On work days I get a lot done, and on weekends it is the best time for breakfast and then fun
10am - I am my most productive and energetic.
Tradition
2nd Thanksgiving. When my brother and I both got married, we started having Thanksgiving with our in-laws and then having a 2nd Thanksgiving on the Saturday after. Our friends come and I cook a turkey outside with coals and a (clean!) garbage can.
Bedtime books
TV Show
30 Rock
Parks and Rec
TV Show Character
Anyone from Parks and Recreation
Leslie Knope
Type of Music
Electronic
Classic Rock
Vacation Spot
The beach, the warmer the better
My Cousin's Beach House
Video Game
I played Infamous a few years ago while Amy watched and helped me collect everything.
Tetris
Get in Touch
Provide more information, so American Adoptions can connect you with this family.
---