Foster to Adopt in Texas
What it Means to Foster a Child [And When Adoption is Possible]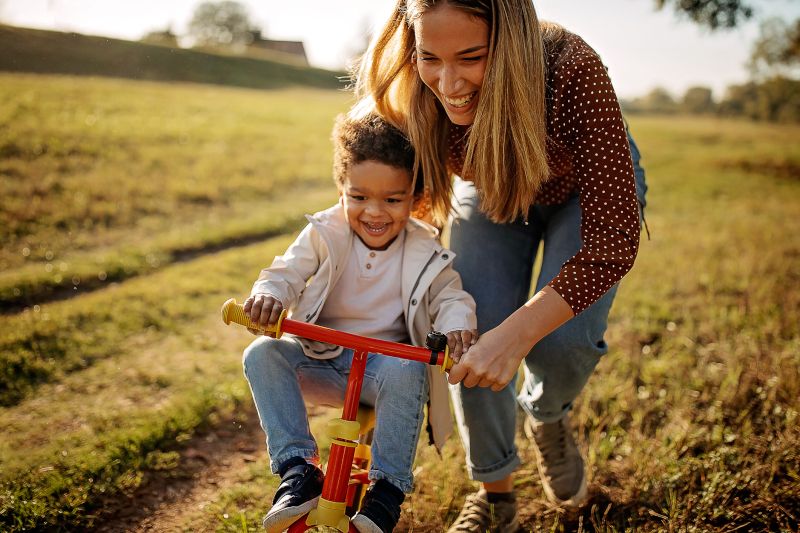 Bringing a child into your family can be a beautiful experience. If you are considering adoption, you may be wondering if foster to adopt in Texas might be a good choice for you.
In this article, we will explain:
What it means to foster a child
When adoptions are possible for foster children
And some options you have along with fostering before adoption in Texas
You can also get more information about adoption by filling out our online form.
If you are a current or expectant parent and are considering placing your child for adoption, you can get information here.
What Does it Mean to Foster a Child?
Fostering a child means providing a temporary home and caring for a child. A child is usually placed in foster care when a state agency intervenes because the child is at risk in their current home due to unsafe or unstable conditions.
Fostering a child can be meaningful and plays an important part in supporting children who are at risk, and in some cases foster parents can adopt children that they foster. However, adopting through foster care is not for everyone.
If you are wondering, "can you foster only to adopt in Texas?" it is important to note that the goal of the foster care system is not to provide "pre adoption" foster care in Texas. The goal of foster care is to provide a stable home to children until they are able to be reunited with their birth parents, and most children are reunited with their birth parents.
In other words, if you begin fostering with a view to adoption in Texas, and you are not comfortable providing a temporary home for children, there is a good chance you could be disappointed unless you check your expectations. Most children in foster care will never be placed for adoption, and that is not the goal of foster care.
How Can I Tell if Fostering to Adopt in Texas is a Good Fit For Me?
Fostering to adopt in Texas comes with a unique set of joys as well as challenges.
To find out if fostering to adopt in Texas might be for you, you can ask yourself the following questions:
Am I ready to provide love and support to a child full-time?
Am I open to both temporary and permanent placements for children?
Would I be comfortable having contact with birth parents who are trying to regain custody of a child in my care?
Am I open to helping with health and behavioral challenges that foster children might experience?
Do I have the time and energy to learn how to care for children who have experienced trauma?
Am I comfortable accepting placements of older children, sibling groups, and children with complex needs?
If you answer "yes" to all of these, fostering to adopt in Texas might be a good option for you.
If you find that you answer "no" to one or more of these, or have some hesitations, it is a good idea to get more information about fostering to adopt in Texas.
If you speak to foster care professionals, it is important that you are open about any hesitations you have. You might also look into other adoption options available to you—we've listed some at the bottom of this article.
We are Current Foster Parents Considering Adoption in Texas -- Can We Adopt Our Foster Child?
Adopting your foster child in Texas may be possible, but it can be unpredictable whether you are able to (and when).
When children are in foster care, social workers and birth parents, as well as other support team members, are almost always working together to try to stabilize the child's birth parent home environment enough that it is safe for the child to reunify with their birth family. Usually, children are reunited with their birth family.
If there is an opportunity to adopt, it will likely be when birth parents have their parental rights terminated.
Foster parents who want to adopt in Texas ultimately must wait for the state's legal processes to determine termination of birth parent rights, but you may be able to get information about the likelihood of adopting your foster child through your case worker or social worker.
You may also consult a lawyer near you who practices family law to get information about local laws and learn about the process of adopting a child you are fostering in Texas.
The good news: if a child is adopted from foster care, it is most often by their current foster family.
How to Learn More About Becoming Foster to Adopt Parents in Texas
The best way to learn more about becoming a foster parent before adoption in Texas is from the Texas Department of Family and Protective Services.
Options When Considering Adoption and Fostering to Adopt in Texas
If you are still deciding whether fostering to adopt in Texas is right for you, you should know that there are several great ways to grow your family. We've listed some adoption options below, as well as the most common reasons why families choose the option.
Private Adoption
Families who are interested in adoption often choose private domestic adoption, especially if they are interested in adopting a newborn or if the risk and unpredictability of foster care adoption is not something their family is comfortable with.
There are many reasons why families choose private adoption, including:
The ability to adopt an infant and bond with your child from birth
More predictability and lower chance of adoption disruption
Possibility of lower wait time for an adoption opportunity
To support women who are facing difficult circumstances at pregnancy or birth
The possibility to have a positive and open adoption, where your child knows their birth story and birth family
The ability to be chosen by a birth parent who is confident in you and excited about you as a family
Having access to medical history and family records that could be helpful to your child's health and well-being
Getting personalized help from adoption professionals, who can help you through the steps of adoption
And more
If you are interested in private domestic adoption, we can help. As a fully licensed, national private domestic adoption agency, American Adoptions provides the best adoption services, including:
24/7 support from adoption professionals for urgent needs any time, day or night
Extensive national awareness to connect you with more adoption opportunities and lower wait times
Personalized video profiles that help birth parents get excited to choose you as adoptive parents
Comprehensive education and support from professionals with over 30 years of adoption experience
Adoption disruption prevention and financial protection
You can get more information with our online form.
Direct Adoption from Foster Care
Another adoption option is direct adoption from foster care, more commonly referred to as "foster care adoption." In foster care adoptions, a child's birth parents generally have already had their parental rights terminated, which can make the adoption more predictable than foster to adopt in Texas.
However, these adoptions occur less often. Most direct adoption opportunities are for children who are older, children who are part of a sibling group that would like to be placed together, and children who have special care needs.
Disclaimer
Information available through these links is the sole property of the companies and organizations listed therein. American Adoptions provides this information as a courtesy and is in no way responsible for its content or accuracy.