Adoption Stories in Texas
Adoptive Families Tell Their Adoption Success Stories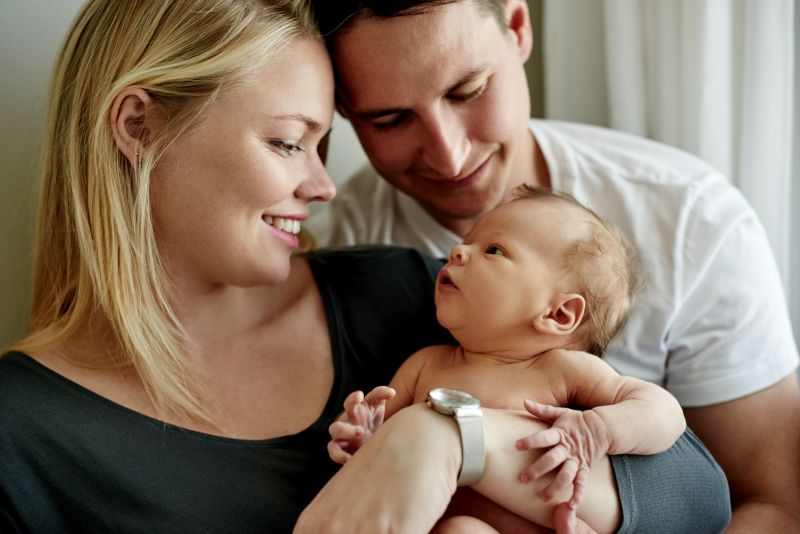 There are so many amazing stories of adoption for those who have worked with American Adoptions. So, if you're ready to start your adoption adventure, you aren't alone.
In a given year, there are around 135,000 child adoptions in the United States. Approximately 20,000 of those children were adopted through domestic infant adoption. And, each adoption has a unique story.
One of the best ways to learn about adoption, the adoption process and the emotions connected with adoption is by reading stories from the adoptive families who have lived it.
Read through some of these adoption success stories below, which might just help you through your future adoption journey.
If you've been thinking about adopting a child, or if the following adoption stories inspire you to consider adoption, then give us a call at 1-800-ADOPTION to get free information now about beginning your adoption process.
An Adoption Story in Texas [Open Adoption]
For Jenna and AJ, adoption was not a question of "if" but a question of "when."
Jenna is an adoptee herself and grew up with adopted siblings. Although AJ had not had previous adoption experience like his wife, he knew adoption was the right choice for their family.
"A lot of people said, 'Oh, that's such an admirable thing you're doing — adopting,'" AJ said. "I didn't do it to be 'cool' or anything. It was just what I felt I needed to do."
Jenna never met her birth parents, so when the opportunity arose to forge a relationship with her child's birth mother, she was emotional.
"I was actually really nervous; AJ was a lot calmer, which isn't always the way it goes," Jenna said. "Part of my nervousness was the thought that, 'Gosh, if this woman is going to bless us with her child, then we want to have a relationship with her, and what if this doesn't go well, you know?'
"But, when we started talking during the conversation, it was just awesome."
Getting to spend time with the birth mother before and after birth led to a strong relationship between them that continues today. AJ sends a text and photo of little Bennett to his birth mother almost every other day, and the couple plans to visit Bennett's birth mother yearly to respect her open adoption wishes.
"A lot of people assume that Bennett would have been raised in a bad situation, but, you know, that's totally not the case," Jenna says. "We saw his mother with her daughter, and she was an amazing mom and just a great parent. He may have more opportunities with us, but he is still loved by them and, if he had been raised by them, he would have been loved by them and cared for by them."
You can read the rest of Jenna and AJ's adoption story here.
An Adoption Story in Texas [Transracial Adoption]
Ann and Ty knew that it isn't the physical similarities that make a family; it's the ability to provide a loving, nurturing environment where parents and children can feel cared for and accepted.
When it came time to choose possible races for their adopted child on their APQ, this American Adoptions couple knew they didn't need a restriction.
"When we started out in the process, we were open to any race or ethnicity, so we were just very excited to be parents and have a family," Ann said. "We've learned a lot in our family, and we've definitely grown for the better."
Ann and Ty are white parents to two happy Black children: Kai and Avery. Although raising transracially adopted children hasn't been easy every step of the way, it's a journey they wouldn't trade for anything else.
The couple took personal steps to make sure they were prepared for the challenges of transracial adoption.
So, they wanted to make sure that their children got to be around other kids who looked like Kai and Avery. For example, they attend a Black church and swim at a pool where a majority of the kids are Black.
Both Ann and Ty realize there may always be challenges when it comes to transracial adoptions, but every day they persevere and help their children navigate life accordingly.
You can read the rest of Ann and Ty's adoption story here.
An Adoption Success Story [from Adoption Disruption]
Adopting during a global pandemic is hard enough. Adding three disruptions on top of it makes it even harder. But, Mike and Paul still found success with American Adoptions.
They both grew up with adopted family members and knew adoption would be the way they would build their family. So, the couple began the adoption process in March 2019.
But, their adoption journey was in no way easy. Six months after they went live, Mike and Paul were selected to be the adoptive parents of a child. But, this adoption ended in a disruption — as did the next two for various reasons.
With three adoption disruptions, Mike and Paul were devastated and questioned whether they'd be able to have the experience of being parents.
"Because we've gone through multiple disruptions, each one was harder than the last," Mike said. "But, we still found a way to bounce back and be hopeful and optimistic. It really taught us that we can be chosen. We are likeable; we will be picked. It's just about the right match, the right time."
Then, they got another call — the one that would change their lives.
The couple hopped on a plane to Florida and hurried to the hospital to meet their baby. Because of the COVID-19 pandemic, the hospital had a strict one-visitor policy. So, Mike and Paul alternated their visits with their new child, but, before they knew it, they were bringing baby Quinn home with them.
You can read Mike and Paul's adoption success story here and discover how they navigated not only a pandemic but also three adoption disruptions.
Getting Started
There are so many beautiful adoption success stories in Texas and around the country. If you want to be a part of the never-ending stories of love, courage and family, then reach out to one of our adoption specialists today at 1-800-ADOPTION.
You can also get more free information now when you fill out our online contact form at any time.
Disclaimer
Information available through these links is the sole property of the companies and organizations listed therein. American Adoptions, Inc. provides this information as a courtesy and is in no way responsible for its content or accuracy.