LGBTQ Adoption in Texas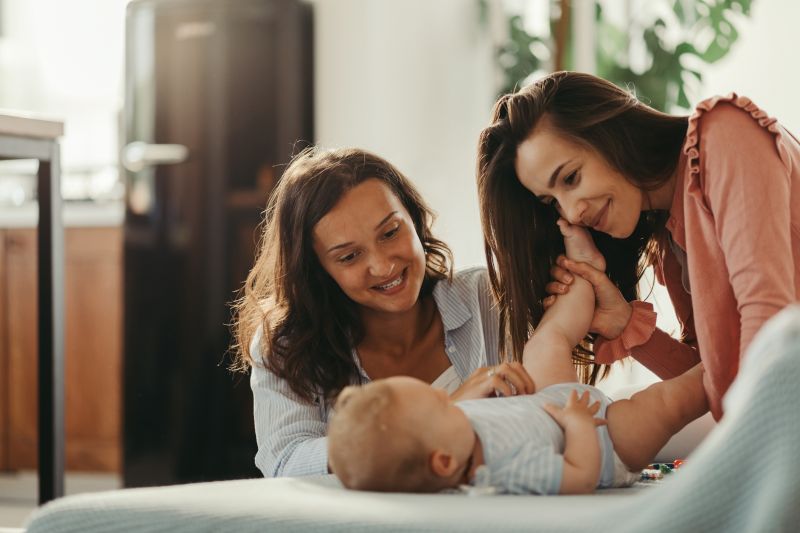 Starting a family is a life-altering experience, and it's something that everyone should have a chance to do. One of the best ways for same-sex couples to become parents is through gay adoption in Texas.
When it comes to gay adoption, Texas adoption agencies who work with same-sex couples can help you fulfill your adoption dreams. While it may not have always been the case, Texas same-sex adoption is now protected not only by state law, but federal law as well.
If you're new to the concept of Texas gay couple adoption, it's natural to have questions about the process. At American Adoptions, we have a long history of working with members of the LGBQT community to make their adoption dreams come true. We've long been advocates for LGBTQ adoption rights, and we'd be honored to help you on your adoption journey. Click here to get free information about starting your adoption journey.
This guide will provide some of the information you need if you're considering same-sex adoption in Texas. Keep reading to learn more about what could be the start of a beautiful adoption journey.
How Gay Adoption in Texas Works
In short, gay adoption in Texas is exactly the same as any other adoption. Texas laws on gay adoption don't prohibit same-sex couples or LGBTQ people from adopting so long as they meet the other criteria established by Texas adoption statutes.
Every adoption is unique, and no two adoption scenarios are exactly alike. However, those challenges and victories won't be caused by your sexual orientation. After all, love is love, many children need parents, and same-sex couples should have the same right to adopt as anyone else.
As is the case with any adoption, the process for gay adoption in Texas can be complicated and can take a long time. Your best bet in smoothing the process is to work with an adoption agency.
American Adoptions is a fully licensed agency in Texas. That means that we don't just match prospective adoptive parents with adoption opportunities. We also provide other resources for prospective adoptive families and birth mothers, and we can even perform your required adoption home study.
We specialize in private domestic infant adoption. If you want a Texas same-sex adoption involving an infant born in the U.S., domestic infant adoption may be the perfect way to start or expand your family.
The process for gay adoption in Texas is identical to the adoption process for heterosexual partners. If you work with American Adoptions, one of our adoption specialists will walk you through becoming an active prospective adoptive family. They'll help you complete your home study and create a compelling adoptive family profile that will be shown to prospective birth mothers.
From there, the process will follow these steps:
Step 1: Search for an adoption opportunity: Part of the process for gay adoption in Texas includes completing an Adoption Planning Questionnaire (APQ). This will help your adoption professional identify birth mothers with criteria that match yours. Your specialist will work hard to find the perfect adoption opportunity for you.
Step 2: Accept your opportunity: Eventually, you'll get the call that every prospective adoptive parent dreams of getting – a call from your adoption specialist that tells you a match has been made. It may be one of the happiest days of your life and will surely be the beginning of a life-changing journey.
Step 3: Engage in pre-placement contact. These days, most gay adoptions in Texas are open or semi-open. That means the lines of communication are open between you and the birth parents. You can get to know the prospective birth parent(s) before placement and that communication can go on beyond placement.
Step 4: Prepare for placement. Prospective birth mothers create hospital plans for the birth experience. The hospital plan is the playbook for the birth and hospital stay, and you'll play a role in it. As adoptive parents, you'll travel to the hospital for placement and experience the moment at which you'll be able to bring your child home for the first time.
Step 5: Finalize the adoption. Placement isn't the final step in your gay adoption in Texas, however. The adoption won't be final until approximately six months later when the finalization hearing is held. Finalizations for gay adoption in Texas are just like finalization hearings for any adoption. Your American Adoptions specialists can help you get ready for a successful finalization.
Common Questions About Texas Same Sex Adoption
If you're considering Texas same-sex adoption, it's important that you know it's perfectly natural to have a lot of questions about the process. Fortunately, you're not in this alone. American Adoptions is committed to helping you fulfill your dreams of gay adoption in Texas, and we're honored to play a role in your adoption journey.
Read below for answers to a few of the most common questions that potential LGBTQ adoptive parents may have about gay adoption in Texas.
Are there Same-Sex Adoption Laws in Texas?
State adoption statutes do not prohibit Texas same-sex adoption. The same requirements and laws that apply to all adoptions are observed in same-sex adoptions in Texas. Single members of the LGBTQ community as well as same-sex couples are legally entitled to adopt if they meet the other requirements set forth by law.
Under Texas same-sex adoption laws in Texas, both same-sex couple adoption and second parent same-sex adoption are legally recognized.
Can Same-Sex Couples Adopt in Texas?
One question many people may have when considering gay adoption is, "can gay couples adopt in Texas?" The answer, again, is a resounding, "Yes!" Same-sex adoption is protected in all 50 states, and Texas law is clear about acceptance of the practice.
That said, Texas is one of a handful of states that allows individual private adoption agencies to discriminate on the basis of sexual orientation. Therefore, it's important to seek an LGBTQ-friendly adoption agencies in Texas to help you on your journey.
When Was Same-Sex Adoption in Texas Legalized?
While there wasn't a specific law that banned gay adoption in Texas prior to the landmark Obergefell vs Hodges Supreme Court ruling, same-sex couples may have experienced more obstacles to adoption than heterosexual couples.
Before the Obergefell decision, family courts were given the leeway to direct placement of adoptees based on the "best interest" of the child. While that didn't expressly prohibit placement of an adoptee with a same-sex couple, it also didn't offer express protection of the right of same-sex couples to adopt.
Now, however, there is no prohibition in Texas law that prevents gay couples or single members of the LGBTQ community from adopting a child.
Was There a Texas Gay Adoption Ban?
There was no specific Texas anti-gay adoption law prior to the Obergefell ruling. However, the "best interest" standard in Texas adoption law could be used by the court to discriminate against same-sex couples. It gives the judge the power to block an adoption if it's not in the best interest of the adoptee.
The assessment of best interest is arbitrary and subjective, however, which means that a judge's personal beliefs about same-sex adoption in Texas could influence the decision to finalize an adoption.
Are there LGBTQ-Friendly Adoption Agencies in Texas
Fortunately, though Texas law does allow adoption agencies to discriminate against same-sex couples and LGBTQ individuals, American Adoptions is one of the LGBTQ-friendly adoption agencies in Texas that will support your right to adopt regardless of your sexual orientation.
As a national adoption agency, we're uniquely positioned to offer advantages that local agencies may not be able to provide. For example, because we work with birth mothers from across the country, we have a larger pool of candidates from which to choose. That can reduce your wait time to adopt and increase your chances of finding a perfect adoption opportunity for you.
How to Get Started Today
At American Adoptions, we've been helping prospective adoptive parents fulfill their dreams of building a family for over 30 years. Our staff of adoption specialists is made up of many birth parents, adoptive parents, and adoptees. They know what's important to you, and we'd love to put our experience to work for you.
We'd be honored to help you on your personal adoption journey. Get started on your path to same-sex adoption in Texas today by requesting free information here.
Disclaimer
Information available through these links is the sole property of the companies and organizations listed therein. American Adoptions provides this information as a courtesy and is in no way responsible for its content or accuracy.