Adoption Paperwork in Texas
How We Can Help You Complete Your Adoption Papers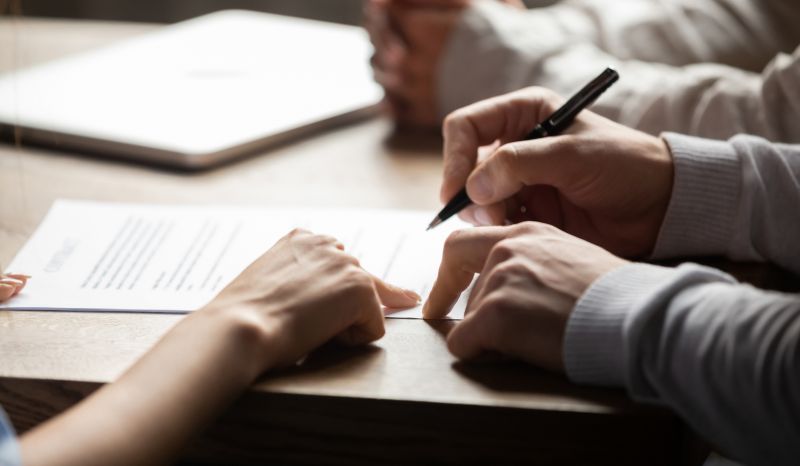 Giving up a child for adoption legal paperwork must be completed in Texas, but don't worry. We're here to guide you every step of the way and make filling out your adoption papers as smooth and easy as possible.
It's true, no one likes to hear the word "paperwork." But when it comes to your adoption in Texas, there are adoption papers and documents that are required to place your child for adoption.
Luckily, you've decided to work with our agency, and that means you get an adoption specialist experienced in completing adoption paperwork. You'll also get connected with a trusted, ethical and experienced adoption attorney who is licensed and up-to-date with current Texas adoption laws.
Before we dig into the various adoption papers and forms you'll complete for your Texas adoption, it's important to know you can speak to an adoption specialist at any time by calling 1-800-ADOPTION.
We will answer any questions you have about giving a baby up for adoption forms and Texas adoption paperwork needed for placing your child with another family.
What is Adoption Paperwork in Texas?
Every state has its own adoption laws and requirements. In most cases, however, you have adoption paperwork that is required for giving a baby up for adoption. Adoption paperwork in Texas that is completed at the hospital after the birth of your baby is the official and legal consent to your adoption. Adoption papers can also include medical and social history as well as adoption planning.
Don't worry! As we explain the different types of adoption papers you'll need to complete, just know your adoption specialist will be there to guide you through each one of them and answer any questions you have.
When you work with American Adoptions of Texas, your adoption specialist and adoption attorney have your back. Adoption paperwork related to your medical and social background, as well as adoption papers related to the legal process of completing your Texas adoption, will all be filled out properly and you'll never have to worry about doing it on your own.
We're ready to answer your questions about giving a baby up for adoption paperwork in Texas, what it requires and how you can work with the best adoption attorneys to complete all of your important adoption papers. Call 1-800-ADOPTION today!
Medical and Social History Forms
These initial pieces of adoption paperwork are needed to not only help you find an adoptive family that perfectly matches your vision for the future parents of your baby, but also to give the family access to important medical information that might come in handy down the road.
The adoptive family's ability to access and understand medical and social history is a key benefit to open adoption and sharing identifiable information.
This can include:
Your basic personal information
Information about the racial and ethnic background of both you and the birth father
Your reasons for choosing adoption
Detailed descriptions of your family's medical history
A list of any medical conditions that run in your family or the family of the birth father
And more
Any information that you can provide on your social and medical history for your Texas adoption paperwork can be extremely useful for the adoptive family you choose. We understand disclosing some of this information may not be a comfortable experience, but your adoption specialist will be there every step of the way.
Remember, you're making the loving and life-changing decision to find your child the perfect home. Part of that process is filling out adoption paperwork that covers important background information.
The decision you're making is creating a better future for everyone involved. We think that makes you a hero.
This will also ensure you are getting the proper medical care during your pregnancy and keep your adoption specialist aware of any specific needs you'll have while at the hospital.
If your baby has any specific health needs, this information listed in the adoption forms will help find a family capable of adopting a child and providing the necessary medical care required.
Are You Ready to Create an Adoption Plan? Let's Fill out Some Adoption Paperwork!
Your adoption plan is your time to create the blueprint and foundation for your entire adoption in Texas. When you work with our agency, you are in control of your adoption and that means you get to made decisions for every aspect of your adoption, including:
The adoptive family – Did you know you can choose everything about the adoptive family? Personality traits such as their hobbies, religious beliefs and sexual orientation, their age, location and whether or not they have children already, are all criteria you can specify in your Texas adoption paperwork for your overall adoption plan. You can even start viewing adoption profiles of available families today.
The level of openness – We strongly encourage open adoption at our agency. Because many of us are adoptive parents, birth mothers and adoptees, we understand the benefit of choosing the right family and staying connected to both biological parents and the adoptive parents. We want you to have the same experience through open adoption.
Your hospital stay – As a part of your larger adoption plan, you'll have the ability to specify and specific needs or requirements through an adoption hospital plan. By completing your adoption paperwork and planning out your stay at the hospital, the nursing staff and the adoptive family you choose will be given a copy of your hospital plan. Your adoption specialist will make sure it's executed to your exact wishes so that your experience at the hospital is safe and smooth.
You can get more information on filling out the adoption paperwork in Texas that helps create an adoption plan tailored to your every need and what you want out of your adoption experience by calling 1-800-ADOPTION. We're ready to help you complete all the necessary forms for giving a baby up for adoption in Texas.
How Completing Adoption Paperwork Makes Your Adoption in Texas Legal and Official
After your baby is born in Texas, you, your adoption specialist and adoption attorney will sit down and complete adoption paperwork that gives legal consent to your adoption.
These Texas adoption papers are combined with everything else you've provided, as well as the adoption forms from the adoptive family to provide to a judge, making the adoption official.
Texas state adoption law says you must wait 48 hours after the birth of your baby to complete your adoption paperwork. During this time, your adoption specialist will be available to answer any questions you have, as well as have your adoption attorney go over any legal questions you have.
Once you've signed these specific Texas adoption forms, the adoption becomes legal and your transfer of parental rights in the state of Texas becomes final.
You might also sign a contract agreement form with the adoptive family. This is a written agreement regarding your open adoption and how much contact and communication you and your adoptive parents have agreed to maintain post-placement.
In Texas, these contact agreements are not typically legally enforced unless contact has been broken and a judge determines the agreement becomes enforceable.
If you're ready to get your adoption started or would like to get more information on adoption paperwork, we are ready to help! When you call 1-800-ADOPTION, you will immediately get connected to an adoption specialist you can trust and that will gladly answer any questions you have.
We're excited for the opportunity to help you find an amazing adoptive family for your baby and create a better future for everyone involved.
Disclaimer
Information available through these links is the sole property of the companies and organizations listed therein. American Adoptions, Inc. provides this information as a courtesy and is in no way responsible for its content or accuracy.