How are Adoptive Families in Texas Screened? [A Complete Guide]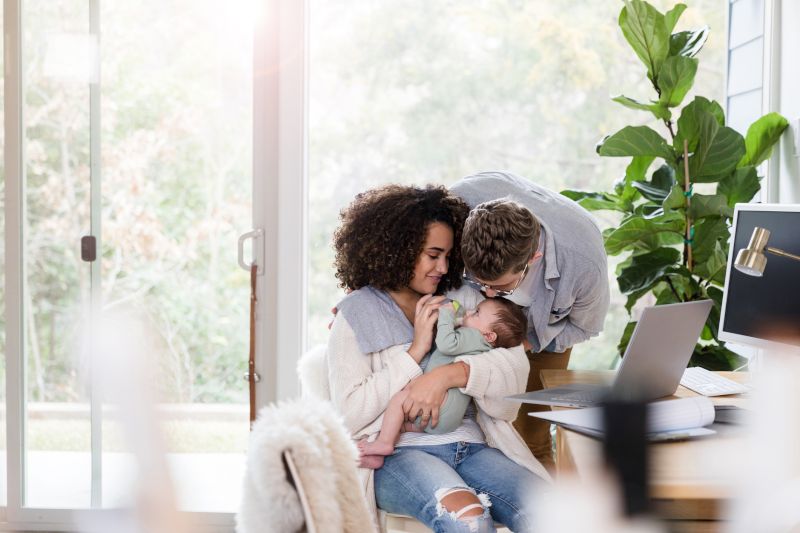 We know how important it is to have an understanding of how adoptive families are screened because you want to ensure that your baby will be raised in a safe and supportive environment. That's why we created this guide to the adoption screening process.
Every adoptive family that uses an agency to adopt is required to go through an adoption screening process before they can be approved. On top of that, but you will always get to choose who adopts your child. When it comes to your adoption plan, you are always in the driver's seat.
If you'd like to find help and support for your adoption today, you can call 1-800-ADOPTION at any time.
The Safest Way to Find an Adoptive Family in Texas
You're choosing adoption for your baby because you want them to have a life full of love and opportunity. You want them to have the best life they can possibly have. Of course, you want to be sure they are placed with a family who can provide them with a safe and stable environment. You might be wondering what the safest way to find the perfect adoptive family for your baby is.
Simply put, you are the key to finding the safest family for your baby because it is up to you to find the right adoption agency — like American Adoptions.
Think of your adoption specialist like a security guard — we're only going to let the best adoptive families in. We will work with you to match you with hopeful adoptive families who have gone through a thorough Texas adoption screening process. Our staff is made up of adoptive parents, birth parents and adoptees, which means we know what it takes to be a great adoptive family. This benefits you because we'll only show you profiles of great potential parents.
At the end of the day, you get to choose the family you feel is best suited to raise your baby.
As the expectant parent, you will always be in control of your adoption plan. You get to choose the couple who will adopt your baby. After you've chosen them, you'll have the opportunity to get to know them throughout your pregnancy. This could be in the form of phone calls, texts, emails and even in-person visits.
Here are a few things to think about when determining if the hopeful adoptive parents are the perfect fit for your baby:
What made them want to pursue adoption?
Are they excited to get to know you and your baby?
Are you comfortable with the family's lifestyle?
Have they undergone an adoption screening process?
Are you able to reach an agreement on post-placement contact?
These are all important questions you might consider asking the prospective adoptive parents. It's also worth mentioning that if you choose a family and change your mind about adoption or determine that the family isn't a good fit, you can change your mind any time before the placement is completed.
Adoption Screening Process in Texas [3 Methods]
When it comes to the adoption screening process there are usually three screening methods that prospective adoptive families have to go through.
1. Adoption Home Studies
Every hopeful adoptive family must complete a home study before they can be approved for adoption. A home study is an assessment of the parental readiness and home life of prospective adoptive parents. Home study requirements may vary state to state but typically consist of:
Federal and state background checks

Review of financial documents

Collection of medical records

Interviews

In-home visits
2. The Adoption Agency Screening Process
After a hopeful adoptive family has been cleared through their home study, they're not done just yet. Agencies have their own Texas adoption screening processes in place to ensure that a prospective adoptive family is a good fit for the agency and the birth parents they work with.
The agency's adoption screening in Texas typically consists of an application process with a set of questions about what the hopeful adoptive family is looking for in an adoption. At American Adoptions, we require that the prospective adoptive families we work with agree to some degree of post-placement contact with the birth parents, whether that is an open adoption or semi-open adoption.
You can feel confident and safe with our agency because we go above and beyond the typical adoption screening in Texas. Along with requiring families to agree to open adoption, we apply our personal adoption experience for your benefit. We understand what makes a great adoptive family, which means you'll be looking at the best potential parents for your baby.
The sole purpose of agencies' Texas adoption screening is to ensure that they are working with adoptive families that embody the core values of the agency and the expectant parents they work with. With American Adoptions, you can be confident you're looking at the best families.
3. You Choose the Adoptive Family
Once a family has been approved by an adoption agency, the matching process can begin. The waiting couple will sit down with their adoption specialist to create an adoptive family profile. These profiles will outline information about the adoptive family and the kind of life they will be able to provide a child.
Your adoption specialist will present adoptive family profiles to you that match what you're looking for. Once you find the perfect family to raise your baby, you'll have the opportunity to get to know them. Your adoption specialist will coordinate a conference call where you will be able to introduce yourself and ask any questions you might have.
Remember, only you know what's best for you and your baby. You will always have a say when it comes to who you want to raise your child.
Start Looking for a Family Today
You can rest assured that your adoption specialist will only connect you with hopeful adoptive families who have gone through a thorough adoption screening process.
If you're ready to begin looking for prospective adoptive families to adopt your baby or have questions about the adoption screening process, contact us online today or call 1-800-ADOPTION at any time to get more information.
Disclaimer
Information available through these links is the sole property of the companies and organizations listed therein. American Adoptions provides this information as a courtesy and is in no way responsible for its content or accuracy.