1-800-ADOPTION
Thank you for viewing our profile
If you would like to learn more about us, please call 1-800-ADOPTION (2367846), fill out the form at the bottom of our on-line profile page, or email us at bp_information@americanadoptions.com.
To revisit our on-line profile page and view our profile video at American Adoptions, simply use your mobile phone to scan the QR code on the right. We are looking forward to hearing from you!
Spencer & Tracy
We are a passionate, caring, fun couple with a home full of creativity, laughter, and support. We are so excited to provide a loving home for a child. We look forward to helping them learn, grow, and thrive. We truly appreciate you taking the time to consider our profile and are so thankful for this amazing opportunity!
About Us
Job
Sequencing Applications Manager
Scientist III and Science Communicator
Education
Microbiology
Microbiology
Relationship
Legally Married
Leisure Time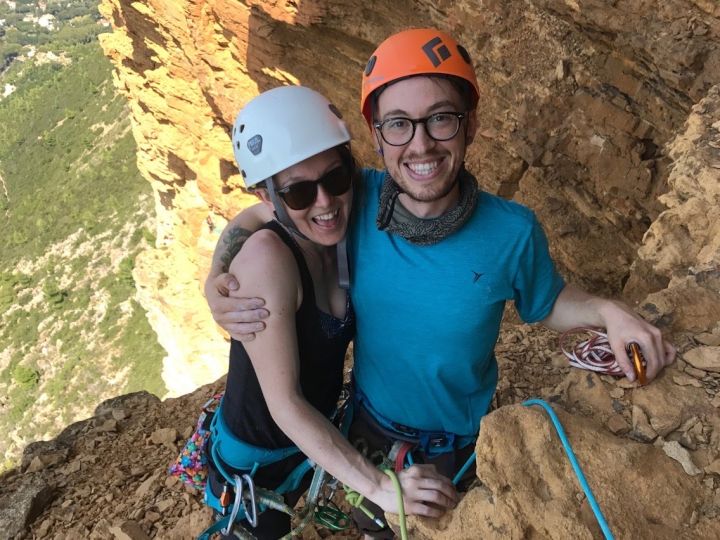 In our leisure time we love to rock climb, hike, and travel. We often plan our vacations around beautiful international and national climbing destinations (Spain and Hawaii are next on our list for climbing!). We enjoy playing board games, like Scrabble and Ticket to Ride, with family and friends and hosting movie nights. We like going to concerts and trying new restaurants. Tracy loves reading (especially sci-fi and mysteries), photography and playing music with friends. Spencer enjoys baking and making food for friends and coworkers. We absolutely love playing football and tennis with our nephews and spending time storytelling and laughing with family. We're also passionate about supporting and volunteering at animal shelters, especially the two we adopted our cats through.
We look forward to sharing all of these activities with a child and also supporting any activity they're interested in trying. We also look forward to picking apples with them in the fall. Picking pumpkins and trick or treating on Halloween. Making cakes and pies for the holidays. Opening presents Christmas morning. Grilling with friends and family during the summer. Taking trips to the lakes and beaches near us. And so much more!
Your Cats, Squid and Vincent
We both grew up with family pets; Tracy always had cats and Spencer always had dogs. All of our family pets were always adopted and we became passionate about providing homes for animals in need. Our pets growing up and current pets have brought so much joy into our lives. They are truly members of our family. We love how they each have their own distinct personality. Squid loves to sit on laps and bathe in sun spots. Vincent loves to play with toys and be held/carried around. He also loves to keep Spencer company when he's working from home and joins many video meetings. We love being able to provide a safe and loving home for them. We can't imagine life without them!
Qualities We Love, Admire and Respect in Each Other
Spencer about Tracy: I love that Tracy is so passionate, creative, driven, and how she goes above and beyond to make those around her comfortable and have a good time. She is incredibly inspiring and always brings joy and good energy to the communities she is in. She excels at making connections with people by really seeing and appreciating who they are and making them feel comfortable. Tracy has such a caring soul that shows up in the dynamics she has with our nephews, family, friends, and cats. She is very good at lighting a fire inside people to help them pursue their own goals and truly wants the best for everyone she cares about. On top of all of that she is so funny too! You can always tell where she is from the sound of laughter. I know she will make an incredible mother from the way she so intensely cares for our friends and family.
Tracy about Spencer: I love that Spencer is so supportive, hardworking, adventurous, fun and that he always prioritizes family and friends. I love how much we laugh together, inspire each other and that we can work through anything. I admire his ability to connect with people of all ages and backgrounds. Watching him play tennis with the nephews, read bedtime stories to our friends' kids , bake bread for our families, friends and neighbors and even do little things like make me breakfast everyday shows how much he values people and his community. I know he will make an amazing father because of his values and qualities!
Photos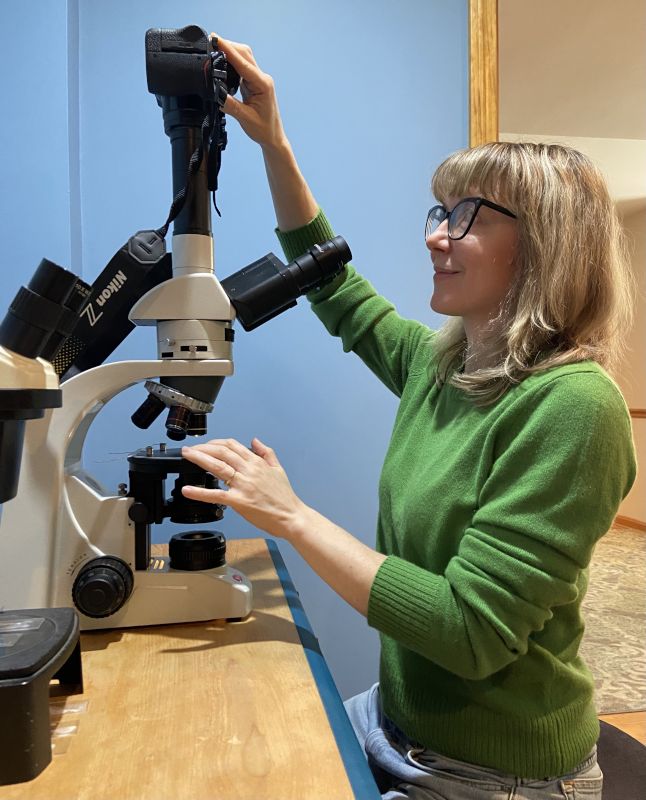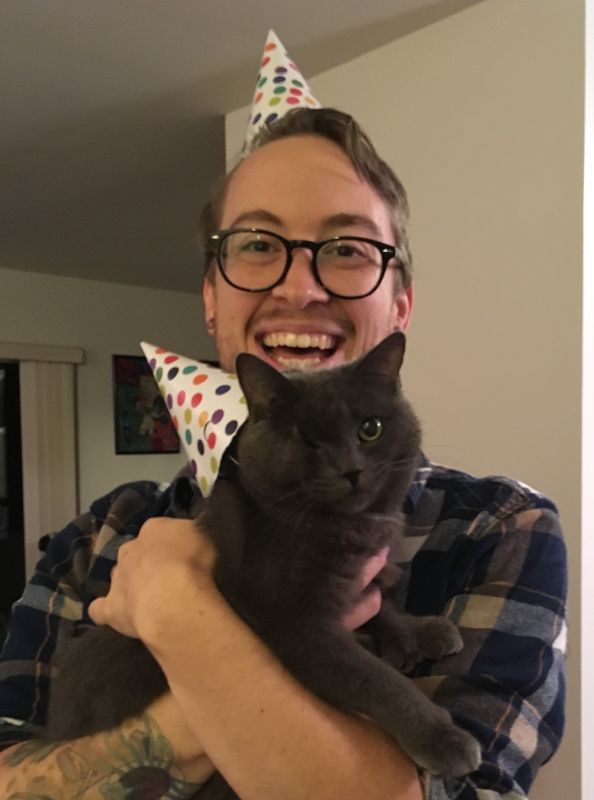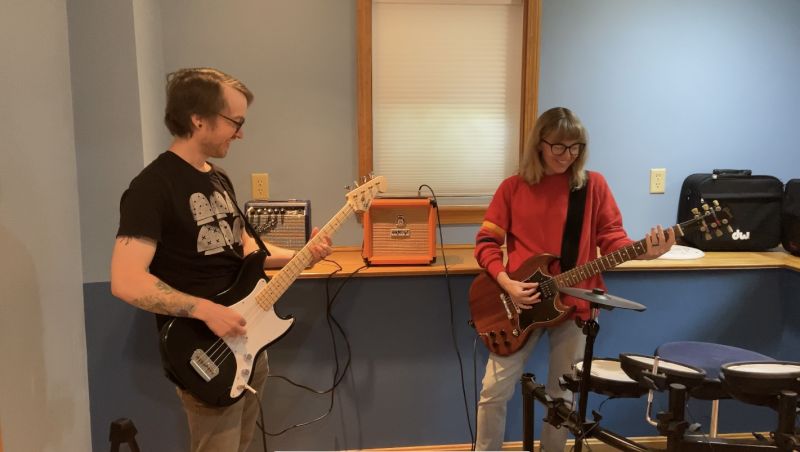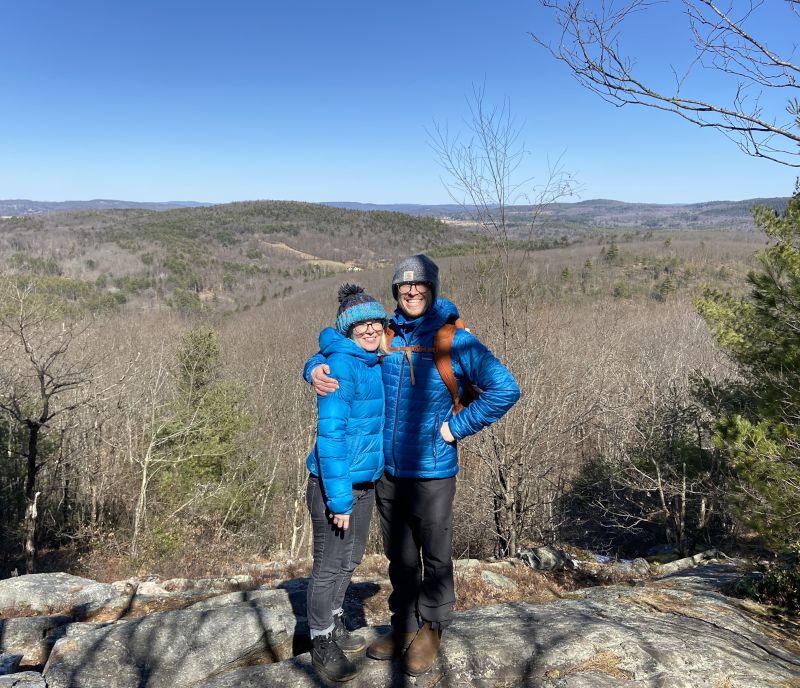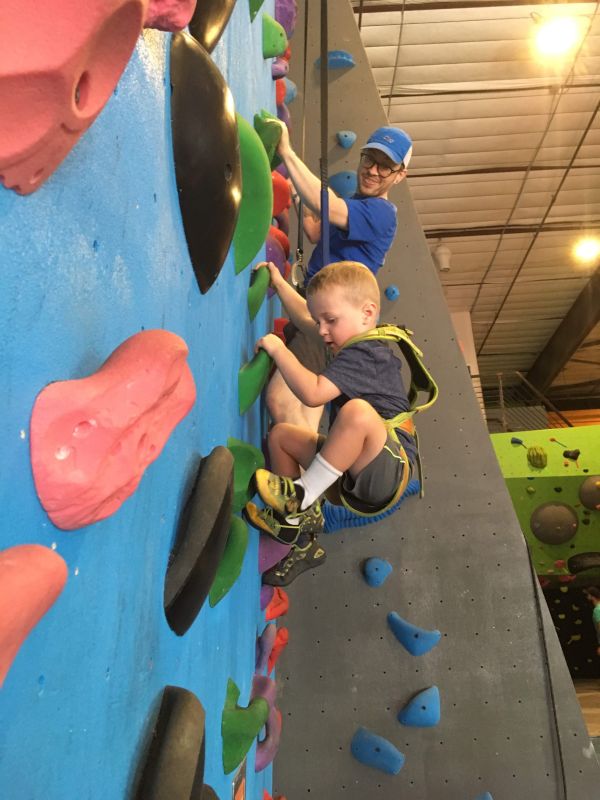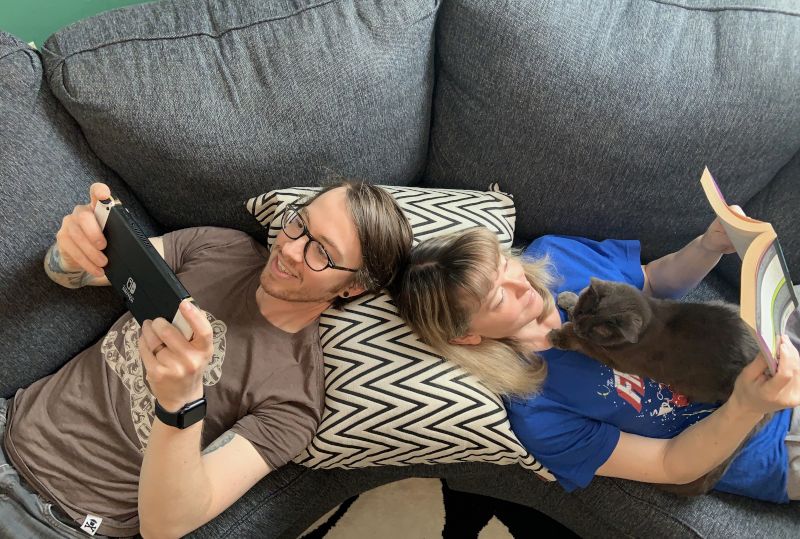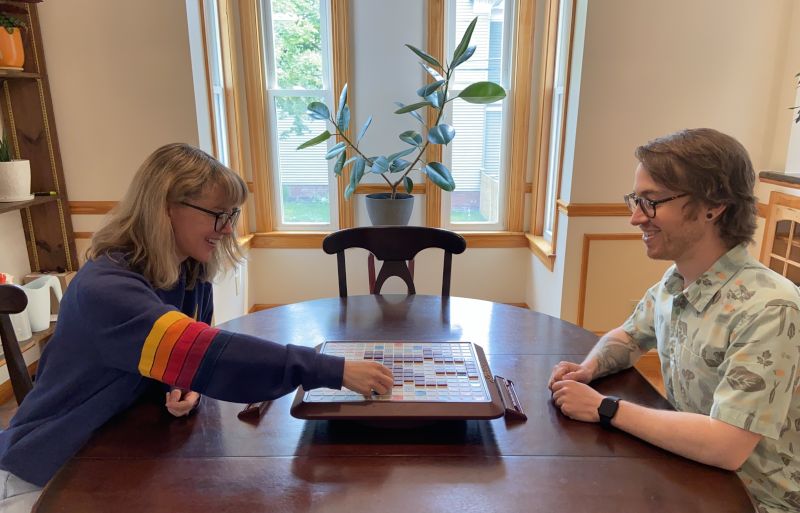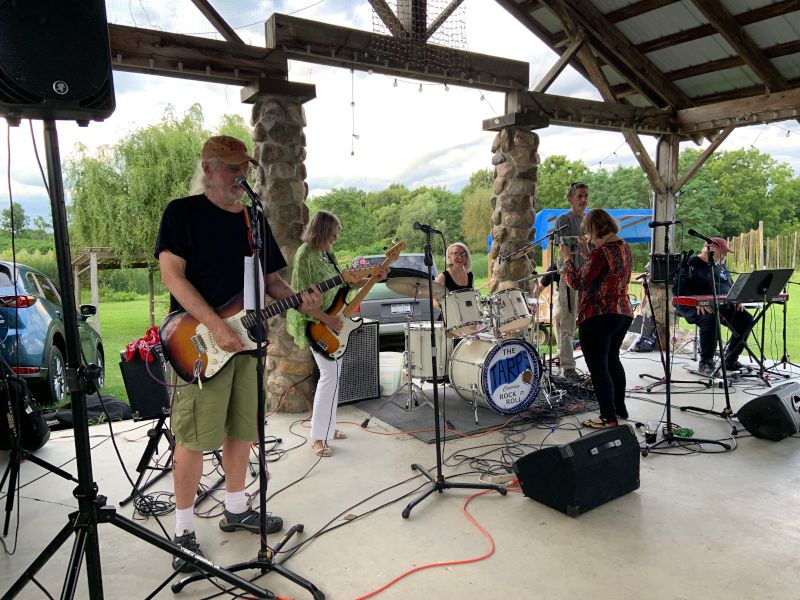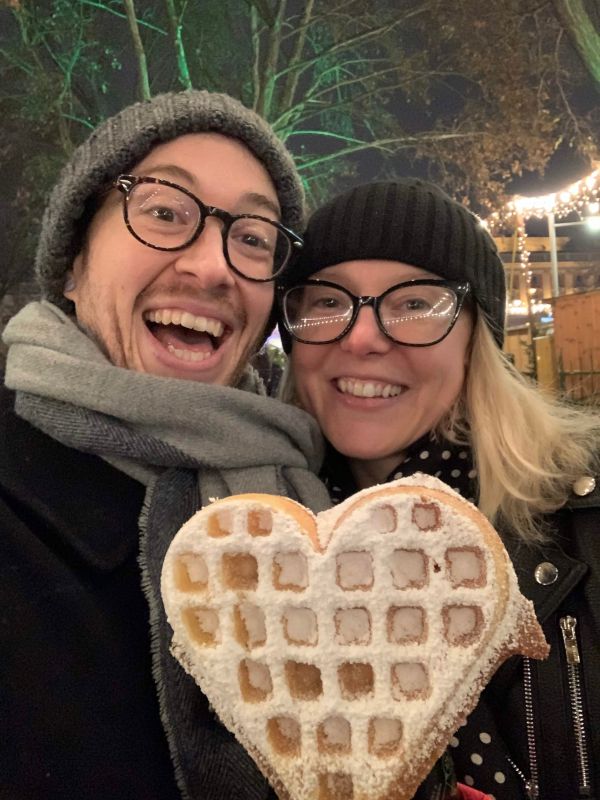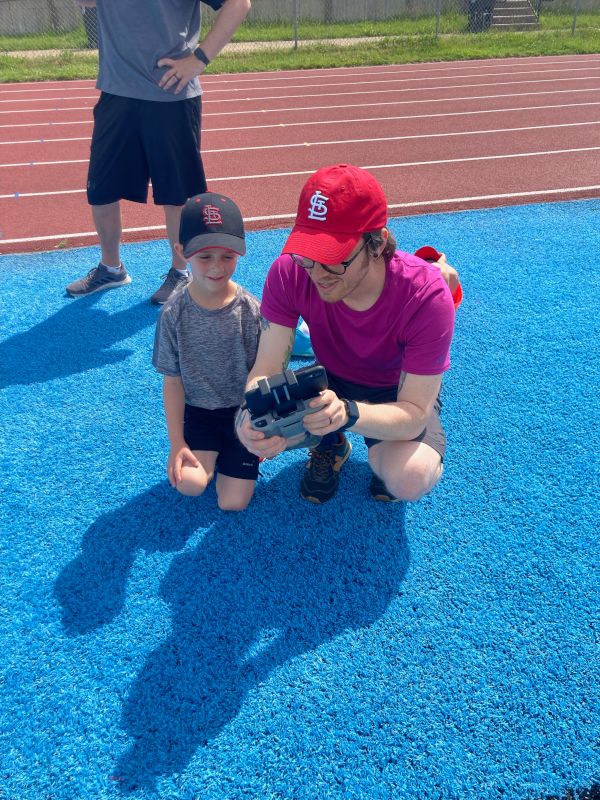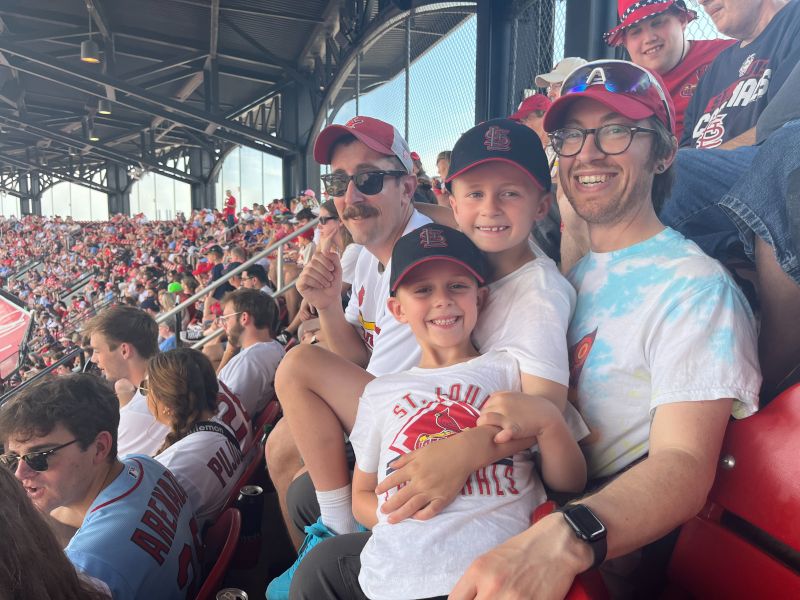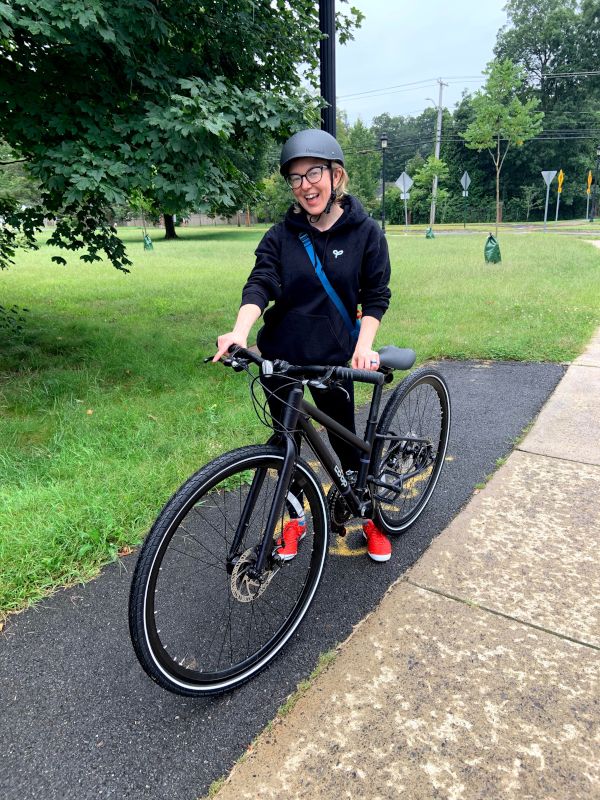 ×
1 / 12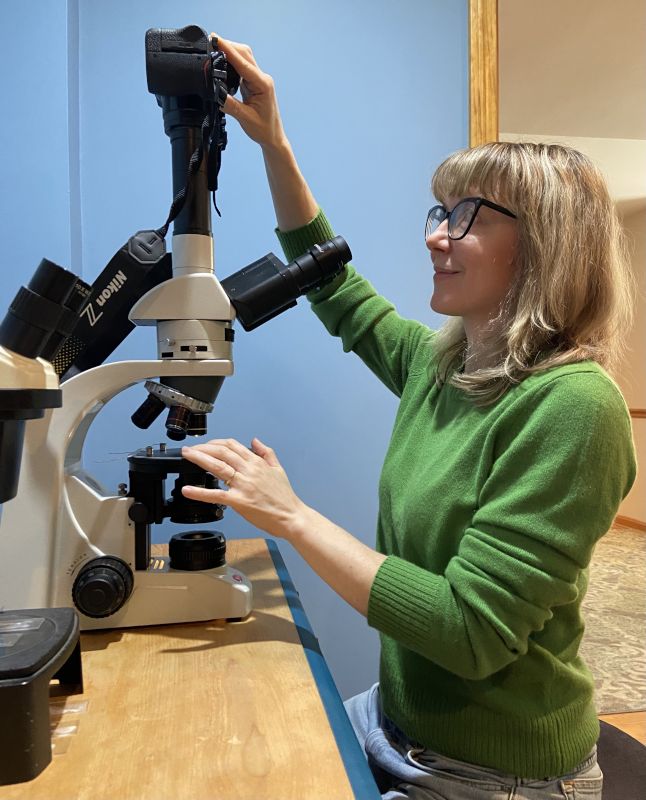 2 / 12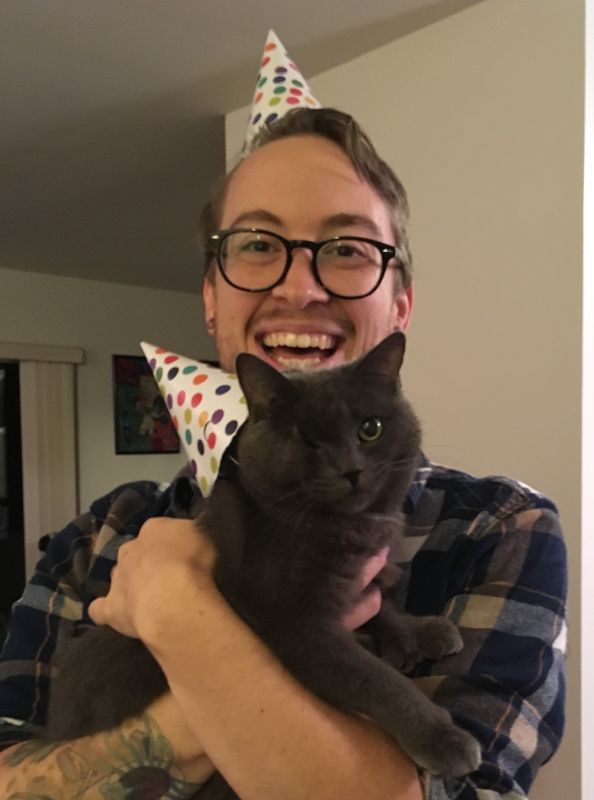 3 / 12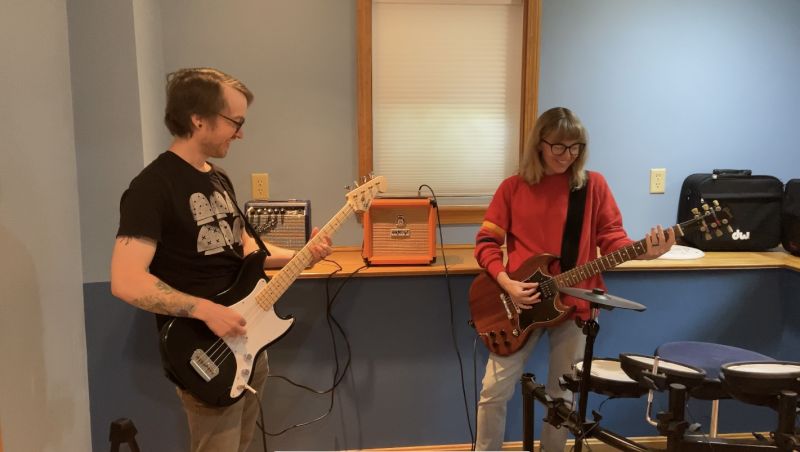 4 / 12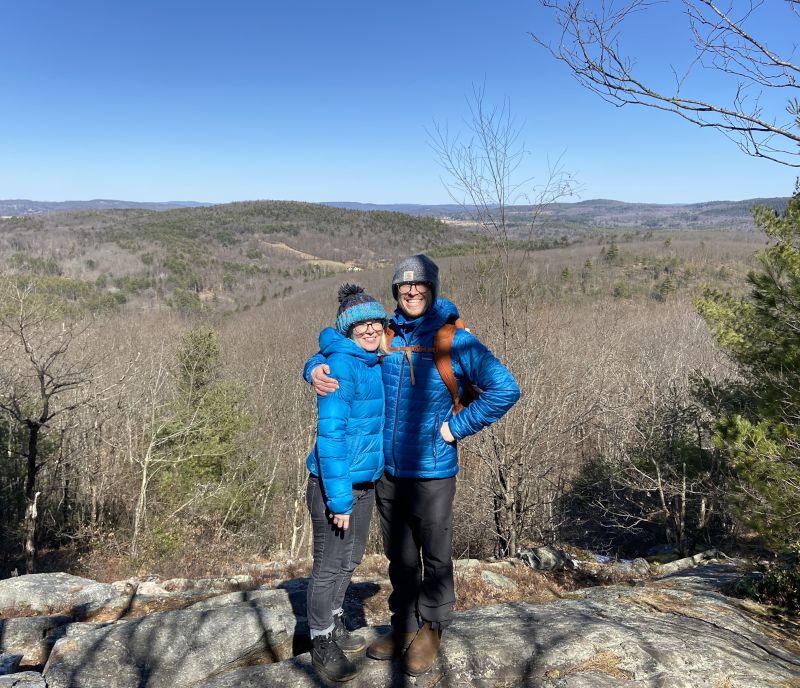 5 / 12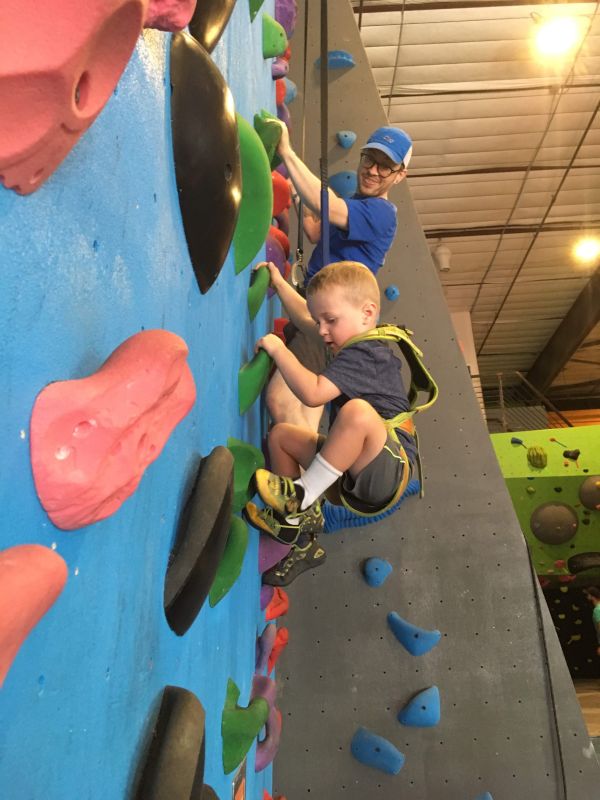 6 / 12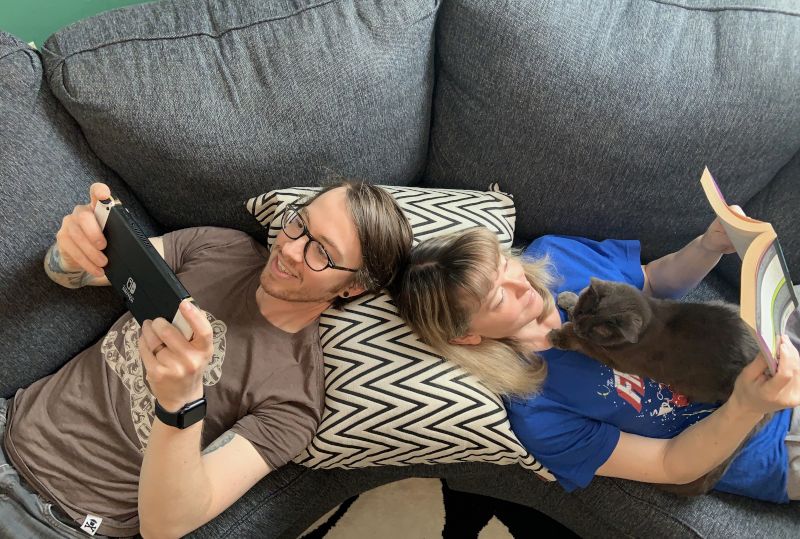 7 / 12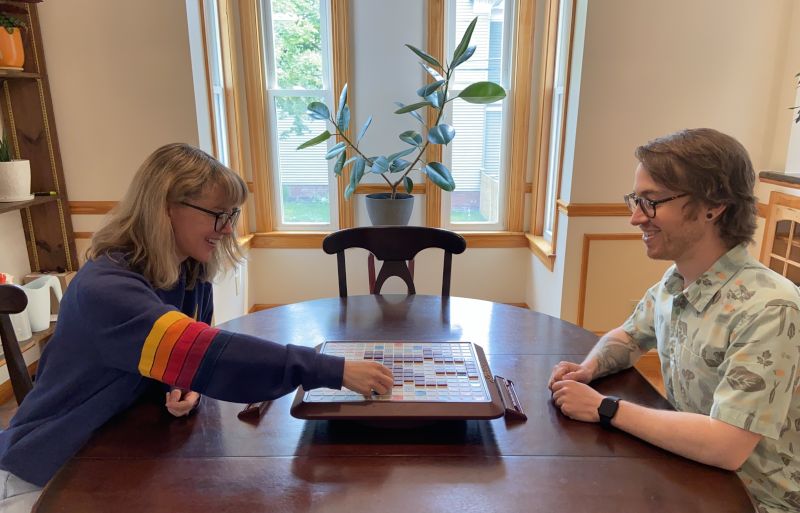 8 / 12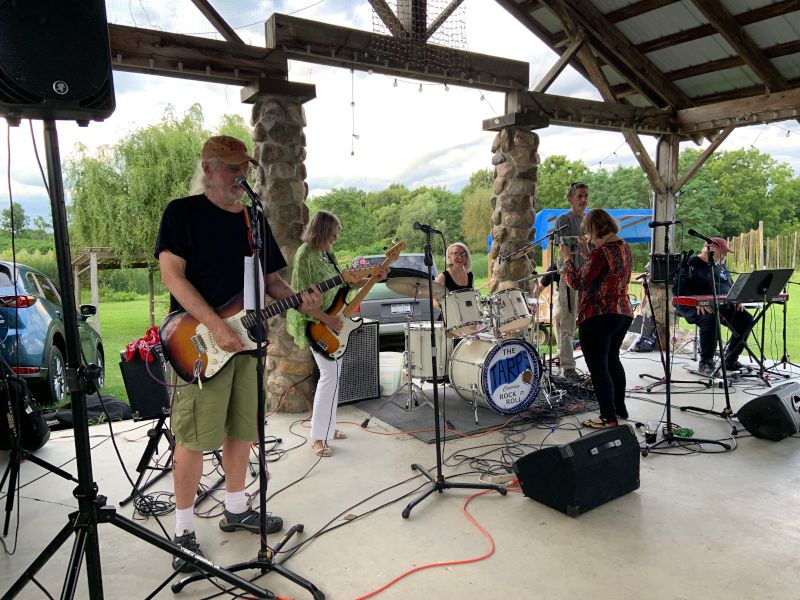 9 / 12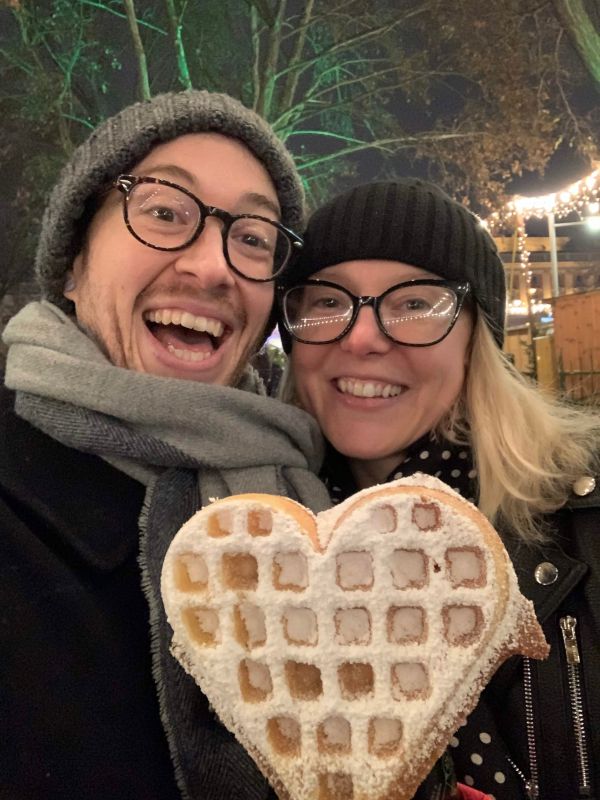 10 / 12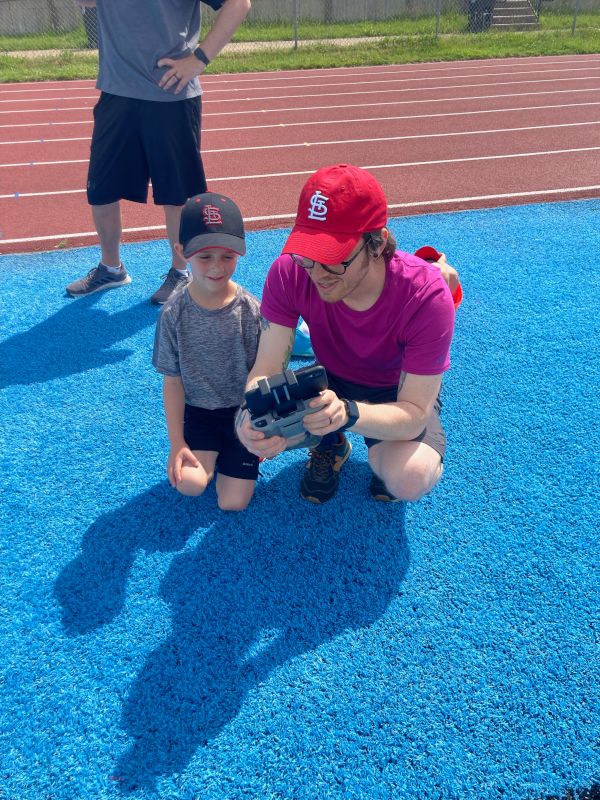 11 / 12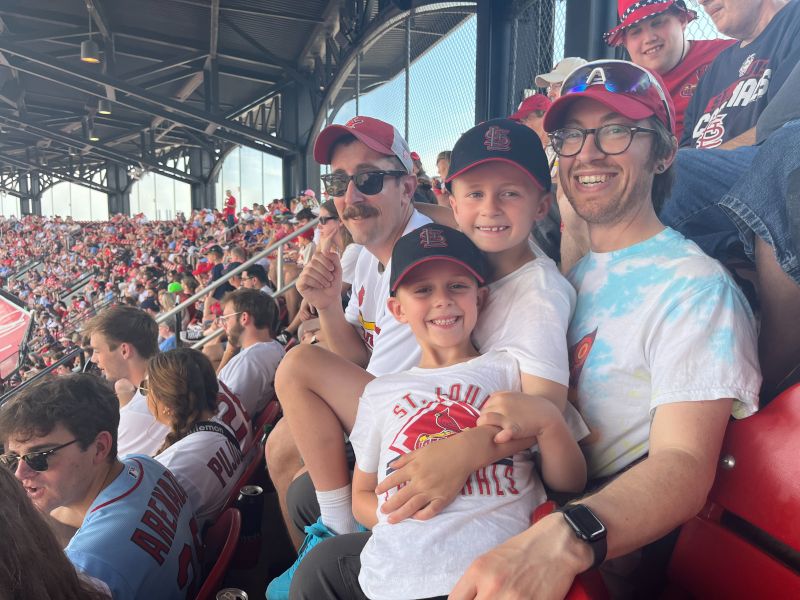 12 / 12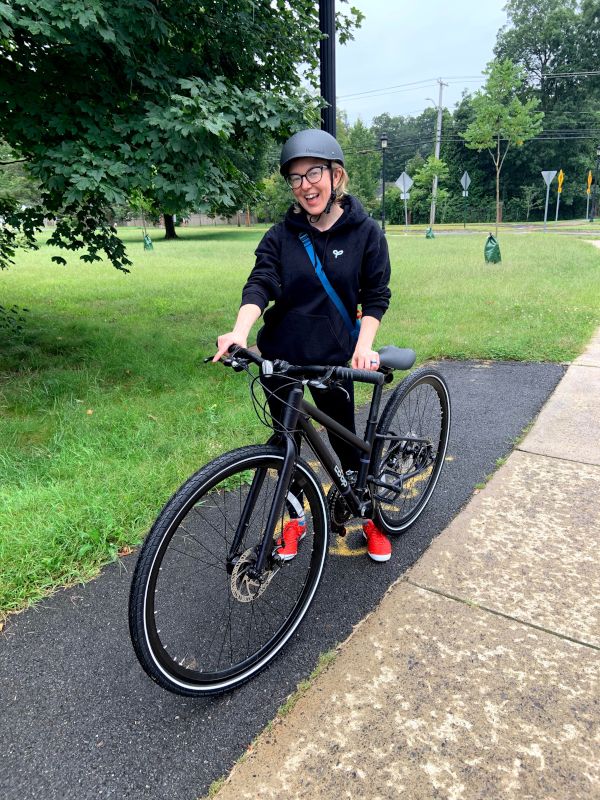 ❮
❯
Our Extended Families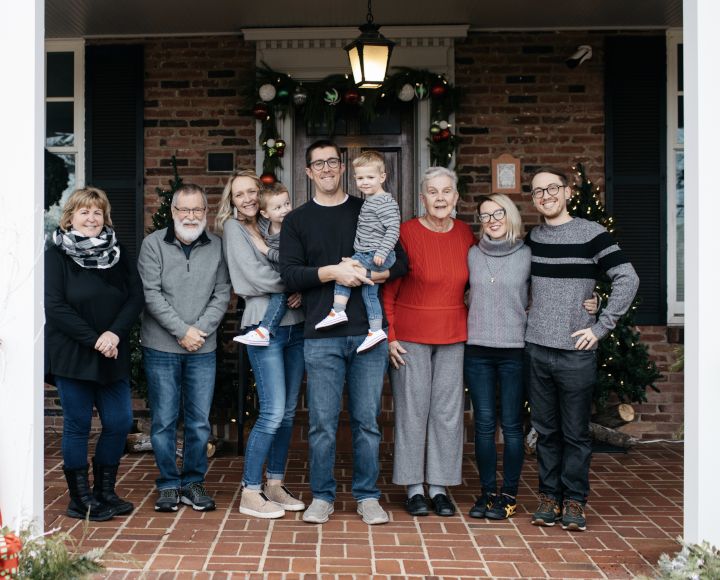 Our families are very important to us! Tracy loves playing music with her parents. Her parents play in a classic rock cover band and whenever Tracy attends one of their shows she'll usually sit in on drums for a few songs. Her dad plays guitar and sings. Her mom plays piano and bass. Her brother also enjoys music and plays piano. Growing up there was always a lot of music in her home and she has great memories of going to all types of concerts with her family (rock, blues, country, metal, classical, pop punk). We look forward to sharing our love of music with a child. Both of our families also enjoy playing card and board games together. Spencer's brother and brother's wife love playing Clue. The nephews love playing Uno. Tracy's family has a holiday tradition of playing cribbage. Both of our families also cook together for the holidays. Tracy loves baking cookies. Growing up her mom would bake cookies every Sunday night and she can't wait to share that tradition with a child. Tracy's family also enjoys hiking. As a family they would often go on hikes together and spend time in nature. Hiking is still a part of our lives and something we also enjoy doing with Spencer's brother, his brother's wife and the nephews. We love playing sports with our nephews! Whenever we get together we play football, tennis and rock climb. Spencer also has a tradition of building Legos during the holidays with nephews.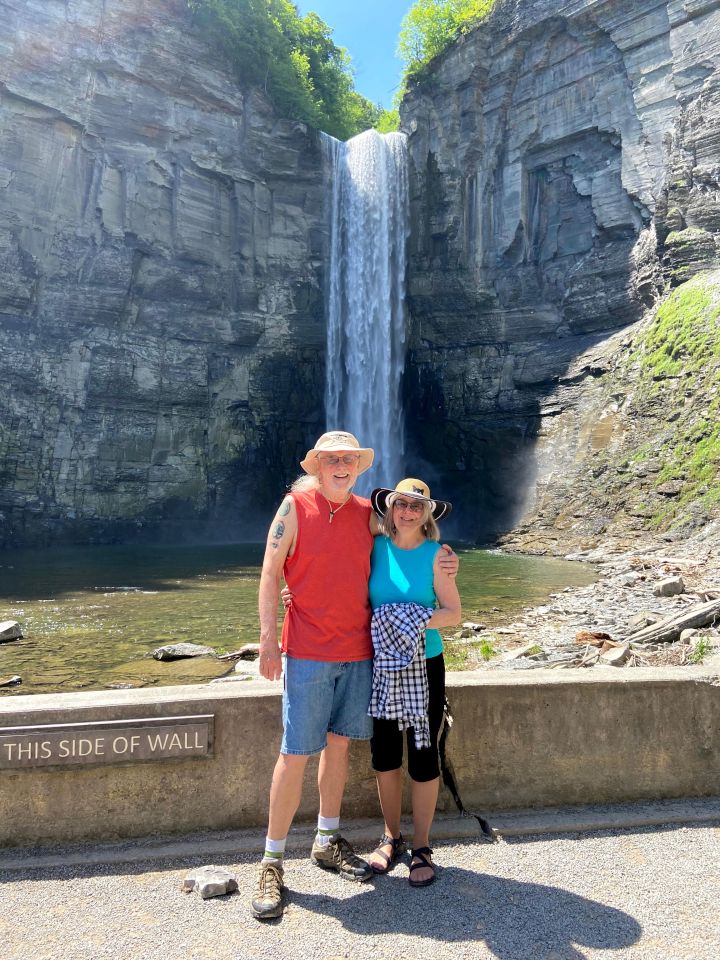 Our House and Neighborhood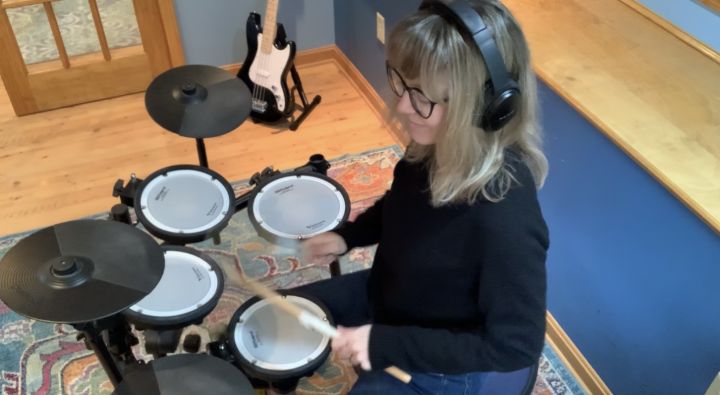 Massachusetts - We live in a family oriented neighborhood with children of all ages near a major city. Our neighborhood is filled with parks, great schools, and beautiful bike paths. There are movie theaters, diverse restaurants, museums, libraries, and music venues (we love live music!). Nearby we have indoor and outdoor swimming areas, ice skating rinks, an aquarium, and hiking trails. There are frequent festivals for art, food, and music from many different cultures. There are all different clubs for kids as well as immersive language programs. We value learning about and appreciating different cultures and feel lucky to live in a diverse area with so much opportunity. We look forward to taking our child on all kinds of adventures in our area.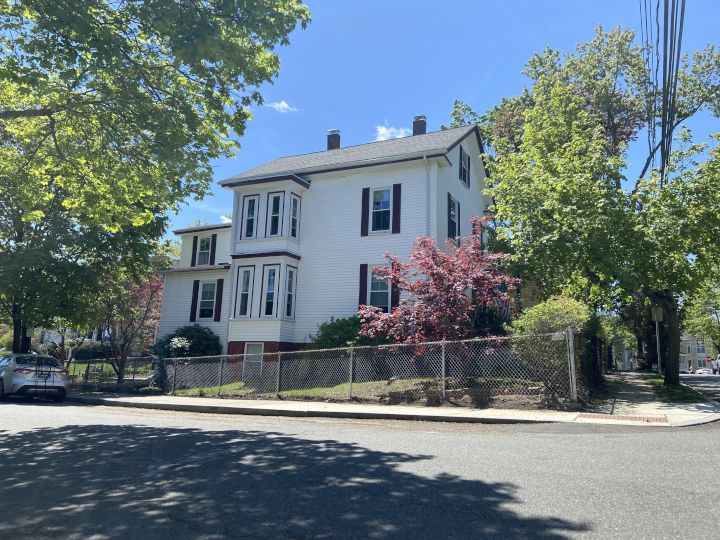 Our home is a two-bedroom, two-bathroom, open floor plan with a beautiful living room, dining room, study/office, kitchen, music room, nursery and outdoor deck (we love to grill during the summer!). We have two amazing adopted indoor cats named Squid and Vincent who love people (and food!). We also love plants and have many inside our home and surrounding it. Our home is full of music, cooking and laughter. Spencer's favorite room is the kitchen where he bakes bread and Tracy's is the music room where she likes to drum.
From Us to You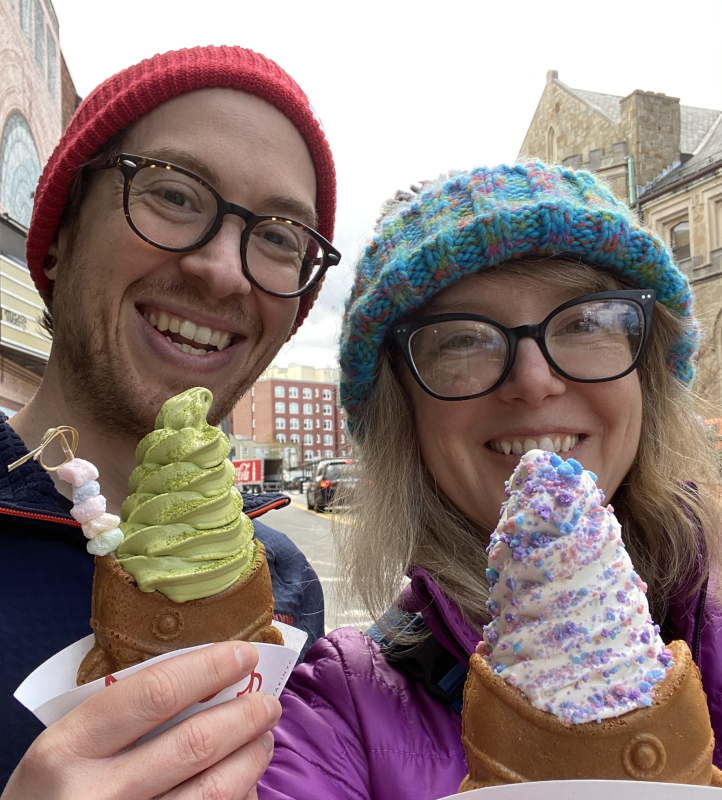 Thank you so much for considering us and taking the time to view our profile. We can't even begin to imagine how difficult this process is for you. We are so incredibly grateful for the adoption process and would be honored to provide a loving home full of laughter and support for your child.
We've been together for 8 years and have been married for 6 of those years. We met on an online dating site and immediately connected over our love for books, movies, music, nature, traveling, science, nerdy art, and video and board games. We quickly learned that we share the same values like family, community, communication and personal growth. Our relationship is full of love and laughter. There are so many things we love doing with family and friends, like hosting movie and game nights, hosting dinners, playing football with the nephews, and going on vacations together. Tracy is a drummer and loves playing music with friends and family. Sometimes she even plays shows with her parents' classic rock cover band. Spencer loves playing tennis and video games, like Pokemon, with his brother and nephews, and cooking with family and friends. We also love attending concerts, hiking nearby nature trails, rock climbing at our local climbing gym and in outdoor parks near us, traveling (Spain and New Zealand are next on our list!), trying new restaurants or staying home and trying new recipes. Sharing new experiences together and with family and friends brings so much joy to our lives. It strengthens our bond with each other and with our community. We're also passionate about supporting animal shelters and have two amazing adopted cats (Squid and Vincent) who are great with people, love to cuddle and make us laugh every day.
We would love to share all of these wonderful experiences with a child and look forward to all of the new experiences a child will bring into our lives. We are committed to creating an open, loving, and compassionate space for our child. Teaching our child and learning from our child is something we can't wait to experience. We want to be there for all of the ups and downs, the joyful moments and difficult moments. When challenges present themselves we will be there to help our child through them. We will always be patient and respectful. Our child will be part of a community that includes other adopted children and that fosters a positive, supportive and safe environment. Our families and friends are also so excited to welcome our child into their lives.
We look forward to sending you pictures and updates and making this process as comfortable for you as possible. We value communication and openness, but we are also understanding and would never pressure you to communicate more than you wanted. It is incredibly important to us that you feel confident your child is in a loving and supportive home and that you have the opportunity to stay connected to them. We will do everything we can to reassure you and help with this difficult and, I can imagine, scary process. We are committed to helping you and your child.
Again, thank you so much for taking the time to read our profile! I can imagine this is an overwhelmingly hard decision. Please know that to us adoption is a blessing and that we are eternally grateful for the opportunity to create an amazing connection with you and your child. We have so much love to give and laughter to share. Thank you!
Spencer & Tracy
Favorites
Actor
Jack Black
Ryan Reynolds
Actress
Cate Blanchett
Michelle Yeoh
Author
Brian Jaques
Terry Pratchett
Book
The Lord of the Rings
Night Watch by Terry Pratchett
Candy Bar
Dark Chocolate with Chilis
Rice Krispies Treats
Cartoon
Avatar: The Last Airbender
Avatar: The Last Airbender
Childhood Memory
Watching a newly hatched swarm of dragonflies emerge from a lake and take their first flight
Sunday night cookies with my family. Every Sunday night my mom would make cookies and we'd eat them while watching a show or movie together.
Childhood Toy
Stuffed giraffe and rabbit
Stuffed animal cat
Children's Book
Frog and Toad
The Little Prince
City
Vienna, Austria
New York City
Classic Movie
The Mummy
Captain America: The Winter Soldier
Day of Week
Saturday
Saturday
Dessert
Dark Chocolate
Funfetti cake
Disney Movie
The Rescuers Down Under
WALL-E
Dream Car
Dolorean from Back to the Future
Batmobile
Dream Job
Paleontologist
Professional drummer
Dream Vacation
New Zealand
New Zealand
Family Activity
Board Games
Board games, hiking, music
Form of Exercise
Rock Climbing
Rock climbing
Game
Dungeons & Dragons
Scrabble
Hobby
Baking
Photomicrography (taking photos through a microscope)
Holiday
Halloween
Halloween
Holiday Song
Rudolph the red nose reindeer
Rockin' Around the Christmas Tree
Holiday Tradition
Christmas morning opening presents and wearing pajamas all day long
Handing out candy to trick or treaters
Ice Cream
Cookie Dough
Butter pecan
Junk Food
Chips and salsa
Salt & vinegar chips
Leisure Activity
Gaming
Drumming
Magazine
Better Homes & Gardens
Fangoria
Memory with a Child
The first time our oldest nephew built a grown up LEGO set with only minor guidance from me! It was an all day event that sparked a new holiday tradition.
Playing football with the nephews (5 yrs old & 7 yrs old) and them picking me to be on their team as quarterback
Memory with Spouse
The first time I went rock climbing outdoors with her during our honeymoon in Thailand.
Rock climbing in Marseille, France, on a cliff face overlooking the sea.
Movie
The Lord of the Rings: Fellowship of the Ring (Extended Edition)
The Lord of the Rings: Fellowship of the Ring
Movie Munchie
Popcorn
Sourpatch kids or popcorn
Movie Type
Action, fantasy, comedy, horror, terrible B-movies
Action, martial arts, horror, sci fi, documentary, comedy, super cheesy rom coms and B-movies
Musical
Pitch Perfect
Little Shop of Horrors
Musical Group
Foo Fighters
Caravan Palace
Olympic Event
Curling
Gymnastics
Poet
Edgar Allen Poe
Edgar Allan Poe
Quality about my Spouse
Passionate, caring, enthusiastic
Supportive, funny, adventurous
Restaurant
Classic diners
The Friendly Toast
Sandwich
Turkey and swiss with avocado
Peanut butter & banana
Shopping Store
REI
Vintage book stores
Song
Bad Moon Rising by Creedence Clearwater Revival
Tell It To My Heart by Taylor Dayne
Sport to Play
Tennis
Football or tennis
Sport to Watch
Tennis
Tennis or gymnastics
Sports Star
Serena Williams
Serena Williams
Sports Team
St. Louis Cardinals
Denver Broncos
Subject in School
Biology
Microbiology
Superhero
Spider-Man
Spider-Man
Thing to Cook
Sourdough bread
My mom's cookies
Time of Day
Afternoon
Afternoon
Tradition
Building LEGOs with the nephews at Christmas
Pumpkin carving
TV Show
Plantet Earth
Mystery Science Theater 3000
TV Show Character
Uncle Iroh (Avatar: the Last Airbender)
Buffy Summers (Buffy the Vampire Slayer)
Type of Music
Pop, hip-hop, rock, synth
Metal, rock, pop, hip-hop, electro swing, synthwave, surf, classical
Vacation Spot
Marseille, France
Somewhere with rock climbing
Video Game
The Legend of Zelda: Breath of the Wild
Portal 2
Get in Touch
Provide more information, so American Adoptions can connect you with this family.
---